40ch DWDM Mux/Demux in One 1U Rack Mount Chassis, 100GHz ITU Grid, C21-C60, w/Monitor Port, Duplex LC/UPC

The 40ch Mux Demux is a high density, low loss and standalone passive optical module. It is based on a-thermal AWG technology with Gaussian shaped pass bands. The unit contains two pieces of forty-channel DWDM 100GHz multiplexers (one mux, one demux) with monitor port that test the the power signal.
Product Details
Channel Spacing
100GHz(0.8nm)
Channel Passband
±0.11nm
Insertion Loss
< 4.5 dB, 3.0 dB typical
(including connectors and adapters)
Return Loss
> 45 dB
Temperature
Operating -5°C~ +75°C
Storage -40°C~+80°C
Dimension
481.8mm(W) x 261.2mm(D) x 44mm(H)
Quality Certification
Quality and standards are the foundation of FiberStore. We are dedicated to providing customers with the outstanding, standards-compliant products and services.
FiberStore has passed many quality system verification, like CE, RoHS, FCC, established an internationally standardized quality assurance system and strictly implemented standardized management and control in the course of design, development, production, installation and service.
Lifetime Warranty
All the fiber optic products in Fiberstore are fully warranted against defects in material and workmanship with a lifetime guarantee. This warranty does not cover damage caused by accident, improper care, improper use, negligence, normal wear and tear, or the natural breakdown of colors and materials over extended time and use.

Product Highlights
Unlimited Scalability and High Capacity --DWDM Network
DWDM is an optical multiplexing technology by combining and transmitting multiple signals simultaneously at different wavelengths on dual/single fiber. It's cost-effective solution to expand the bandwidth of your optical communication networks.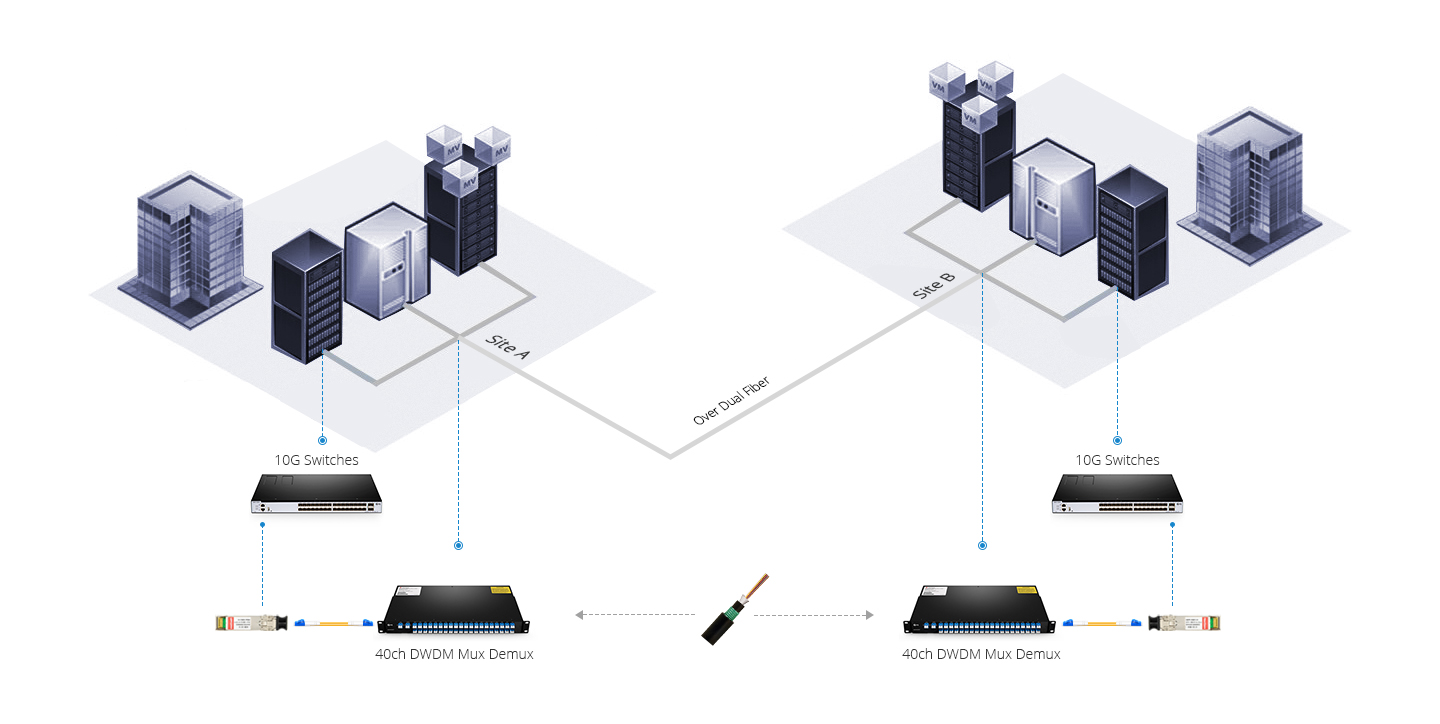 ---
Mux/Demux 40 Channels over Dual Fiber
Built-in Mux and Demux in one unit, working on two network fibers
Completely passive, no power& no cooling required
Protocal and rate transparent for applications up to 10Gbps

---
Dynamic Network with Low-Loss Wavelengths
DWDM channels overlap with passband of CWDM channels in low insertion loss of C- Band 1531 nm and 1551nm, which inhabit the natural region for low optical losses in glass fiber, allowing to extend maximum reach of DWDM technology.

---
Monitor Port for Easy Troubleshooting without Affecting Traffic
Usually at a split of 1% (2%, 3%, 5% also available).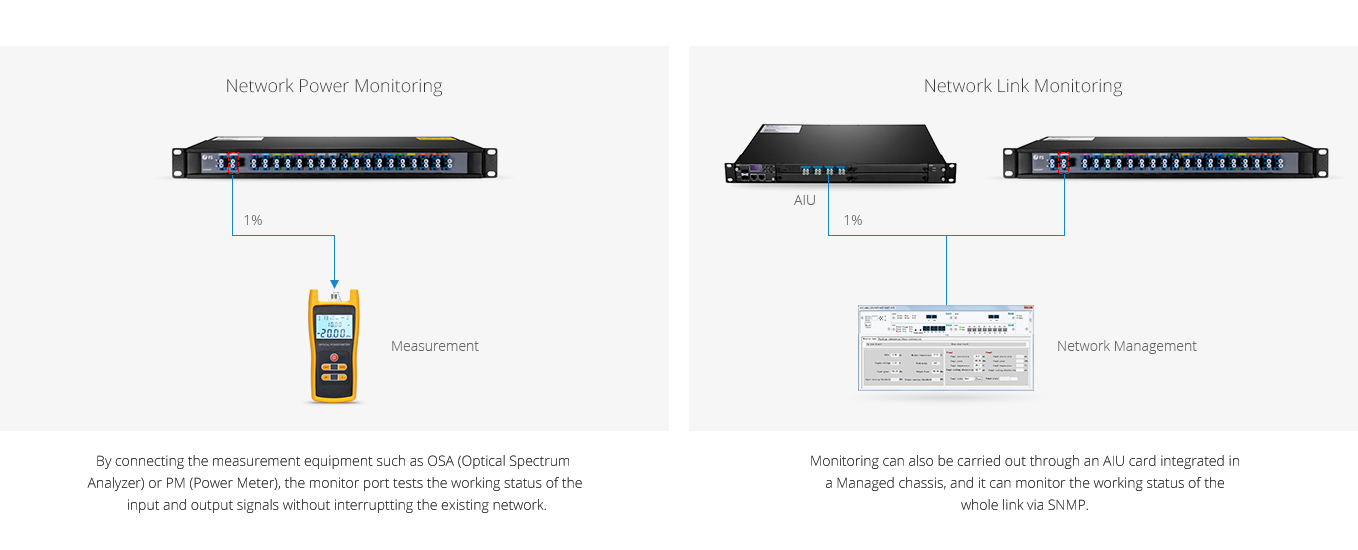 ---
Remarkable Concentration and Manageability
Mux/Demux can increase your network capacity combined with FS Multiservice Transport (such as EDFA, DCM, OEO and so on), which can improve the manageability and interconnectivity of WDM Netwrok.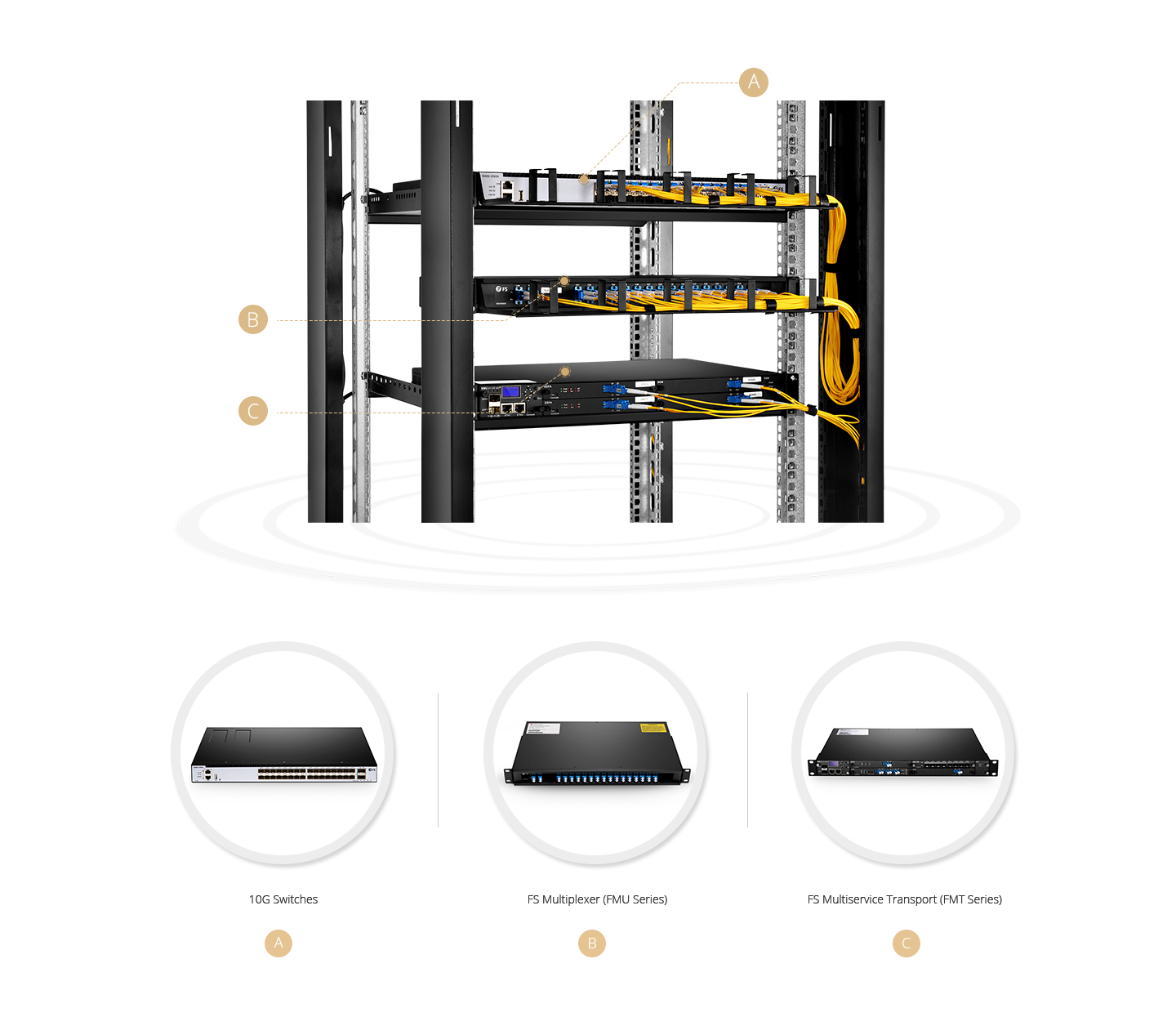 Tips
• DWDM is an optical multiplexing technology used to increase bandwidth over existing fiber networks.
• When it is not in use, please always capped with a clean dust cap, and always keep adapter ports and fiber connectors clean.
• Attached sticker describes the specifications of MUX, which improves deployment flexibility for your WDM system.
• FS.COM always focus on design, R&D, innovation to provide you optimal products. Welcome to contact
tech@fs.com
or
sales@fs.com
.