Please enter the 12-digit security code.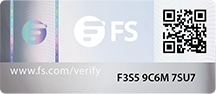 1. Locate the security label on the package.
2. Scan QR code to verify your FS products directly, or enter the security code to authenticate your products on this page.
*If there is no label on the package, this does not mean that the product is counterfeit.