T5850-48S6Q 48 10GE SFP+ & 6 40GE QSFP+ Ports Network TAP

FS network TAP (Test Access Port) delivers security, visibility and traffic analysis for high density, non-blocking 1G/10G/40G/100G networks at any scale with advanced traffic management capabilities for lossless monitoring of network traffic. It can cost-effectively and losslessly monitor all datacenter network traffic, while capturing and analyzing only the traffic that is needed.

With the TAP, customers can transform opaque datacenter traffic into comprehensive visibility for security threat detection and mitigation, application and network performance management, service availability monitoring, traffic recording and troubleshooting.
Product Details
| | | | |
| --- | --- | --- | --- |
| Switching Method | Store and Forwarding/ Cut Through | Switching Capacity | 1.44Tbps |
| CPU | Freescale PowerPC P1010 | Latency | 612ns |
| Flash | 2GB (NAND) | Max. TAP Groups | 512 |
| System Memory | 1GB | Max. Flow Entries | 4K |
| Packet Buffer | 9 M | Max Power Draw | <180W |
---
Product Tree
The T5850-48S6Q TAP Realize Traffic Flow Shunt in Network Through Parallel Transmission.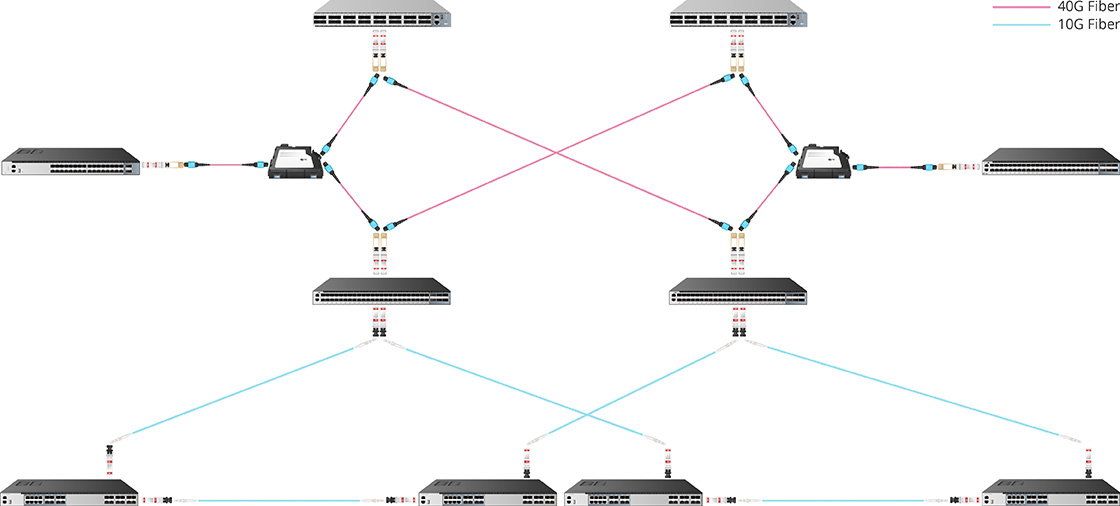 

T5850-32S2Q 32-Port 10GE SFP+ with 2 40GE QSFP+ Ports Network TAP Aggregation
S$ 8,939.00


T5850-48S6Q 48-Port 10GE SFP+ with 6 40GE QSFP+ Ports Network TAP Aggregation
S$ 10,589.00


N8000-32Q (32*40Gb) 40Gb L2/L3 Switch with Cumulus® Linux® OS
S$ 11,416.00


Cisco QSFP-40G-SR4 Compatible 40GBASE-SR4 QSFP+ 850nm 150m MTP/MPO DOM Transceiver Module
S$ 54.00


3m (10ft) MTP Female 12 Fibers Type B Plenum (OFNP) OM4 (OM3) 50/125 Multimode Elite Trunk Cable, Magenta
S$ 81.00


3x MTP Male, 12 Fibers OM4 Multimode FHX TAP Cassette, 50/50 Split Ratio (Live/Tap), 40G
S$ 700.00


S5850-48S6Q 48-Port 10Gb SFP+ L2/L3 Data Center ToR/Leaf Switch with 6 40Gb QSFP+ Uplinks
S$ 4,951.00


FS for Cisco SFP-10G-SR Compatible, 10GBASE-SR SFP+ 850nm 300m DOM Transceiver Module (Standard)
S$ 25.00


3m (10ft) LC UPC to LC UPC Duplex OM4 Multimode PVC (OFNR) 2.0mm Fiber Optic Patch Cable
S$ 8.10


S5800-8TF12S 12-Port 10Gb SFP+ L2/L3 Switch with 8 Gigabit RJ45/SFP Combo Ports for Hyper-Converged Infrastructure
S$ 2,613.00
---
Product Highlights
TAP Function Higlights
• Flow Copy / aggregation / integration
• Packet truncation and M:N traffic replication
• Ingress flow-based packet distribution and egress packet filter
• Time stamps and mark source port by VLAN
• Hash based on IP 5-Tuple to ensure session consistency flow output
• Hash based on inner header of VxLAN/NvGRE/GRE tunnels
• Round Robin style load balancing
• Supports L2~L4 header based packet identification, filtering and replication
• Editing the IPv6SA/IPv6DA/ IPDA/IPSA and MACDA/MACSA and VLAN of packets
• User-Defined Fields matching, up to 4 bytes can be supported
• VxLAN/NvGRE/L2GRE header decapsulation
• Supports ERSPAN header decapsulation, including inner vlan/vxlan
• Supports sFlow
• TACAS+ and RADIUS authentication
• Console, IP, SNMP, SSH, RPC-API and WebUI management
High Availability
• Hot-pluggable power modules
• Power module supports 1+1 redundancy
• Support N+1 fans redundancy and speed intelligent adjustment
• Real-time environment monitoring for chipset temperature, status of fan and power, etc.
Green and Energy Saving
• Automatic temperature based fan swapped control and power consumption adjustment
---