12 Fibers Singlemode 9/125 OS2, LSZH, Non-Armored, Central Loose Tube Indoor/Outdoor Cable
Indoor/outdoor cables combine the flame resistance and safety features of an indoor riser or plenum cable with the durability that is critical for outside plant cable. LSZH material Jacket has good flame retardant performance. The loose tube surrounded by the aramid yarn and grease provides special protection for the fiber. The primary advantage of the cable is the ability to transition from the outdoor to indoor environment with the same cable, thus eliminating a splice/connector point.


| | | | |
| --- | --- | --- | --- |
| Cable Type | Center Loose Tube Cable | Fiber Count | 12 Fibers |
| Outer Jacket | LSZH (Blue) | Fiber Type | Singlemode G.652D |
| Cable Diameter | 6.0mm | Cable Weight | 45kg/km |
| Tensile Strength (long/short term) | 200/600N | Crush Load (long/short term) | 200/1000 (N/100mm) |
| Bending Radius (long/short term) | 10D/20D (mm) | Operating/Storage Temperature | -40 to +75°C/-20 to +60°C |
Feature and Application
High density, easy to install

Low shrinkage and high tensile strength

Moisture-resistant and flame-retardant LSZH polymer

Default jacket is blue, other color also can be customized

Enhances system performance by avoiding additional splice point attenuation

Loose tube isolates fibers from outside environment and mechanical stresses

Private networks

Local area networks

Aerial, duct applications and entrance facilities

Cable trays and general horizontal applications

Designed to reduce smoke & hazardous emissions in confined spaces

Interbuilding and intrabuilding voice or data communication backbones
Ideal Solution for Non-Armored Central Loose Tube Indoor/Outdoor Cable
Indoor/outdoor cable can be transited from outdoor to indoor environment without a splice/connector point. With moisture-resistant and flame-retardant LSZH polymer, non-armored central loose tube LSZH indoor/outdoor cable is ideal for cable deployment in interbuilding and intrabuilding backbone wiring. It's also widely used in campus LAN and WAN.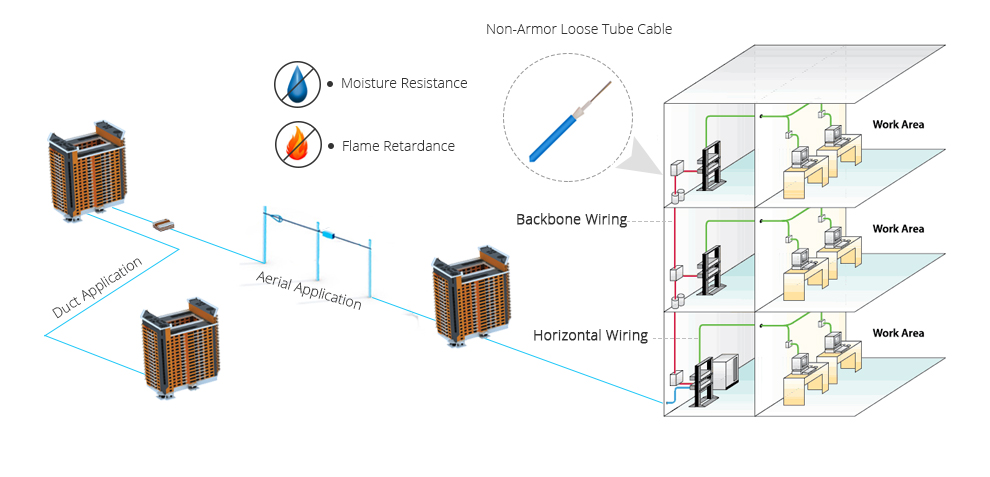 Packaging & Labeling
FS offers two types of cable package. Package 1 is usually for indoor, light weight cables. Package 2 is usually for outdoor, heavy weight cables. Usually we only attach Test Report on the out package of the cable, but we could also mark as your requirements.
More customized needs please contact
sales@fs.com
.