Overview

In a colocation rack, it is important to have a full redundant setup within the rack, so in case a failure happens, all servers are still online. Within the rack every server will be connected to each switch with MLAG.

MLAG (Multi-chassis Link Aggregation) is a non-standard protocol that enables Layer 2 multipathing from the host to gain either additional bandwidth or link resiliency. It can also achieve both link redundancy and device redundancy to save much cost for your network.
Additional Bandwidth

Network Resiliency

Double Redundancy

Cost Saving
MLAG Typical Application
Using MLAG to pair two FS S5850 series L2/L3 switches to increase your network scalability by 2X.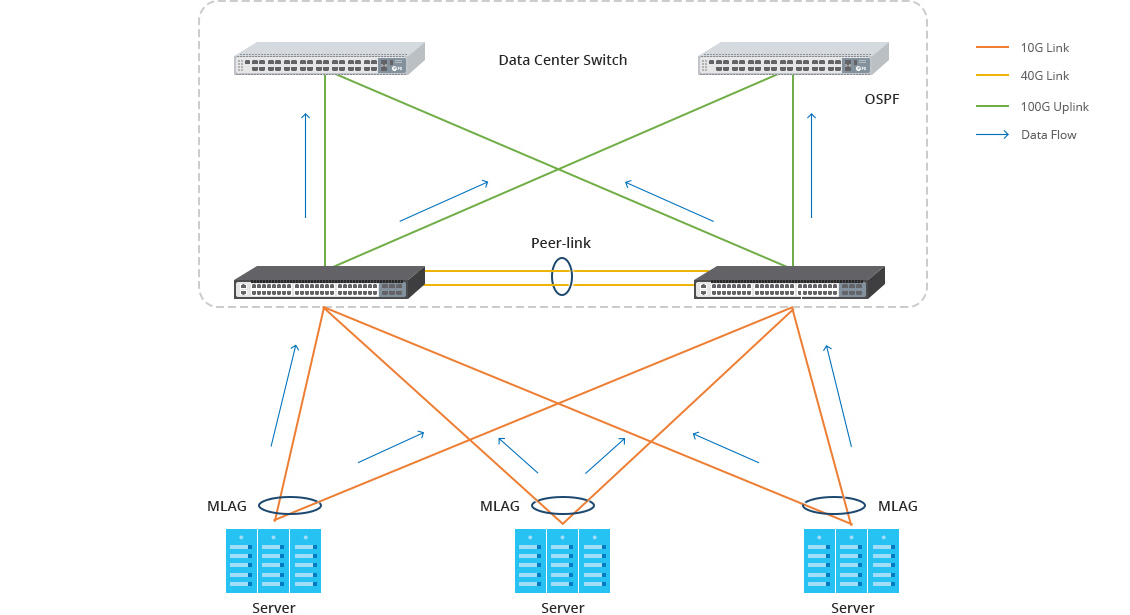 

N8500-32C (32*100Gb) 100Gb Spine/Core Layer Switch with Cumulus® Linux® OS for 3 Years
£9,900.00


S5850-48S2Q4C 48-Port 10Gb SFP+ L2/L3 Carrier Grade Switch with 6 Hybrid 40Gb/100Gb Uplink Ports
£4,626.00


LC-LC UPC Duplex OM3 Multimode Fibre Patch Lead 2.0mm PVC (OFNR) 3m
£4.10


FS for Cisco SFP-10G-SR Compatible, 10GBASE-SR SFP+ 850nm 300m DOM Transceiver Module (Standard)
£15.00


Intel X710-BM2 Dual-Port 10 Gigabit SFP+ PCIe 3.0 x8, Ethernet Network Interface Card
£206.00


Cisco QSFP-100G-SR4-S Compatible 100GBASE-SR4 QSFP28 850nm 100m DOM Transceiver Module
£80.00


Cisco QSFP-40G-SR4 Compatible 40GBASE-SR4 QSFP+ 850nm 150m MTP/MPO DOM Transceiver Module
£32.00


12 Fibres MTP to MTP Female Plenum (OFNP) OM4 (OM3) Multimode Elite Fibre Trunk Cable, Type B, 1m
£32.00


12 Fibres MTP to MTP Female Plenum (OFNP) OM4 (OM3) Multimode Elite Fibre Trunk Cable, Type B, 1m
£32.00
Explore How We Reach Your Goals
Design Centre

Expertise in incorporating requirements and
providing an innovative, cost-effective
and reliable one-stop solution.

Quality Centre

Provide high quality products with strict tests
and industry standard certifications.

Technical Support

Get free support & solution design for your
project online.

Thanks for your feedback.
Your opinion matters to us. We'll review and use it to improve the FS website for future visits.