Customised BO Module, Pluggable Module for FMT Multi-Service Transport Platform

To offer the industry's highest density 40/100Gbps transport, FS BO Module is designed from the ground up to reduce capital and operational expenses, which utilizes pluggable interfaces to divide a single 40/100Gbps service to multiple protected 10 Gbps services without the need to pre-plan the network or replace hardware for rapidly achieving the long-haul transmission.
Products Details
| | | | |
| --- | --- | --- | --- |
| Transmission Speed | 4×10Gb/s,10×10Gb/s | Fibre Mode | OS2, OM1, OM2, OM3, OM4 |
| Housing | Piug-in Card(Occupies 1 slot in FMT chassis) | Match Chassis | FMT 1U/2U/4U |
Highlights
Choose BO Module You Need
BO module is an efficient way to disintegrate 40/100G service into multiple 10G services. It predominantly increases the transmission distance of the optical transport solution by 10G low rates and reducing the overall solution CAPEX and OPEX.

---
Compatible Transceiver
FS BO modules allow widely used transceivers to be connected via MTP Trunk Cable, enabling network operators to flexibly deploy their network.


Matching Cable
In combination with high quality and cost-effective fibre optical cable or uniboot cable taking push pull tab for easy installation and removal.
---
Available for All-in-One Multi-Service Transport System
A one-slot plug-in BO module is fully integrated into FMT advanced 1U/2U/4U Managed Chassis, which meets market demands for rack space savings and efficient power consumption. As a part of FMT system where OEO, DWDM EDFA and other traffic units can also be deployed in the same chassis, it remarkably simplifies network planning and operation.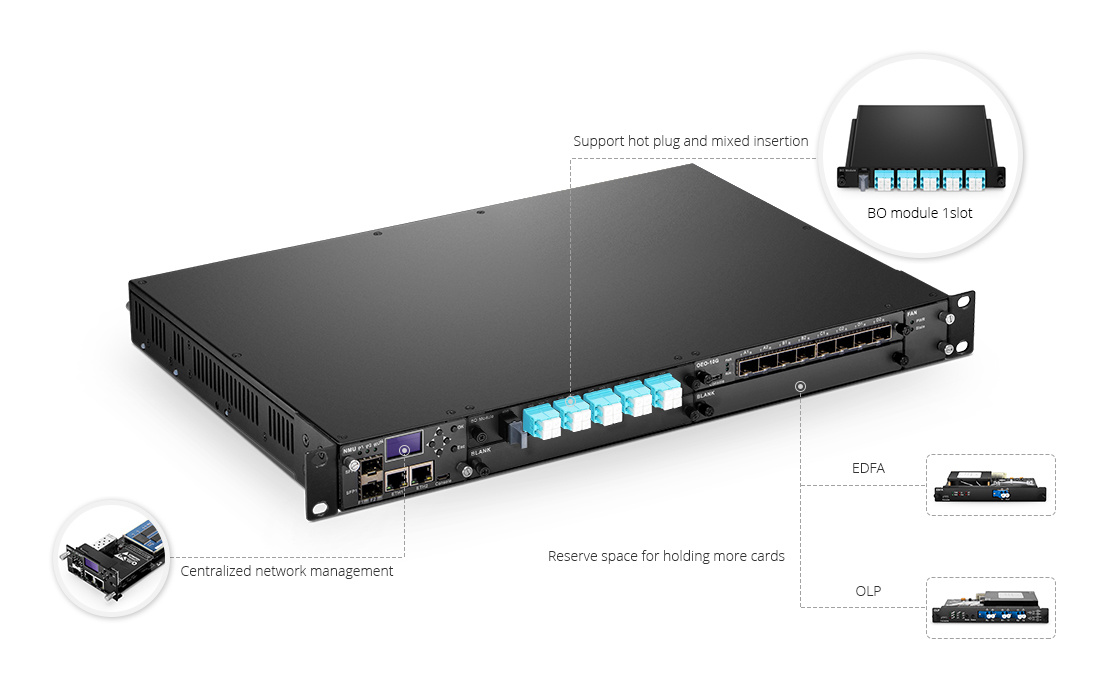 ---
Creating Simplicity & Flexibility in Deployed Networks
Simple Connection with the matching cable and transceiver enables network operator to easily configure the network, which delivers the scalability required to satisfy the largest interconnect requirements—from metro to ultra-long-haul distances.

---
Exceptional Services Ready to Optimize Your Network
We at FS pride ourselves on providing industry-leading customer service and support. Our services make sure that customers' any problem can be solved quickly and efficiently. If you want more intelligent projects, you are welcome to consult a tailored OTN soltution offered by our highly experienced technical team.

---
Products & Services for Better Networking
Financial Institutions丨Universities丨Service Providers丨Enterprises丨Dark Fibre Providers
Tips:
•FS professional technical support team offers you gratis solution 24/7 online.
•FS always focuses on design, R&D, innovation to provide you optical products. Welcome to contact
tech@fs.com
or
sales@fs.com.