8 Channels C53-C60 Dual Fibre DWDM Mux Demux, with Monitor Port, Expansion Port and 1310nm Port, FMU Plug-in Module, LC/UPC

8 Channels DWDM Mux Demux offers high-capacity terminal DWDM solutions for network expansion. This passive DWDM equipment is used for long-haul transmission where wavelengths are packed tightly together over the C-band, up to 48 wavelengths in 100GHz grid (0.8nm). DWDM multiplexer is protocol transparent and suited for applications including 10/1G Ethernet, SDH/SONET, 16/8/4/2/1G Fibre Channel, FTTx, CATV, etc.
Product Specification
| | | | |
| --- | --- | --- | --- |
| Wavelength | 8 channels C53-C60 | Channel Spacing | 100GHz (0.8nm) |
| 1310nm Port Pass Band Width | 1260nm~1360nm | Insertion Loss | ≤ 3.3dB (with connectors and adapters) |
| Passband Ripple | ≤ 0.5dB | Channel Passband | ±0.11nm |
| Insertion Loss @ Exp | ≤ 3.3dB (with connectors and adapters) | Technology | TFF (Thin Film Filter) |
| Adjacent Channel Isolation | ≥ 30dB | Non-adjacent Channel | ≥ 40dB |
| Return Loss | ≥ 45dB | Directivity | ≥ 45dB |
| Polarization Dependent Loss | ≤ 0.3dB | Polarization Mode Dispersion | ≤ 0.1ps |
| Operating Temperature | -40°C~ +85°C | Storage Temperature | -40°C~+85°C |
| Net Weight | 1.2kg (2.6lb) | Dimensions (HxWxD) | 1.73"x8.35"x10.04" (44x212x255mm) |
---
Network Connectivity
40km Transmission Can be Accomplished without Any Additional Device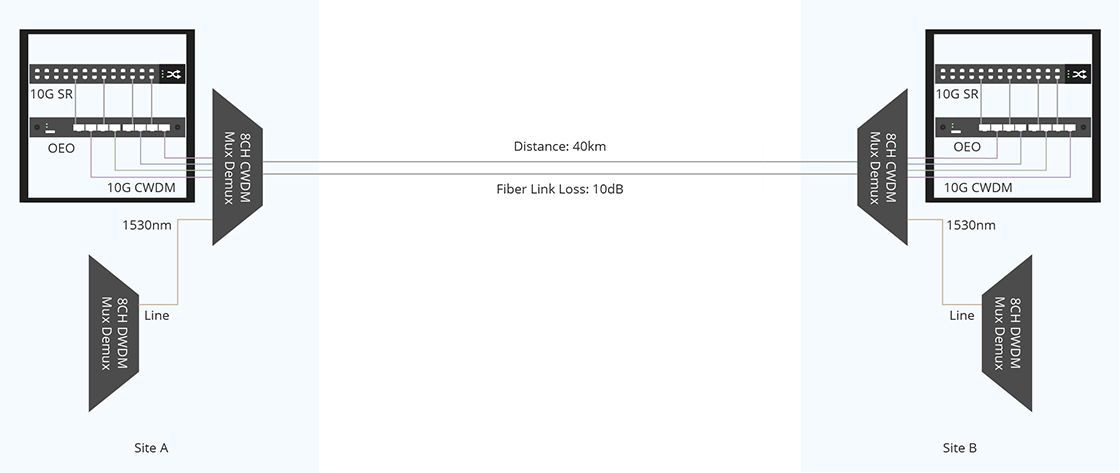 ---
Video
---
---
Product Highlights
Mux/Demux 8 Channels over Dual Fiber
Built-in Mux and Demux in one unit, working on two network fibers
Protocal and rate transparent for applications up to 10Gbps
Completely passive, no power& no cooling required

---
Hybrid DWDM over CWDM Network
CWDM wavelengths range from 1260-1625nm, channel spacing is 20nm, which actually cover all the range of DWDM wavelengths (1470-1625nm). And DWDM wavelengths have much smaller channel spaces (0.4nm/0.8nm). Therefore, the CWDM wavelengths near DWDM wavelengths can be used to transmit the DWDM wavelengths.

---
Expansion Port - For Future Bandwidth Increasing
Expansion port makes it possible to increase the network capacity by connecting it to the line port of another DWDM MUX/DEMUX supporting different wavelengths, without the need of installing or leasing additional fibers.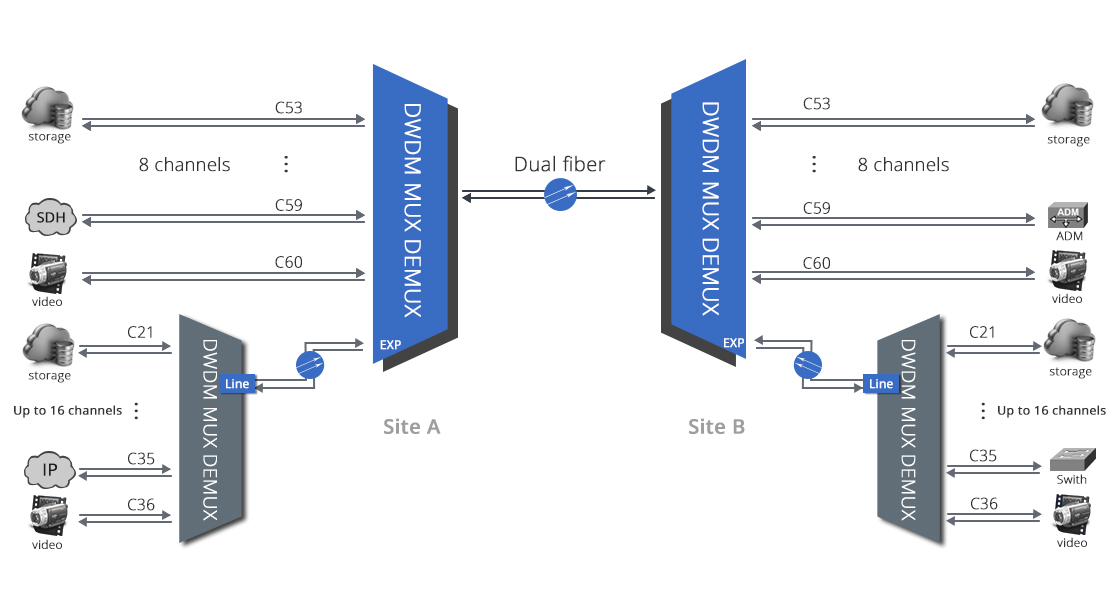 ---
Scalable and Higher-density Solution
A more scalable and higher-density solution to add CWDM/DWDM capability to the existing and new networks.



FMU 2-Slot 1U 19" Rack Chassis Unloaded, holds up to 2 Units FMU Plug-in Module
£39.00


CWDM/DWDM Hybrid Solution, 8 Channels C53-C60, with Monitor, Expansion and 1310nm Port, LC/UPC, Dual Fibre DWDM Mux Demux, FMU Plug-in Module
£450.00


8 Channels 1470-1610nm, with Monitor and Expansion Port, LC/UPC, Dual Fibre, Low Insertion Loss CWDM Mux Demux, FMU Plug-in Module
£280.00
Tips
• DWDM is an optical multiplexing technology used to increase bandwidth over existing fiber networks.
• When it is not in use, please always capped with a clean dust cap, and always keep adapter ports and fiber connectors clean.
• Attached sticker describes the specifications of MUX, which improves deployment flexibility for your WDM system.
• FS.COM always focus on design, R&D, innovation to provide you optimal products. Welcome to contact
tech@fs.com
or
sales@fs.com
.