10GBASE CWDM SFP+ Stock List
| | | | | | |
| --- | --- | --- | --- | --- | --- |
| Wavelength | Distance | Stock | Wavelength | Distance | Stock |
| 1270nm | 40km | 39 pcs | 1530nm | 40km | 58 pcs |
| 1290nm | 40km | 70 pcs | 1550nm | 40km | 83 pcs |
| 1310nm | 40km | 46 pcs | 1570nm | 40km | 80 pcs |
| 1330nm | 40km | 37 pcs | 1590nm | 40km | 62 pcs |
| 1350nm | 40km | 28 pcs | 1610nm | 40km | 72 pcs |
| 1370nm | 40km | 37 pcs | 1470nm | 80km | 28 pcs |
| 1390nm | 40km | 73 pcs | 1490nm | 80km | 2 pcs |
| 1410nm | 40km | 76 pcs | 1510nm | 80km | 35 pcs |
| 1430nm | 40km | 46 pcs | 1530nm | 80km | 45 pcs |
| 1450nm | 40km | 87 pcs | 1550nm | 80km | 43 pcs |
| 1470nm | 40km | 56 pcs | 1570nm | 80km | 31 pcs |
| 1490nm | 40km | 42 pcs | 1590nm | 80km | 51 pcs |
| 1510nm | 40km | 61 pcs | 1610nm | 80km | 20 pcs |
Cisco CWDM-SFP10G-1470 Compatible 10G CWDM SFP+ Transceiver Module (SMF, 1470nm, 80km, LC, DOM)
Product Details
| | | | |
| --- | --- | --- | --- |
| Cisco Compatible | CWDM-SFP10G-1470 | Vendor Name | FS |
| Form Type | SFP+ | Max Data Rate | 11.0957Gbps |
| Wavelength | 1470nm | Max Cable Distance | 80km |
| Interface | LC duplex | Optical Components | DFB CWDM |
| Cable Type | SMF | DOM Support | Yes |
| TX Power | 0~4dBm | Receiver Sensitivity | <-23dBm |
| Commercial Temperature Range | 0 to 70°C (32 to 158°F) | Protocols | MSA Compliant |
---
Quality Certification
Quality and standards are the foundation of FS. We are dedicated to providing customers with outstanding, standards-compliant products and services. FS has passed many quality system verifications, like CE, RoHS, FCC, established an internationally standardized quality assurance system and strictly implemented standardized management and control in the course of design, development, production, installation and service.


Please Note: Installing a third party transceiver does not void your network equipment warranty. Network equipment manufacturers all have guidelines stating that warranty support on their products will not be affected.
Lifetime Warranty
All the fiber optic products in FS are fully warranted against defects in material and workmanship with a lifetime guarantee. This warranty does not cover damage caused by accident, improper care, improper use, negligence, normal wear and tear, or the natural breakdown of colors and materials over extended time and use.


---
Choose the right CWDM SFP+ optics for modern CWDM Transmission
To acheive a long haul transmission in 10 Gigabit Ethernet with existing CWDM Mux Demux, FS CWDM SFP+ 80km optics is an ideal choice to match actual networks needs.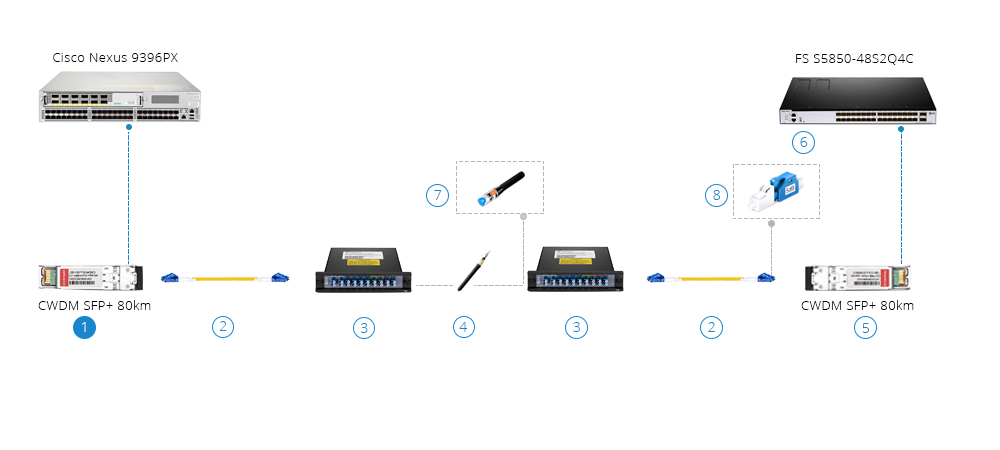 | Item No. | ID# | Description |
| --- | --- | --- |
| 1 | 19368 | Cisco Compatible 10G CWDM SFP+ 1490nm 80km DOM Transceiver |
| 2 | 40191 | 1m LC UPC to LC UPC Duplex 2.0mm PVC(OFNR) SMF Fiber Patch Cable |
| 3 | 43099 | 8 Channels 1470-1610nm Dual Fiber CWDM Mux Demux |
| 4 | 51308 | 24 Fibers SMF, Single Armored Double Jacket, I/O Tight-Buffered Distribution Cable, LSZH |
| 5 | 44112 | Generic Compatible 10G CWDM SFP+ 1490nm 80km DOM Transceiver |
| 6 | 29122 | S5850-32S2Q (32*10GE+2*40GE) High Performance Data Center Switch |
| 7 | 35389 | 10mW (8-10km) FVFL-205 Pen Shape Visual Fault Locator |
| 8 | 48523 | LC/UPC Singlemode Fixed Fiber Optic Attenuator, Male-Female, 5dB |
Quality Control System:
Demonstration
Cisco Nexus 9300 Series (Switch/Module : N9K-C9396PX; Uplink Module : N9K-M12PQ )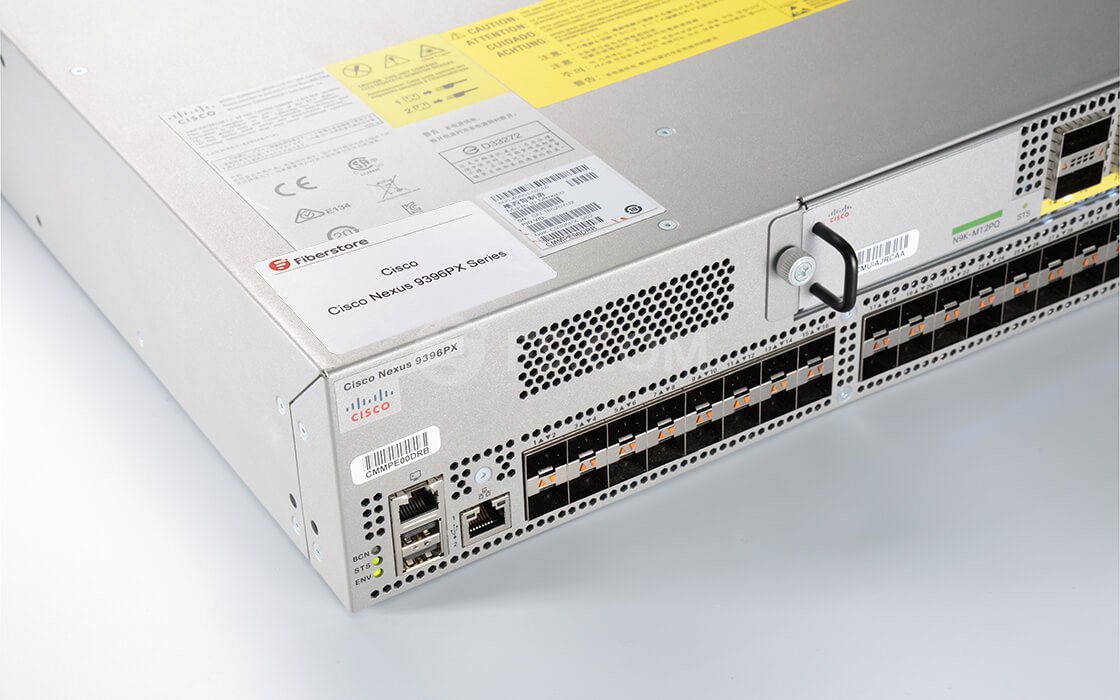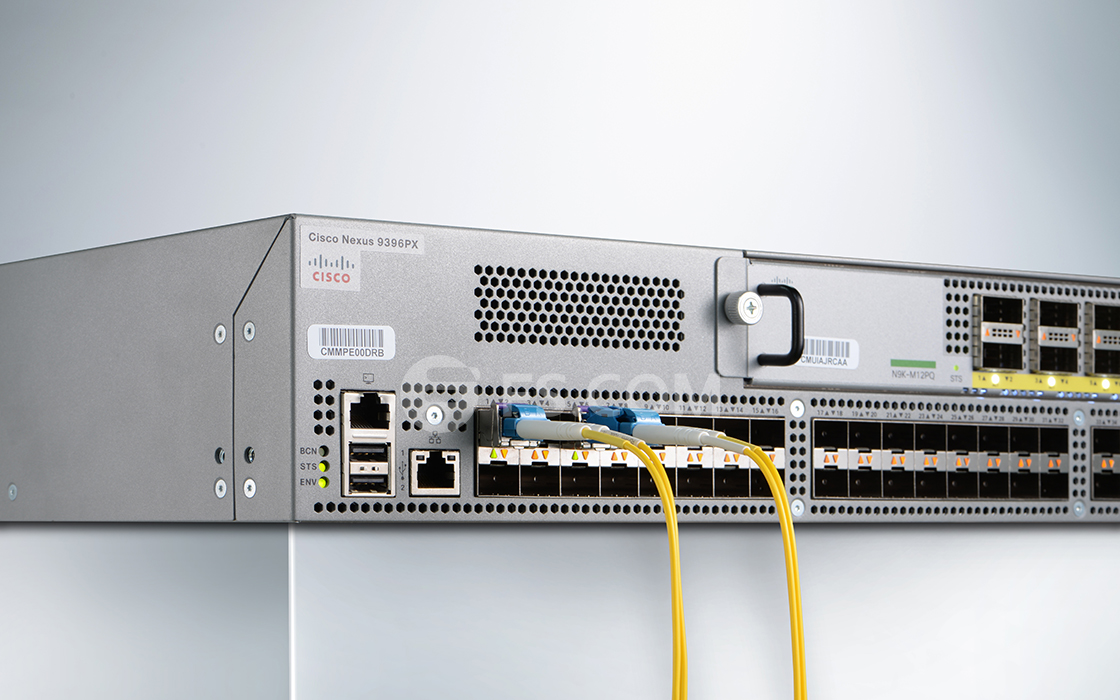 Cisco ASR 9000 Series (Modular Line Card : A9K-MPA-8X10GE)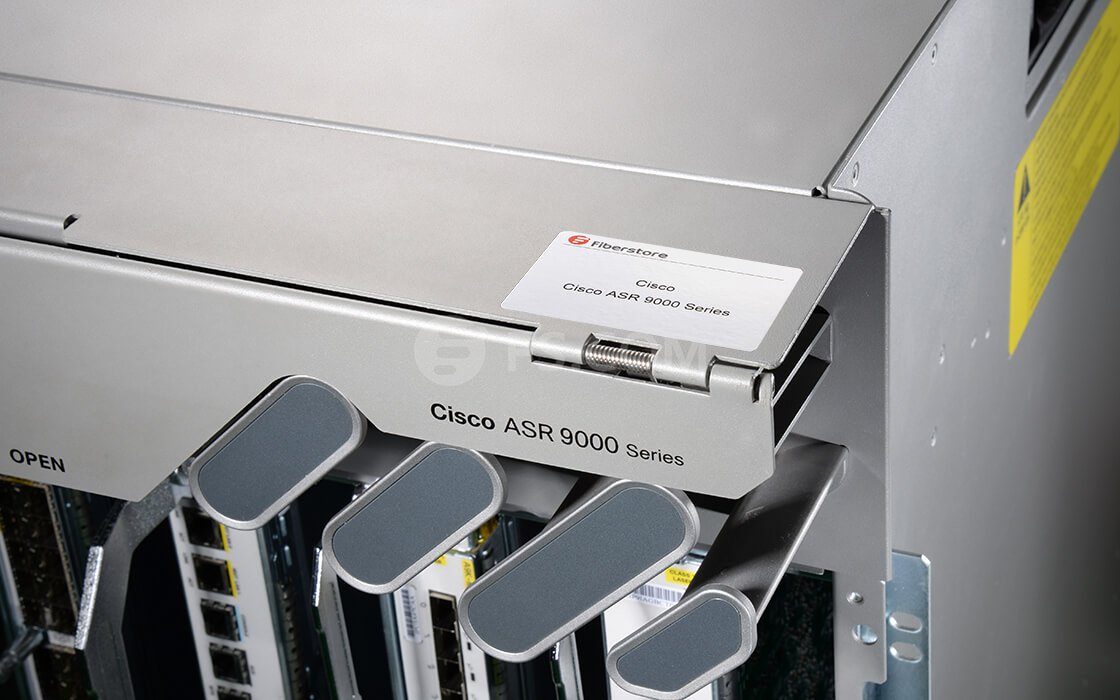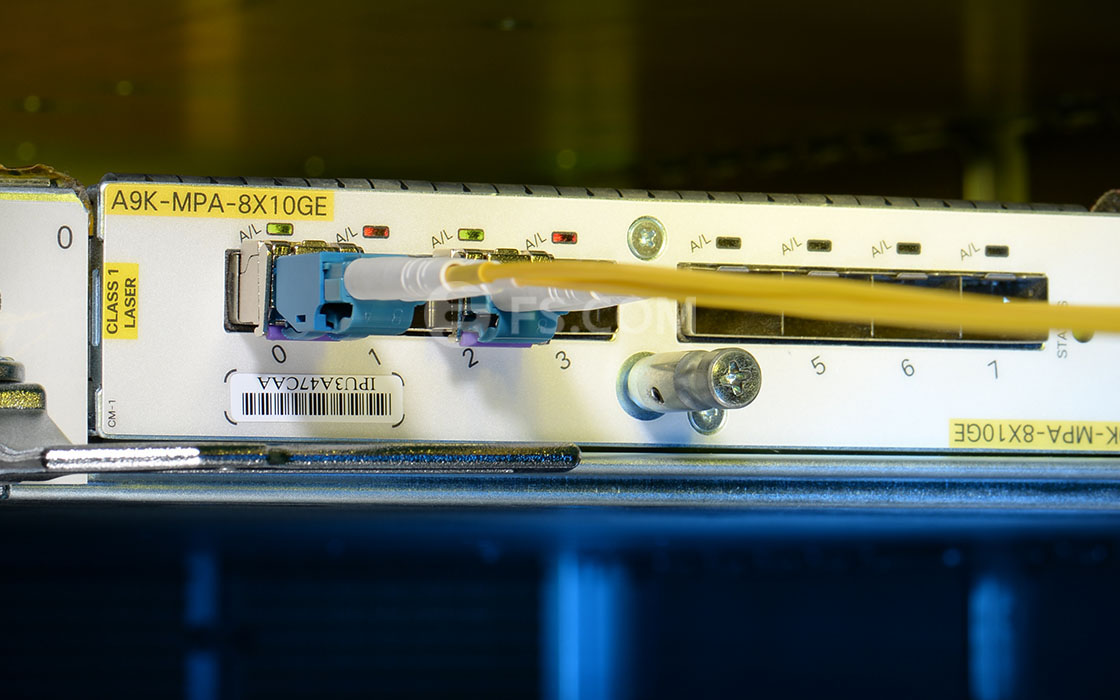 Spectral Attenuation Measurement
In fiber-optic communications, Coarse Wavelength Division Multiplexing (CWDM), a WDM technology which multiplexes a number of optical carrier signals onto a single optical fiber by using different wavelengths (i.e., colors) of laser light. Effective CWDM realizations with uncooled lasers and wide passband filters a nominal central wavelength spacing of not less than 20nm. Total source wavelength variation of the order of ± 6-7nm is expected to be compatible with current filter technologies. In 2002 the ITU standardized a channel spacing grid for use with CWDM (ITU-T G.694.2), using the wavelengths from 1270nm through 1610nm with a channel spacing of 20nm. Many CWDM wavelengths below 1470nm are considered "unusable" on older G.652 (dotten line) specification fibers, due to the increased attenuation in the 1270-C1470nm bands. Newer fibers which conform to the G.652.C and G.652.D (full line) standards, such as Corning SMF-28e and Samsung Widepass nearly eliminate the "water peak" attenuation peak and allow for full operation of all 18 ITU CWDM channels in metropolitan networks.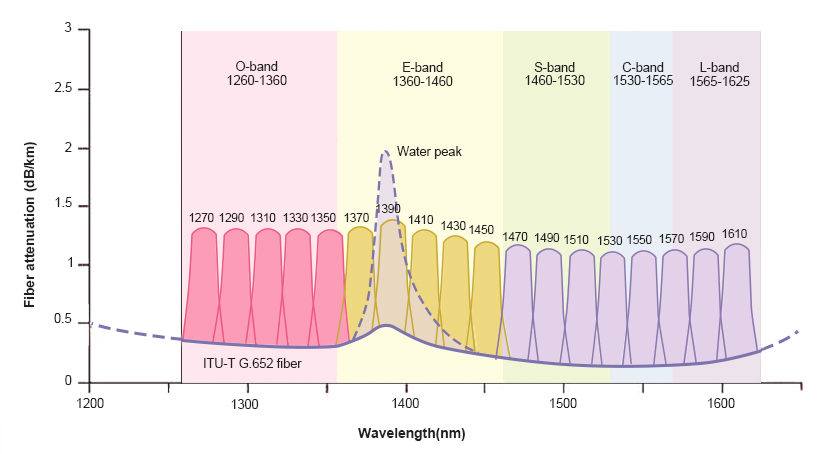 ---
Platform Support
Cisco CWDM-SFP10G-1470 is supported on a wide range of Cisco equipment.
FS S5850-32S2Q Switch

Cisco ASR 9000 ASR-9001

Cisco WS-C3850-12XS

Cisco WS-C3650-48TD

Cisco WS-C3850-48T

Cisco WS-C3850-48XS-S

Cisco ASR 9000 A9K-36X10GE-TR

Cisco ME-3600X-24FS-M (SFP ports)

Cisco WS-C3850-24P

Cisco WS-C3650-48TQ

Cisco WS-C3650-48FQ

Cisco WS-C3850-48XS-E

Cisco Nexus 9000 N9K-C9372PX-E

Cisco WS-C3850-24XS

Cisco WS-C3650-48PQ

Cisco Nexus 9000 N9K-C9396PX

Cisco ASR 9000 A9K-MPA-8X10GE

Cisco WS-C3850-24S

FS S5850-48S2Q4C Switch

Cisco WS-C3850-24T

FS S5800-48F4S Switch

Cisco ASR 9000 A9K-36X10GE-SE

Cisco WS-C3650-24PD

Cisco Nexus 9000 N9K-C9372PX

Cisco WS-C3650-48FD

Cisco Nexus 9000 N9K-X9464PX

Cisco ASR 9000 A9K-24X10GE-TR

Cisco Nexus 9000 N9K-X9564PX

Cisco WS-C3850-16XS

Cisco WS-C3850-48XS-F-S

Cisco WS-C3650-48PD

Cisco WS-C3850-32XS

Cisco WS-C3850-48P

Cisco WS-C3850-48F

FS S5850-48S6Q Switch

Cisco ASR 9000 A9K-24X10GE-SE

Cisco WS-C3850-48XS-F-E

Cisco WS-C3850-48XS

Cisco WS-C3650-24TD

Cisco WS-C3850-12S