By FS Project Designer2019-07-18

LADB
Industry: Entertainment
Location: United States
Background
Like many fast-growing small and medium-sized enterprises, LADB, which handles a wide range of post-production services like encoding and data security for any media format, is seeking a scalable, reliable network to embrace the future development. They intended to build a spine-leaf structure in a building with some new 100G network switches.
Challenge
Their initial planning was to build a new 100G multimode fibre optic network from the spine on one side of the building to the leaf on the other side at a distance of 140ft. In viewing of the possibilities for future expansion, running cable trunks directly into the equipment won't help.
The devices should meet easy management and quick installation while minimizing the footprint in the racks on either end.
Cables should be qualified to run in the ceiling.
Solution
FS offers a scalable solution that won't occupy much of the space.
Four MTP adapter panels at both ends are bridged by two MTP 72 fibres OM4 trunk cables, which provides a means to connect backbone-to-backbone fibre cabling.

FHX ultra rack mount fibre enclosures, in 1U design, holds four FHX adapter panels and reserves 20 slots for future expansion, realizing easy one-hand installation & removal, while reducing MAC time.

The trunk cables are wrapped by OFNP jacket which have fire-resistance and low smoke production characteristics, representing as the ideal objects to go through ceilings.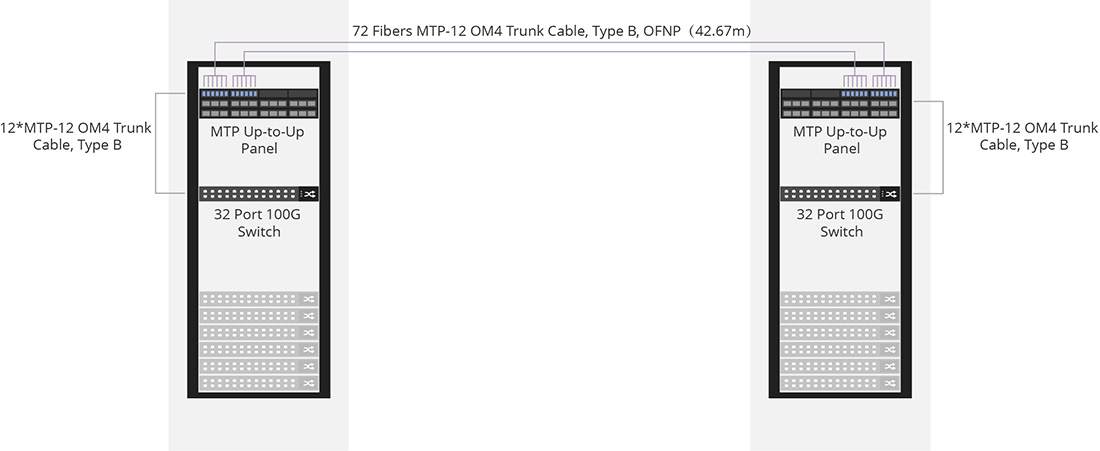 

1U 144 Fibres Rack Mount FHX Ultra HD Fibre Enclosure Unloaded, Holds up to 12x FHX MTP-12 Cassettes or Panels
£129.00


FHX - Fibre Adapter Panel - 6 MTP Key Up to Key Up OM3/OM4 Multimode Adapters
£54.00


Customised 8-144 Fibres MTP-12 OM4 Multimode Fibre Trunk Cable 3.0mm
£44.00


FHX - Fibre Adapter Panel - 12-Port Blank Panel
£5.30
Conclusion
FS provides the solution that takes into consideration the future usage while minimizing the expense. For SMEs and enterprises alike, FS displays as a proficient service provider that advocates cost-efficiency, reliability and security. Quick and responsive staff enable fast delivery of every order.