Our Network Drives Our Business
From 2012 to 2017, FS continues to grow and develop. We have expanded our product research & development center with an area 1500m2.
Technology, sales and product development staff have reached more than 200 people. In order to speed up the information construction to facilitate the communication and information transmission of various departments, FS needs to deploy a new office network.

What the Challenges We were Facing?
Achieves full coverage of networks for 1500
m2 office area together with 200 employees
Monitors all the office area and achieves
security management
Provides a scalable foundation for future
service offerings
FS Solutions Deliver on Savings
FS provides equipments below so as to meet the needs of all the employees work in offices and to facilitate the
future network expansion.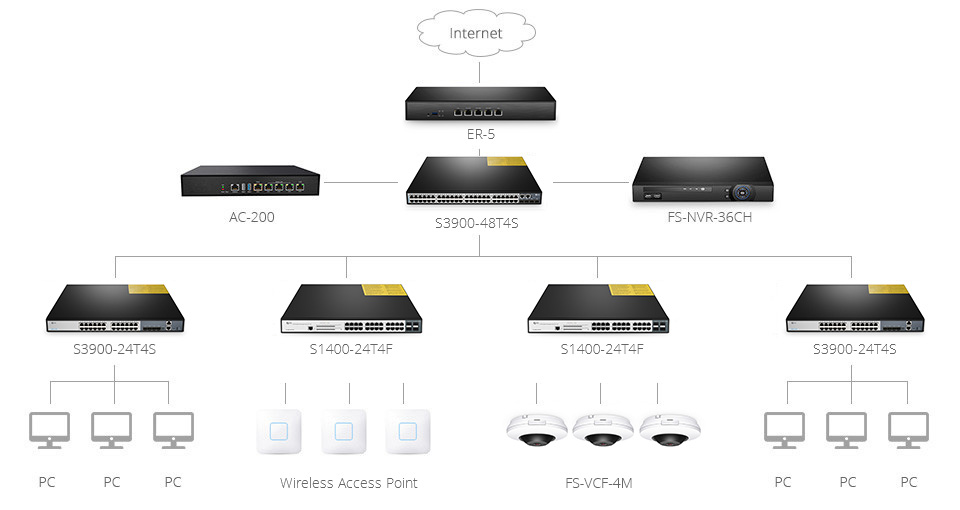 S3900-48T4S ensures the monitoring, wireless and wired network
securities, achieves a comprehensive network coverage.
The S1400-24T4F connects to VoIP phones, wireless APs and IP surveillance cameras for intelligent switching and networks growth.
S3900-24T4S connects and provides network for all PCs.
ER-5 has excellent performance and powerful data processing capabilities to meet the business requirements of various users and services as well as the heavy traffic.
Product List
| | | |
| --- | --- | --- |
| ID | Part number | Description |
| 72946 | S3900-48T4S | 1GE Access and 10G Uplink Network Switch |
| 72944 | S3900-24T4S | Gigabit Stackable Managed Switch |
| 73459 | S1400-24T4F | 24 Ports Managed Business Gigabit PoE+ Switch |
| 72941 | ER-5 | 5-Port Gigabit VPN Router |
| 15390 | FS-VCF-4M | 4MP 360 Dome IP Camera Low Light Vision |
| 70603 | C6-UTPSGPVCBE-1.2M | 4ft Cat6 Snagless UTP PVC CM Ethernet Network Patch Cable |
| 69180 | C6P-U24FT1U | 24 Ports Cat6 Feed-Through Patch Panel, UTP, 1U Rack Mount |
| 29038 | CMH-SFD1U | 1U Horizontal Cable Management Panel with Finger Duct |
Speeding Installations with a Trusted Team
With FS careful planning and crack team of in-house specialists, installations are virtually seamless. We put in to make each project come
together smoothly.
S1400-24T4F
ER-5
FS-VCF-4M