Overview

Power over Ethernet (PoE) is a widely adopted technology used to transfer power and supply the powered device (PD) including wireless access points, VoIP phones, and surveillance over an RJ-45 cable also carrying data as described in the IEEE 802.3 standard and its evolutions including IEEE 802.3at and IEEE 802.3af.

We provide a full range of Power over Ethernet (PoE) product lines from Power Sourcing Equipment to PoE end-span device covering mainly commercial-grade applications. Making it easier to deploy wireless access point (AP) and IP-based terminal network equipment. It is widely used in fields such as wireless monitoring, safety guard, etc.
Lower Infrastructure Costs

Enhanced Deployment Flexibility

Centralized Control

Simplified Installation
Wireless Monitoring Field Typical Application
The PoE+ switches remotely monitor PD devices with SNMP protocol and have a strong anti-interference ability to prevent the signal from being disturbed to make the surveillance image clear.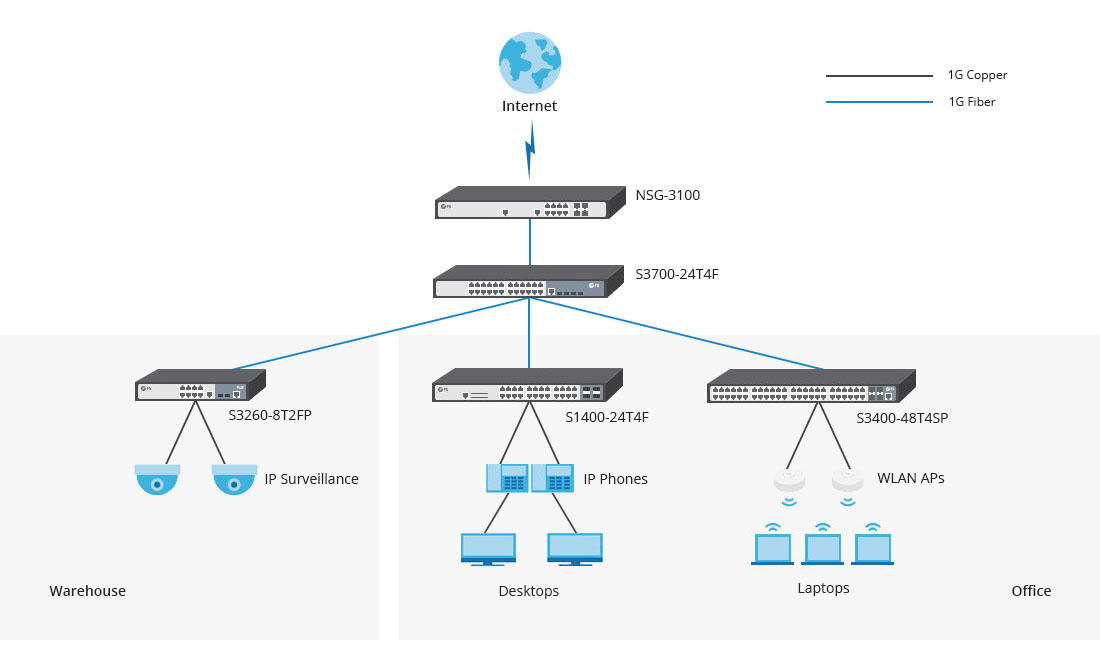 

NSG-3100 Next-Generation Firewall for Medium-sized Enterprises and Data Centers
US$ 3,170.00


S3700-24T4F 24-Port 10/100/1000BASE-T Gigabit L2+ Managed Ethernet Switch with 4 1Gb SFP Uplinks, Fanless
US$ 169.00


S3260-8T2FP 8-Port Gigabit Managed PoE+ Switch with 2 1Gb SFP Uplinks, 260W
US$ 190.00


S3400-48T4SP 48-Port Gigabit Managed PoE+ Switch with 4 10Gb SFP+ Uplinks, 400W
US$ 690.00


733Mbps 2x2 MIMO Dual-Band FAT/FIT Wireless Access Point
US$ 69.00
Explore How We Reach Your Goals
Design Center

Expertise in incorporating requirements and
providing an innovative, cost-effective
and reliable one-stop solution.

Quality Center

Provide high quality products with strict tests
and industry standard certifications.

Technical Support

Get free support & solution design for your
project online.

Thanks for your feedback.