Overview

With the advent of IoT and driven by the need of high power, PoE solution addresses its network capacity as an access layer over combining data and power to power network devices in many enterprise offices, such as Wi-Fi access points, VOIP phones, PC, Printers, and RFID Reader.

Power over Ethernet Solution enables devices no longer require extra power supply - greatly reducing the deployment cost and time. It can also be backed-up by an uninterruptible power supply and capable of controlling whether to disable or reset the connected devices.
Lower Infrastructure Costs

Enhanced Deployment Flexibility

Centralized Control

Simplified Installation
PoE Typical Application
Power over Ethernet is the right choice for small or remote offices deploying IP cameras, VoIP phone systems or wireless access points.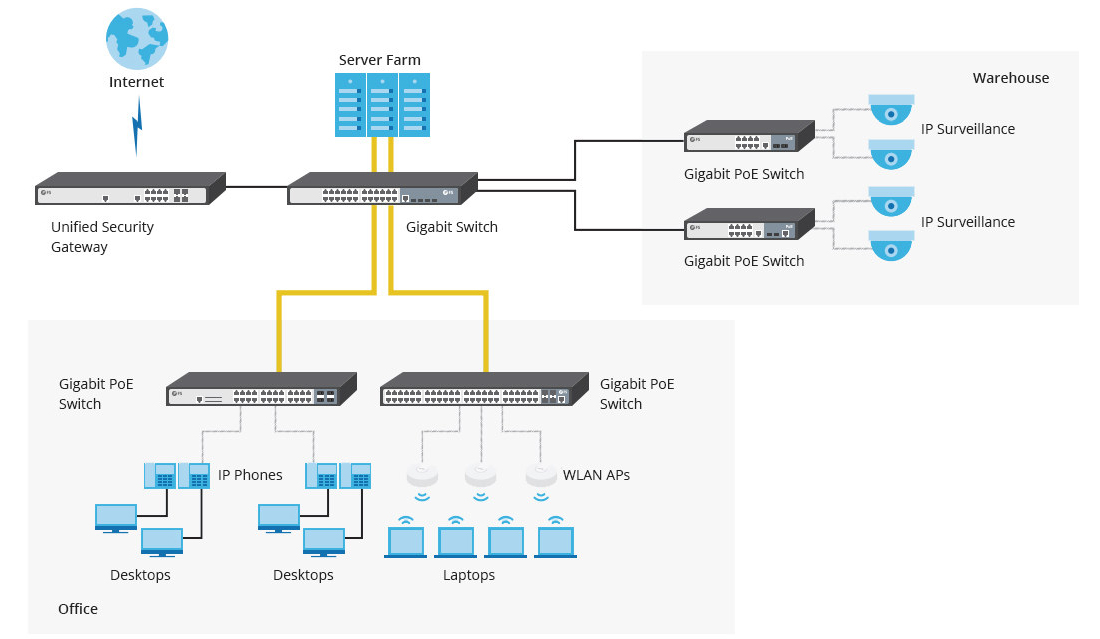 

NSG-3100 Next-Generation Firewall for Medium-sized Enterprises and Data Centers
US$ 4,067.00


S3700-24T4F Fanless 24-Port 100/1000BASE-T Gigabit Managed Switch with 4 SFP Ports
US$ 169.00


8-Port Gigabit PoE+ Managed Switch with 2 SFP, 150W
US$ 160.00


8-Port Gigabit PoE+ Managed Switch with 2 SFP, 260W
US$ 190.00


24-Port Gigabit PoE+ Managed Switch with 4 SFP, 400W
US$ 370.00


48-Port Gigabit PoE+ Managed Switch with 4 SFP+, 400W
US$ 690.00


733Mbps 2x2 MIMO Dual-Band FAT/FIT Wireless Access Point
US$ 69.00
Explore How We Reach Your Goals
Design Center

Expertise in incorporating requirements and
providing an innovative, cost-effective
and reliable one-stop solution.

Quality Center

Provide high quality products with strict tests
and industry standard certifications.

Technical Support

Get free support & solution design for your
project online.

Thanks for your feedback.
Your opinion matters to us. We'll review and use it to improve the FS website for future visits.