How to High-effectively Realize 10G to 40G Migration in Cabling System?
In data center, cloud network and enterprise network, due to scalability, reliability and better performance, the emergency of leaf-spine network architecture
is the necessity, involving in 10G to 40G ethernet. FS pre-assembled, self-contained modular products can exactly help you to set foot on migration
path from 10G to 40G Ethernet, especially in the long-distance application.
40G Ethernet to Server Will be Limited?
Apparently, it is absolutely impossible in future, and the new negeration speed 25G will be existed at the server, a more cost-effective alternative for
short-distance connections between both Top of Rack and server. With the Emergency of single-lane 25G Techonology, 100G Ethernet in datacenter
networks for inter-switch links has proven to be very reliable. 25G is the new 10G, 100G is the new 40G.
Traditional Breakout Cabling Vs. New Generation Patch Panel Cabling
FS 40GbE /100GbE modular breakout patch panel is built directly into the solution so everything is standard.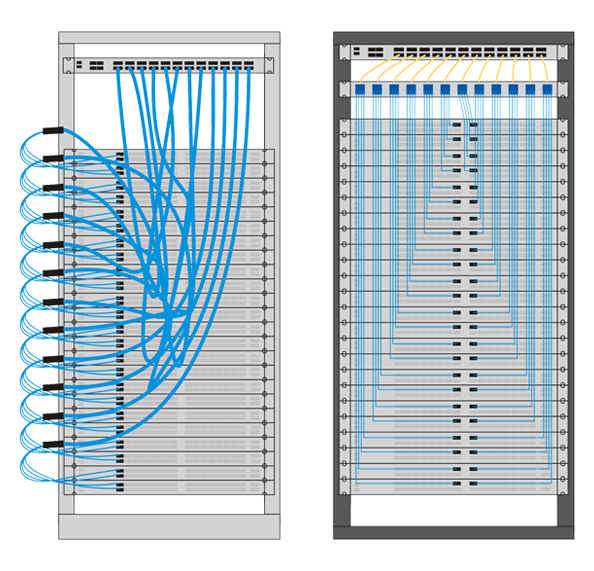 Breakout Cabling Solution
Customized

Without stock, it requires longer time to order based on the actual demands.
Deployment

Due to different length cables, more energy is for better routing.
Low-cost

Direct connection between equipments helps save more money.
Limitation

Not easy to add, move, and change, even stretch.
FS Patch Panel Solution
Standardization

Use standard cables for simplex, high-effective installation, even with stock.
Manageability

Accommodates 12-channel links, reducing clutter.
Compatibility

Upcoming application beginning from MDAs can be reliazed based on original equipments.
Scalability

Modular and standard componentss lead to future expansion.
What to Establish an Optimal and Manageable Patching System?
FS optimized modular products can alright help you to do a better and high-effective management for cabling solution, equipped with 12 groups
MTP-LC harness cables into 1U rack mount, greater space-saving and 100% utilization.
Why Choose FS 40G/100G Breakout Patch Panel?
Network Upgrade

Transiting from 10G to 40G or 25G to 100G Ethernet, without any worries of compatibility

Monetization Solution

Condensing in a dozen of link connectivity with MTP-LC cables to save large cost

High Speed

Integrarted products creates the high-speed network environment with optimal components

Managed Connectivity

Reducing the configuration time and guaranteeing easy cabling acess