FS Backup Force for Higher Patching Field Density
R&D Innovative Design

Under the environment of FS own data center room, much self-experience creates more inspiration and optimized performance.
Powerful Technical Support

According to every customer's requirements, offering solution and solving technical issues to complete their projects.
Huge stock & Fast Delivery

Stock items being enriched sustainably speed up the processing of orders, making the customers earlier carry out their application.
Who Sends One Demand to FS for Helping?

As a leading provider of network equipment and solutions in Canada, Quebec, which is the forth of the largest country in the
world, addicting to IT system like cloud, application performance and mobile etc.
Can we combine those 3 scenarios using same MTP trunk cable (1 or 2) between racks? (distance between rack max of 20meters)
Scenario 1: Connect 10G-SR links from rack#1 to rack#2;
Scenario 2: Connect 40G-SR links from rack#1 to 10G links rack#2;
Scenario 3: Connect 40G-SR links from rack#1 to rack#2.
How to Meet the Customer's Specific Needs?
In the complex cabling system with large capacity, it can optimize data center space with FHX series products, the more important thing is to higher network speed, using large-core MTP trunk cables can reach direct-connect, even upgrading from 10G to 40G ethernet, the below network achitecture between racks is designed to the customer.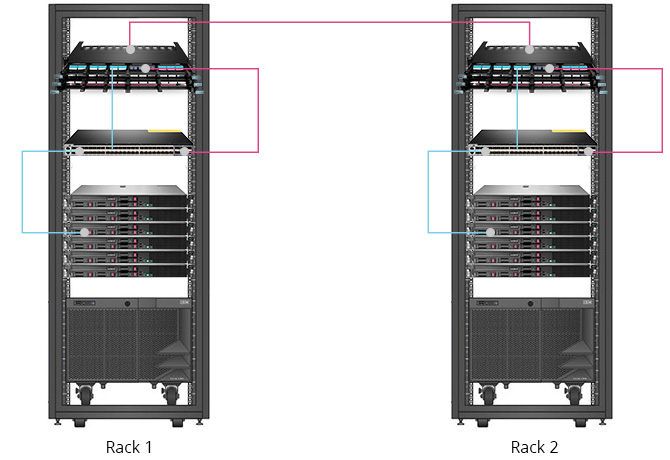 Technical Analysis
10G to 10G

Using FHX MTP-12 to LC cassettes between two racks to better manage and organized cabling, make the cables more standard.
40G to 10G

In the same FHX enclosure, using FHX MTP-8 to LC cassettes is available, via type B MTP backbone cable from a migration of 40G end to 10G end connection, up to higher patching field density.
40G to 40G

For data storage between two racks, to connect FHX MTP adapter panels with MTP female to female trunk cable, type B.
Connection Diagram

Product Lists
Item Series
Description
FHX Ultra Fiber Enclosure
1U Rack Mount Ultra HD Fiber Enclosure unloaded, holds FHX MPO/MTP Cassettes or FAPs
MTP/MPO Fiber Cables
72Fibers OM4 Multimode 12 Strands MTP Trunk Cable 3.0mm, female-female, Elite
12Fibers OM4 Multimode 12 Strands MTP Trunk Cable 3.0mm, female-male, Elite
FHX Ultra MTP/MPO Cassettes
MTP-12 Ultra High Density MPO/MTP Cassette, 12 Fibers OM4, LC Quad, Type A
MTP-8 Ultra High Density MTP/MPO Cassette, 8 Fibers OM4, LC Quad
Fiber Adapter Panel
Ultra High Density Fiber Adapter Panel with 6 MTP(12/24F) Key Up to Key Down Adapters
Ultra High Density Fiber Adapter Panel with 6 MTP(12/24F) Key Up to Key Up Adapters
Ultra HD Fiber Cables
LC UPC to LC UPC Flat Clip Uniboot Duplex OM4 Multimode PVC (OFNR) 2.0mm BIF Fiber Optic Patch Cable
FS devotes to offering self-design, research&development and manufacturing innovative products.
More Successful Solutions
FS strives to provide more solutions with the highest standards of design, flexible application and cost-saving products for you.
FHX Ultra HD Cabling System for Data Center

Making Fiber Connectivity Easier to Manage
10G/25G to 40G/100G Migration

For structured cabling system with breakout patch panel solutions,
FS optimized MTP-LC panel will make you get the world.