Project Overview
This project is to connect two large-scale Data Centers and the purpose is to provide sufficient bandwidth and secure transmission.

Business Requirement

1. 1Tbps transmisison capacity is required at first stage, that is, current 5 channels of 200G service.

2. Two independent links in this solution, 1Tbps for primary link, and 1Tbps for the secondary.
Fiber Condition

G.652 fiber is settled in this project, and the main wavelength is 1550nm.
M6800 Platform Solution
The M6800 series high density 200G DCI transmission platform is recommended based on customer's business requirements. It has 16x100G client side ports and 8x200G line side ports, supporting up to 16x100G, total 1.6Tbps in a single 1U chassis, suitable for short-distance data center interconnection and long-distance service backbone network transmission.

High Density, Large Capacity

Maximum service capacity up to 1.6T in 1RU chassis

Line side supports pluggable 8x200G CFP2

Client side supports pluggable 16x100G QSFP28

High System Reliability, Low Power Consumption

1+1 OMSP protection system on client side

1+1 AC/DC power supply deliver redundancy and resiliency

Lower to 252W with 1RU fully equipped( 15.7W per 100G)

Intelligent Monitoring

Remote in-band GCC management or outband OSC management

Quickly view basic information, status, operation logs of network elements

Monitoring and auto alarm on both client and line sides

Fast Deployment, Ultra-low Cost

Installation of software for fast cloud deployment

Remote management, enabling end-to-end business opening

1U highly integrated, saving space, reducing recovery and backup cost

The M6800 series is a large capacity stackable 200G WDM transmission platform. It is mainly used in the backbone network, metro, and DCI transmission. It supports large-capacity OTN dispatching capabilities and integrates functions of OADM, 100G/200G transmission, intellegent management etc. M6800 can build end-to-end OTN/WDM backbone transmission solutions for operators to realize large-capacity scheduling and ultra-wideband intelligent transmission.
Design Details
This solution adopts the M6800 series platform to integrate 40CH pluggable Mux Demux and 200G coherent board which achieves maximum 200G*40CH service on a pair of optical fibers, multiplexing 2 client side 100G services to single 200G for service transmission.
Management Advantages
Open northbound interfaces like SNMP, CORBA, XML, FTP and TL1 to
connect other NMS.
Console, Telnet/ssh, SNMP network management with favourable
user interface, easy to operate.
Unified management of cross-domain equipment, network layer and
network element layer.
Efficient service management, monitoring bring great user experience
and lower maintenance cost.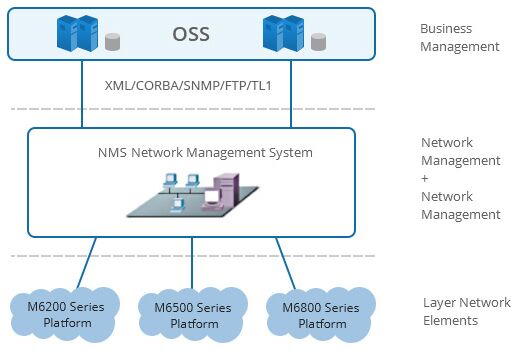 Technical Advantages
Coherent Modulation

PM-QPSK and 16QAM or 8QAM modulation in 200 line side to optimize the transmission performance.
High-performance FEC

Adopt FEC technology for different transmission distance scenarios of the backbone network.
Coherent Demodulation

Coherent demodulation to enhance 100G/200G transmission capacity by more than 20%.
ADC & DSP Technology

Compensate CD and PMD in electric layer to improve the dispersion tolerance and PMD tolerance.