OPD(AIU) Optical Power Detection for Optical Monitoring, LC/UPC, Pluggable Module

Optical power detection is a kind of optical power monitoring equipment, which can carry on the high precision optical power detection. It supports online sampling or offline.

Since its high measurement accuracy, high stability and high performance, OPD is an ideal choice of optical real-time monitoring system in optical fiber, cable, optical passive device loss measurements.
Product Details
| | | | |
| --- | --- | --- | --- |
| Operating Wavelength | 1310±20/1550±20nm | Power Monitoring Accuracy | ±0.25dB |
| Power/Gain Stability | ±0.1dB | Power Resolution | 0.01dB |
| Optical Power Monitoring Scope | -50~+23dBm | Insertion Loss (online) | ≤1dB |
| Connector | LC/UPC | Power Consumption | <2W |
| Crosstalk | >55dB | Channel Optional | 4/8/16 channels |
| Management | Monitor Online, Simple Management Tool, Monitor Cable | Housing | Pluggable Module (Occupies 1 slot in FMT chassis) |
---
Product Highlights
OPD (AIU) Optical Power Detection Module
High monitoring precision and wide optical power monitoring scope
Multi-channel optical power real-time detection and monitoring
Support both online and offline information collection

---
Detection and Monitoring for MUX Tx/Rx Power
As the infrastructure equipment in fiber optic system, optical power detection provides both absolute and relative power monitoring to achieve the purpose of link loss measurement. The number of channels of AIU/OPD is twice that of Mux on the link, which is generally used at both the receiving end and the transmitting end.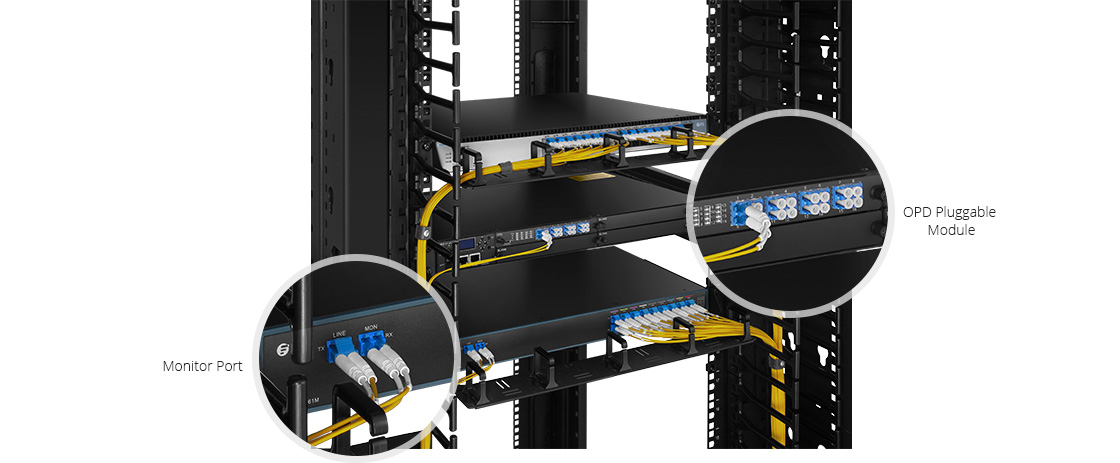 

S5850-32S2Q 32-Port 10Gb SFP+ L2/L3 Data Center Leaf Switch with 2 40Gb QSFP+ Uplinks
S$ 4,112.00


1U Managed Chassis Unloaded, Supports up to 4x EDFA/OEO/OLP Module with Accessories
S$ 510.00


4 Channels 1550nm OPD (AIU) Optical Power Detection, LC/UPC, Pluggable Module for FMT Multi-Service Transport Platform
S$ 600.00


18 Channels 1270-1610nm, with Monitor Port, LC/UPC, Dual Fiber CWDM Mux Demux, FMU 1U Rack Mount
S$ 950.00
---
Fiber Cable Monitoring and Management System

---
Available for All-in-One Multi-Service Transport System
As a part of multi-service transport system, hot-swappable pluggable OPD card only occupies 1 slot in the 1U/2U/4U chassis.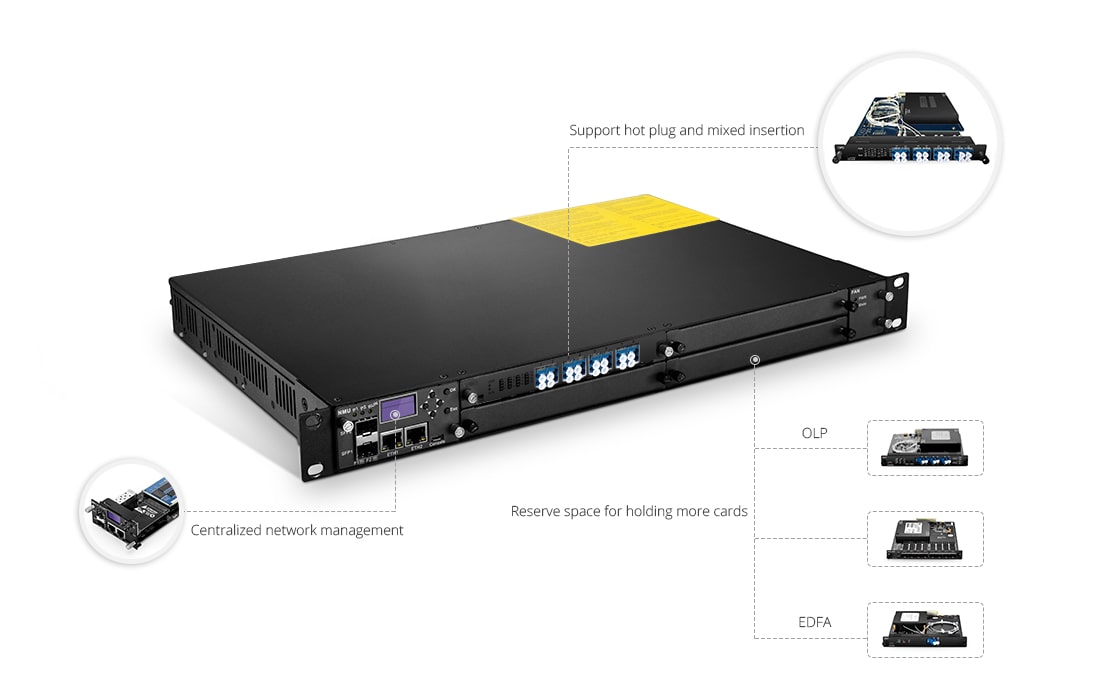 ---
FS Powerful Network Management System
FS Network Management Unit (NMU/NMS) is developed with ARM9 control design. NMU/NMS provides full fault, configuration, performance, security management and instant push email. FMT monitor online management software (a Java-based network management system) built with modular client uses the Microsoftware SQL Server 2008R2 database.

---
Products & Services for Better Networking
Financial Institutions丨Universities丨Service Providers丨Enterprises丨Dark Fiber Providers
Tips:
•FS professional technical support team offers you gratis solution 24/7 online.
•FS always focuses on design, R&D, innovation to provide you optical products. Welcome to contact
tech@fs.com
or
sales@fs.com.
---
Quality Certification
This product provides the lifetime warranty, which aims to reflect our greatest sincerity. Please

contact us

to learn more.

This product is in conformity with ISO9001. This system is valid to a company engaging in development, production and supply service of fiber optical products. Please

contact us

to learn more.

This product is RCM compliant, which indicates compliance with electrical safety, EMC, EME and telecommunications legislative requirements. Please

contact us

to learn more.