C-Band 40 Channels DWDM EDFA Optical Amplifier

With the feature of medium to low input power, high output power, high optical gain, and a low noise figure, the in-line amplifier operates in the middle of an optical link for optical amplification between two network nodes on the main optical link.

FS in-line amplifier is a low-noise, gain-flattened C-band optical erbium doped fiber amplifier (EDFA) designed to cost-effectively extend the optical link power budget for building long distance DWDM solutions.
Product Details
| | | | |
| --- | --- | --- | --- |
| Amplifier Type | In-Line Amplifier | Operation Wavelength | C21-C60 |
| Optical Gain | 17dB | Gain Flatness | 1dB (Typical) |
| Input Power | -20dBm~+5dBm | Saturated Output Power | ≤17dBm |
| Single Channel Input Power | -16dBm (Typical) | Single Channel Output Power | 1dBm (Typical) |
| Noise Figure | 4.5dB (Typical) | Return Loss | <-45dB |
| Optical Connector | LC/UPC | Management | SNMP, Monitor Online, Simple Management Tool |
| Power Consumption | ≤10W | Operation Mode | AGC (Automatic Gain Control) |
| Operation Temperature | -10°C~60°C | Storage Temperature | -20°C~ +75°C |
| Chassis Type | 1U, 2U, 4U | Housing | Pluggable Module (Occupies 1 slot in FMT chassis) |
* Note: Extended operation temperature (maximum temperature range of -40°C to +85°C) can also be provided, for more details, please contact at
sales@fs.com
for consulting.
---
Product Spotlight
Tilt Angle Connector

Prevent eyes from being damaged
Hot-Swappable

Replacing/adding components without shutting down the system
Integrated Card Design

Multiple boards can be inserted into one FMT chassis
AGC Operation Mode
Self-developed Management System

Allow the network administrator to configure/monitor the status of line cards
Online Status LEDs

Monitoring and alarm on the EDFA input and output
---
DWDM EDFA Combines with Dispersion Compensation Achieving Up to 150KM
DWDM EDFA has high optical signal to noise ratio (OSNR). Three different amplifier types (booster, in-line amplifier and pre-amplifier) can be used depending on the required distance and existing locations. Enabling to cascade several EDFAs to form an amplified OTN link over long distances. Here's one example of using in-line amplifier and booster.

| Item No. | ID# | Description |
| --- | --- | --- |
| 1 | 72430 | 16 Channels C21-C36 Dual Fiber DWDM Mux Demux with Monitor Port, Expansion Port and 1310nm Port, FMU 1U Rack Mount, LC/UPC |
| 2 | 40191 | 1-100m custom LC UPC to LC UPC Duplex 2.0mm PVC(OFNR) SMF Fiber Patch Cable |
| 3 | 36501 | 22dBm Output Booster DWDM EDFA C-band 24dB Gain, Pluggable Module |
| 4 | 65781 | 40KM Passive Dispersion Compensation Module, 3.5dB Low Loss, LC/UPC |
| 5 | 36592 | 17dBm Output In-Line DWDM EDFA C-band 17dB Gain, Pluggable Module |
| 6 | 65783 | Dispersion Compensation Module |
---
Resources
Get a Tailored OTN Solution

Learn more


Get the Best Performance Out of Your Optical Network

Watch video


---
Product Highlights
17dBm Saturated Output Power for C-band In-Line DWDM EDFA
Reducing the number of regenerators and sites along the fiber
Upgrading the optical link budget to support 10G/40G services
Highly integrated with FMT management platform

---
Ideal Solution by Using DWDM EDFA

Optical EDFA Amplifier for Long-Haul Applications
Due to losses incurred in the light signal when passing through fiber patch panels, splices and the fiber itself, EDFA is needed to amplify the signal in long-haul transmission.
Single Fiber DWDM Solution with Pre-Amplifier
With PA used over a single fiber to realize bi-directional transmission, single fiber DWDM solution saves half of the fiber resources needed for transport.


Dual Fiber DWDM Solution with Pre-Amplifier
With PA used over dual fiber to realize bi-directional transmission, dual fiber DWDM solution enables better fiber utilization.
---
Three Different EDFA Amplifier Types for DWDM Connectivity

---
Available for All-in-One Multi-Service Transport System
As a part of multi-service transport system, a hot-swappable pluggable EDFA card only occupies 1 slot in the 1U/2U/4U chassis, which can be highly integrated with FS management platforms and OEO/DCM/OLP products.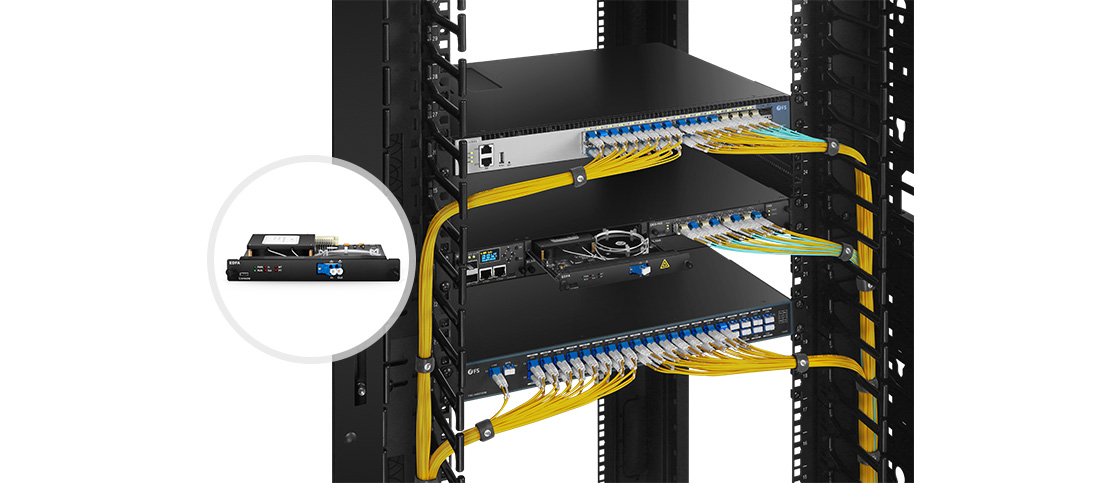 

17dBm Output In-Line DWDM EDFA C-band 17dB Gain, LC/UPC, Pluggable Module for FMT Multi-Service Transport Platform
S$ 2,159.00


1U Managed Chassis Unloaded, Supports up to 4x EDFA/OEO/OLP Module with Accessories
S$ 510.00


40 Channels C21-C60, with Monitor Port, 3.0dB Typical IL, LC/UPC, Dual Fiber DWDM Mux Demux, FMU 1U Rack Mount
S$ 2,297.00


S5850-32S2Q 32-Port 10Gb SFP+ L2/L3 Data Center Leaf Switch with 2 40Gb QSFP+ Uplinks
S$ 4,112.00
---
FS Powerful Network Management System
DWDM EDFA pluggable module is used with FMT chassis embedded with OSC for remote management and topology detection to be managed by our SNMPV1- based MonitorOnline. Our MonitorOnline provides complete performance monitoring and management, including laser shutdown status, input power, and output power etc. to centralize OTN network management.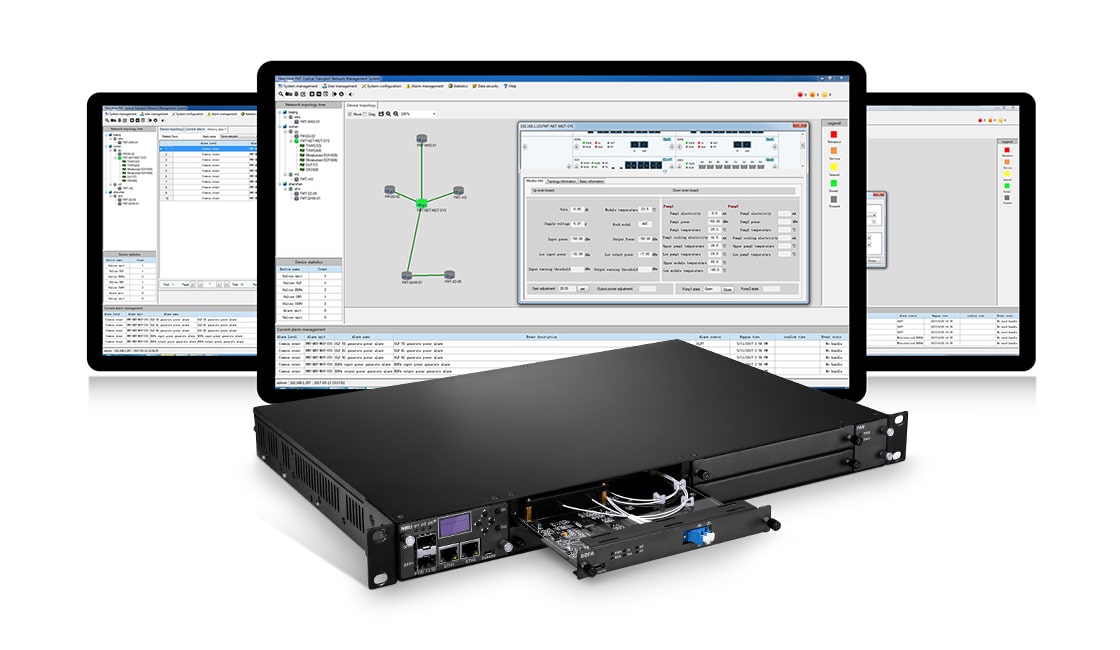 ---
Products & Services for Better Networking
Financial Institutions丨Universities丨Service Providers丨Enterprises丨Dark Fiber Providers
Tips:
•FS professional technical support team offers you gratis solution 24/7 online.
•FS always focuses on design, R&D, innovation to provide you optical products. Welcome to contact
tech@fs.com
or
sales@fs.com.
---