12 Fibers MM OM1, Single-Armored Single-Jacket, Central Loose Tube, Figure 8 Self-supporting Aerial Waterproof Outdoor Cable
GYXTC8S cable is a figure 8 structure cable. Fibers contained in loose tube filled with jelly compound wrapped by corrugated steel belt embedded in PE outer sheath. It's suitable for installation in aerial, used for long distance and LAN communication systems.


| | | | |
| --- | --- | --- | --- |
| Cable Type | Self-supporting Outdoor | Fiber Count | 12 Fibers |
| Construction | Central Loose Tube | Fiber Type | Multimode 62.5/125 OM1 |
| Outer Jacket Material | PE | Fiber Color | Black |
| Cable Diameter | 3.8*5.5mm | Weight | 70kg/km |
| Armor Layer | Corrugated Steel Tape | Application | Aerial |
| Tensile Strength (long/short term) | 200/1500N | Crush Load (long/short term) | 200/1200 (N/100mm) |
| Bending Radius (long/short term) | 10D/20D (mm) | Operating/Storage Temperature | -40 to +60°C |
Feature and Application
Small cable diameter, figure 8 structure

Self-supporting stranded wires, easily to install

Low dispersion and attenuation

Excellent mechanical and environmental performance

Corrugated steel tape and the PE outer sheath ensure crush resistance

Water blocking system to improve the water proof ability

Outdoor aerial application

Used for long-haul communication

Used for LAN communication

Subscriber network systems

Junction communication systems

CATV & Computer networks system
Ideal Solution by Using Figure 8 Self-supporting Cable
As the common see self-supporting aerial cables, figure 8 self-supporting cable are designed for easy and economical one-step installation and widely used in long haul and building network communication.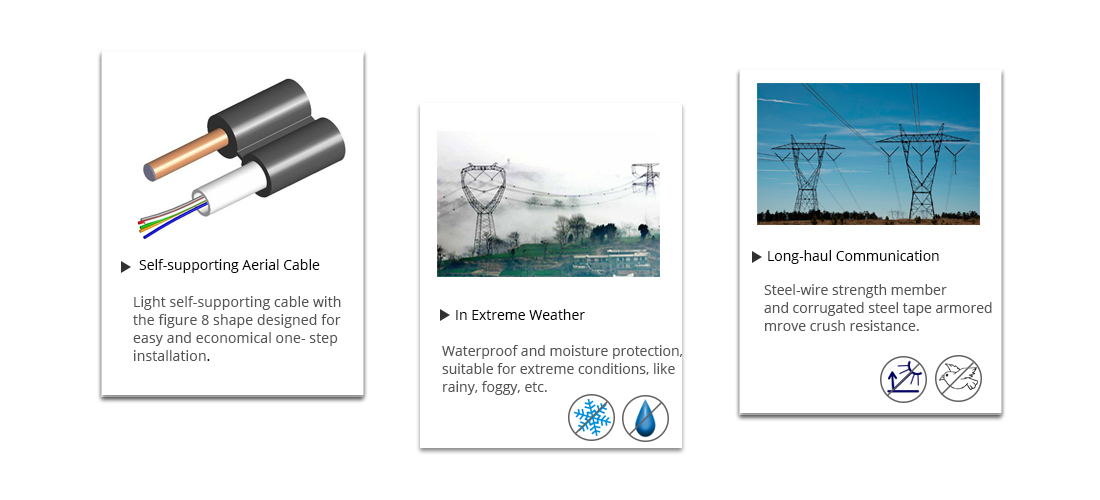 Packaging & Labeling
FS offers two types of cable package. Package 1 is usually for indoor, light weight cables. Package 2 is usually for outdoor, heavy weight cables. Usually we only attach Test Report on the out package of the cable, but we could also mark as your requirements.
More customized needs please contact
sales@fs.com
.