10 Gigabit SFP+ Single Port Ethernet Network Adapter

The network interface card (NIC) is optimized on Intel® chip for server connectivity and network virtualization. It is designed to support critical performance optimizations and multiple workloads for High Performance Computing (HPC), database clusters, and video-on-demand. This adapter provides reliable and scalable performance which is validated on FS servers.
Product Details
| | | | |
| --- | --- | --- | --- |
| Card Type | Standard Profile (LP bracket incl.) | Port Configuration | Single |
| Controller | Intel® 82599EN | Data Rate Per Port | 10GbE |
| Interface Type | PCIe v2.0 | Speed & Slot Width | 5.0 GT/s x8 lanes |
| Connectivity (VT-c) | Yes | Vertical Segment | Server |
Product Tree
Flexible and scalable network adapter for demanding data center environments.



S5800-8TF12S 12-Port 10Gb SFP+ L2/L3 Switch with 8 Gigabit RJ45/SFP Combo Ports for Hyper-Converged Infrastructure
US$ 1,900.00


Cisco SFP-10G-SR Compatible 10GBASE-SR SFP+ 850nm 300m DOM Transceiver Module
US$ 18.00


1m (3ft) LC UPC to LC UPC Duplex OM4 Multimode PVC (OFNR) 2.0mm Fiber Optic Patch Cable
US$ 3.10


PCIe 2.0 x8 Single Port 10 Gigabit SFP+ Ethernet Network Interface Card
US$ 110.00


RS-7188 2U, 2-Socket Rack Server with Two Intel® Xeon® Silver 4112 for Data Base Workloads in SMB
US$ 4,850.00
---
Flexible and Essential Features
Key Features

• PCI Express (PCIe v2.0, x8, x16)
• Full-height and low-profile
• Intelligent offloads for iSCSI, NFS and FCoE
• Support VMDq, VxLAN and SR-IOV
• Support Multi-core CPU load balancing
• Intel® PROSet Utility for Windows Device Manager
Software Support

• VMware ESX 3.x
• Windows Visa SP1
• Windows Server 2003 SP2
• Windows Unified Storage Solution 2003
• Windows Server 2008/2016
• Linux Stable Kernel Version 2.6
• Linux RHEL4/RHEL5/SLES9/SLES10
• FreeBSD 7.0
• UEFI 1.1
Supported Optical Transceivers and Cables

• SFP-10G-T
• SFP-10G-SR
• SFP-10G-LR
• SFP-10G-BX-1270/1330
• SFP-10G-BX-1330/1270
• SFP-10G-AOC
• SFP-10G-DAC
---
Intel® 82599EN Controller PCIe Network Adapter
The network adapter with one 10 Gigabit SFP+ port is based on Intel® 82599EN chipset. It provides advanced features to meet the mission-critical applications in virtualization.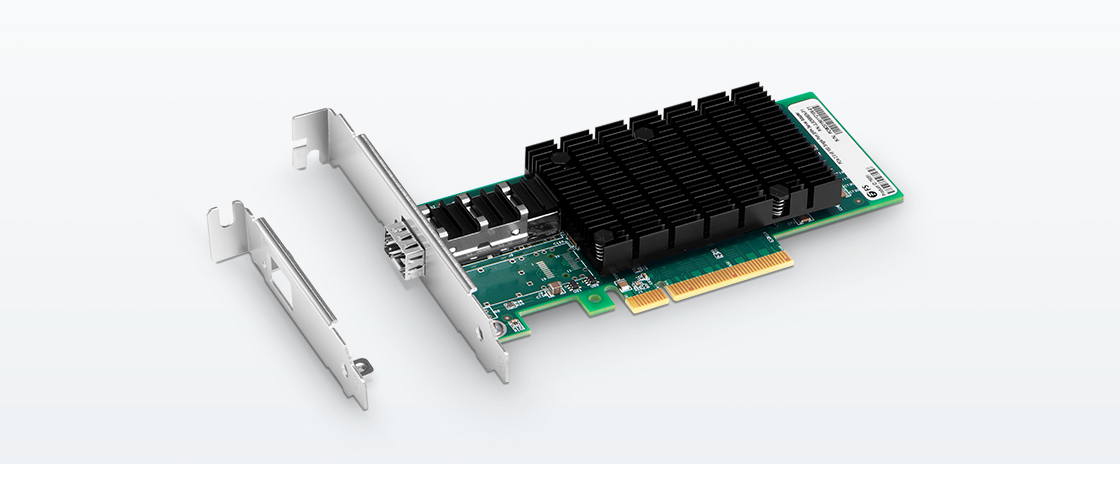 Intel® 82599EN Chip

Address the needs of the next-generation data center
Storage Performance

Support intelligent offload for iSCSI, NFS and FCoE
Advanced Features

Support VMDq, VxLAN and SR-IOV etc
---
PCIe Interface with Flexible Space-Saving Design
The adapter is the foundation for server connectivity and is designed to support PCIe 2.0 x8 and x16 slots for higher speeds and efficiency.
Port Configuration

Multiple ports are available for different demands

System Interface Type

Support PCIe 2.0 and widely used in the PCIe x8 and x16 slots

Flexible Bracket Height

Low profile and full height design for different expansion slots
---
Large-Scale Compatibility
This adapter is tested to support on all of the FS servers and a wide range of other vendors such as Dell, HPE, IBM, Intel, Supermicro servers etc.