S5900-24S4T2Q 24-Port SFP+ L2/L3 Data Center TOR Switch with 4 Gigabit RJ45 and 2 QSFP+ Uplinks

S5900 Series are new generation full-10Gb TOR switches oriented for high-performance computing, data center and high-end campuses. S5900 Series provides high-performance L2/L3/L4 wire speed switching capacity by integrating services such as IPv6, network security, flow analysis, virtualization. With high reliable techniques including continuous forwarding, graceful restarting and loop network protection, the work efficiency of S5900 Series and its maximum running time are guaranteed.
| | | | |
| --- | --- | --- | --- |
| Switch Class | Layer 3 | Switch Chip | BCM56846 |
| Jumbo Frames | 12K | Switching Capacity | 640Gbps |
| MAC Address Table | 128K | Forwarding Rate | 480Mpps |
| VLAN | 4K | Packet buffer | 9M |
| Power Consumption | 100W | BVSS | Support |
| Input Power | 100-240VAC, 50/60 Hz | Warranty | 5 Years |
Product Highlights
Advanced Hardware Architecture Design
• Adopts the industry leading hardware architecture design. S5900 with 1U height supports 24 10Gb SFP+ ports + 2 40Gb QSFP+ ports + 4 Gb Base-T ports
• With high-performance ASIC switch chip and multi-core processor, supports up to 640Gbps switching capacity
• Designed with front/back wind tunnels of the data center, supports wind tunnel to switch between front-back mode and back-front mode
Rich Data Center Services
• Supports BVSS, virtualizing multiple physical devices into one in logic, which is superior to the independent physical device in performance, reliability, flexibility and management
• The virtualized system makes the best use of each link in the device and avoids the blocking of STP to the link
• Advanced distributed processing technique and the efficient function of cross-physical device link aggregation, providing with non-stop layer-3 routing forwarding and avoids single points of failure
• The distance of virtual cluster system can expand to 80KM, breaking the geographic restriction of traditional cluster technique
• The whole virtual system realizes single IP unified management and simplifies the management of network device and network topology
Data Center Level High-reliability
• Adopts HPS (Hitless Protection System). Support redundant hot-swap power system and the fan system
• Supports redundancy protection mechanism such as STP/RSTP/MSTP protocol, VRRP protocol, ring network protection, dual uplink active/standby link protection and LACP link aggregation
• Supports ISSU (In-Service Software Upgrade), guaranteeing the user data non-stop forwarding when the system is upgrading
• Supports BFD and realizes fault detection and service recovery in seconds through linking with layer-2 or layer-3 protocol
• Perfect Ethernet OAM, 802.3ah, 802.1ag and ITU-Y.1731 which can real time monitor the network operating state and rapidly detect and locate the malfunction
• 50ms MTTR , meeting the requirement of the carrier-level service
Comprehensive IPv6 Solutions
• Supports IPv6 Neighbor Discovery, ICMPv6, Path MTU Discovery and DHCPv6
• Supports IPv6 based Ping, Traceroute, Telnet, SSH, ACL, meeting the need of IPv6 network equipment management and service control
• Supports IPv6 multicast characteristics including MLD, MLD Snooping and IPv6 layer-3 routing protocols including IPv6 static routing, RIPng, OSPFv3 and BGP4+
• Supports IPv4-to-IPv6 technologies including IPv6 manual/automatic tunnel, auto tunnel, IPv6-to-IPv4 tunnel, and ISATAP tunnel
Comprehensive Security Mechanisms
• Realizes the hierarchical scheduling and protection of the packet
• Provides multiple security measures to defend against DOS or TCP attacks
• Supports command line authority control based on user levels
• Complies with IEEE 802.1x, Radius, and BDTacacs+
• Supports the plaintext or MD5 authentication of relevant routing protocol, uRRF, DPI (Deep Packet Inspection) and Deep Packet Filtration
Innovative Green Environmental Design
• Advanced power system realizes the function of efficient power switching, private power monitoring, soft start, real-time monitoring, intelligent adjustment and energy-saving
• Designed with the intelligent fan and supports switching between front-back mode and back-front mode and fan automatic speed regulation
• Supports Efficient Ethernet and complies with International standard IEEE 802.3az
---
Ideal for ToR Deployment in Data Centers & Enterprise Network
The S5900-24S4T2Q boosts network performance with Gigabit and 10 Gigabit speeds. Copper and fiber connection options provide the flexibility to your network to handle current applications while also planning for future growth.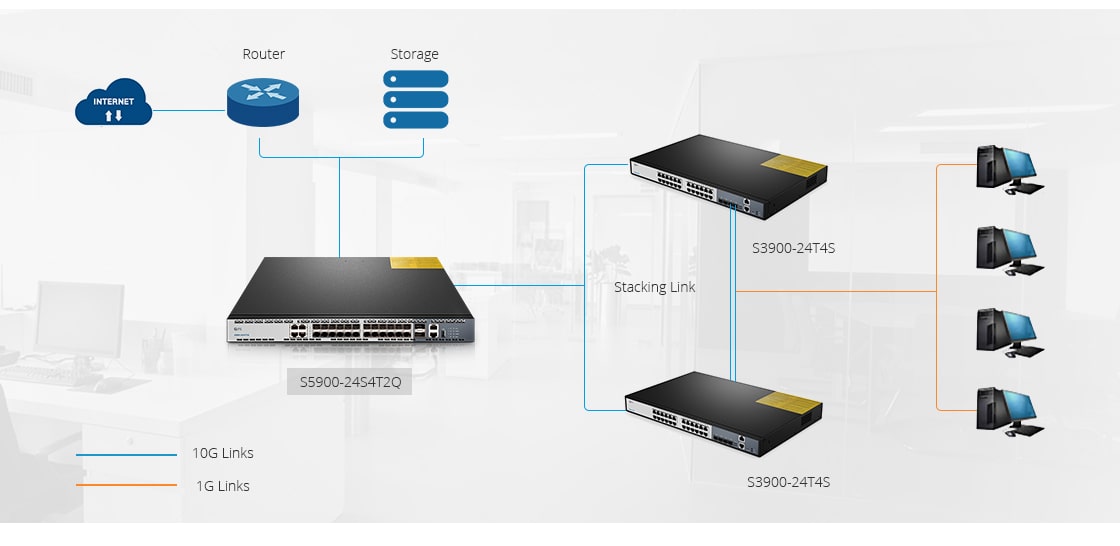 ---
Versatile Design for Flexibility
With 24 10G SFP+ ports, 4 gigabit RJ45 ports, and 2 40G QSFP+ ports for maximum connectivity, increasing network flexibility to incrementally meet growing bandwidth demands by aggregating current 10GbE switches with fiber links.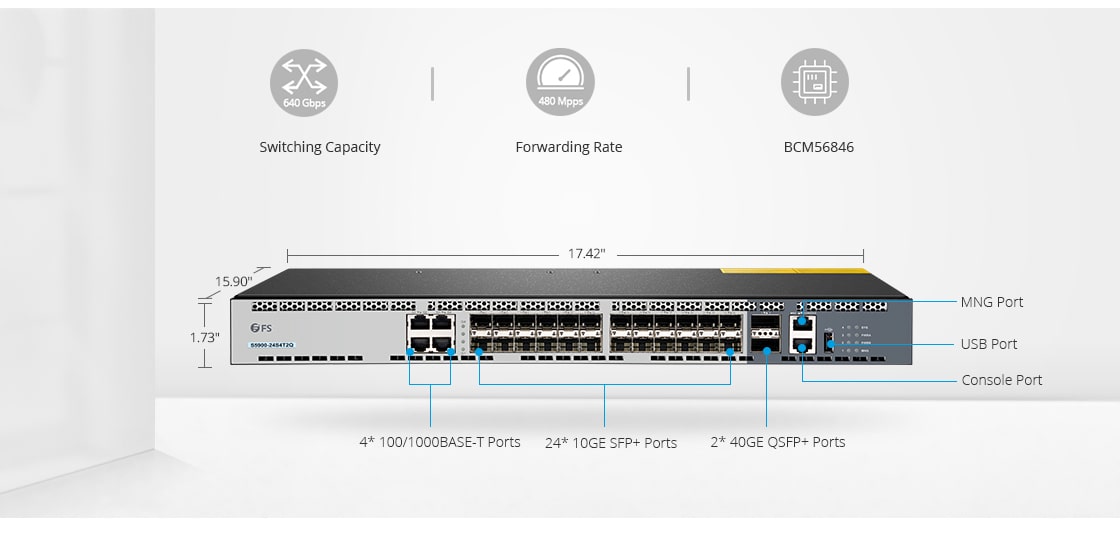 ---
High Availability for Non-stop Business Continuity
The S5900-24S4T2Q features dual power supplies and five fan trays to provide a redundant, high availability architecture. Both power and fan modules are hot-swappable, which minimizes the downtime of the switch.

---
User-friendly & Advanced Management
User-friendly web interface helps to quickly and simply configure switches. Industry-standard command-line interface (CLI), accessed through the console port or Telnet.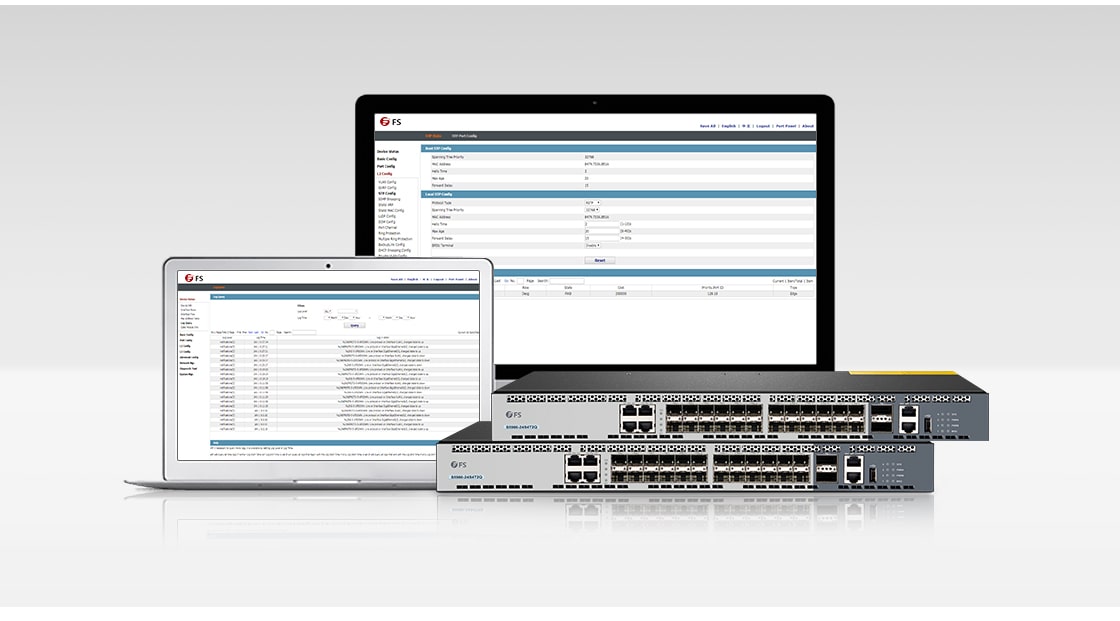 ---
Accessories List
Before you start installing the switch, make sure you get all the contents of the package.