Hot-swappable Fan Module, Front-to-Back Airflow Through the S5800-48F4S Switch Chassis

The cooling system in a S5800-48F4S switch consists of four fan modules and a single fan in each power supply and provide front-to-back (air exhausts through the back of the switch) airflow depending on the fan modules and power supplies installed in the switch. Fan modules for the S5800-48F4S switches are hot-insertable and hot-removable field-replaceable units, you can remove and replace the module without interrupting normal switch operation.
Installation of Fan Module
Installation of Fan Module
• Undo the fastening screws on the left and right sides of fan module with a cross-head screwdriver
• Hold the handle of fan module, and gently pull out the fan module
• Insert a new fan module
fix it with a little force. The fan module will be firmly inserted into the backplane of the switch and integrated with it closely
• Tighten the fastening screws on both sides of fan module with a screwdriver to fix the fan module
Note:The fan module of FS S5800-48F4S switch supports hot plug function, it is convenient for maintenance and replacement online.The fan module provides cooling function for the switch. If you need to replace a failed fan module, it is recommended to complete the operating within three minutes (Prevent the temperature inside the switch is too high).
---
Hot-insertable and hot-removable field-replaceable unit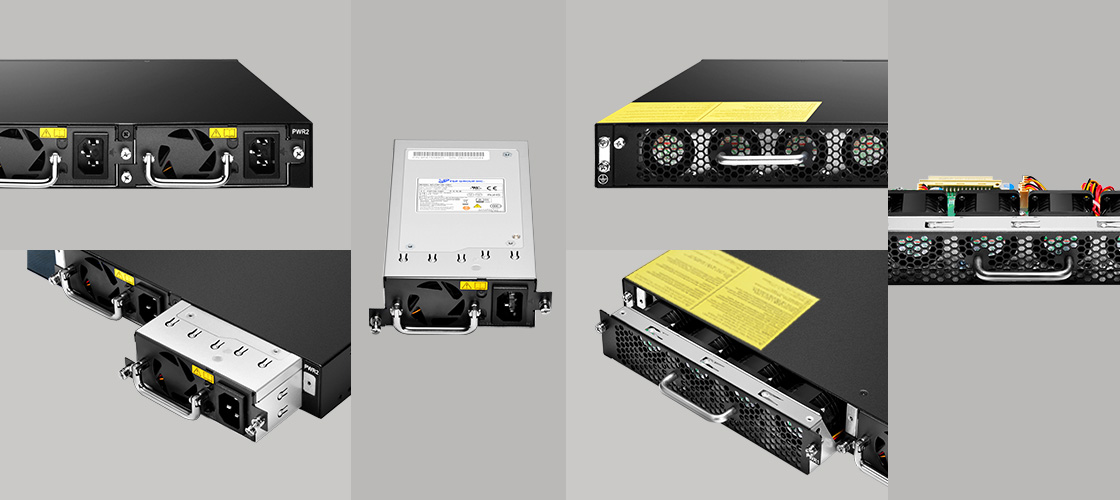 ---