10ft (3m) IEC320 C14 to Locking C13 18AWG 250V/10A Power Extension Cord, Black

FS's line of AC power cords offer a solution to power connectivity problems. With optimal lengths and various colors, they can minimize excess lengths and cord slack between PDUs and active equipment and can identify different devices easily. All kinds of connector types and international standards shall be available to meet multiple application environments.
Product Details
| | | | |
| --- | --- | --- | --- |
| Male | IEC60320 C14 | Female | Locking C13 |
| Length | 10ft (3m) | Color | Black |
| Gauge | 18AWG | Cable Outer Diameter | 7.8 ± 0.2mm |
| Voltage/Amperage | 250V/10A | Conductors | 3 Wire, Black, White and Green (NACC) |
| Jacket | SJT (PVC material) | Jacket Temp.Rating | 105°C |
---
Product Tree
Locking Power Cords Protect Devices from Accidental Disconnection, which Ensure Reliable Power Connections to Critical Equipments like Switches, Routers, POE Injectors and so on.



10ft (3m) IEC320 C14 to Locking C13 18AWG 250V/10A Power Extension Cord, Black
US$ 7.00


8-Port Gigabit PoE+ Managed Switch with 2 SFP, 150W
US$ 160.00


Single-Phase 15A/250V Basic PDU, 8 IEC320 C13 Outlets, CEE7 Plug, 6.6ft Cord, 1U Rack-Mount
US$ 27.00


8-Port 10/100/1000M Gigabit PoE Injector, AC 250W
US$ 134.00


5-Port Gigabit VPN Router
US$ 98.00
---
Products Highlights
FS IEC 320 & NEMA Power Cords Solutions
---
IEC320 C14 to Locking IEC320 C13 Power Extension Cord
Plug in power extension cord to make your work environment more flexible and efficient. And it is perfect replacement for old or unreliable power cords.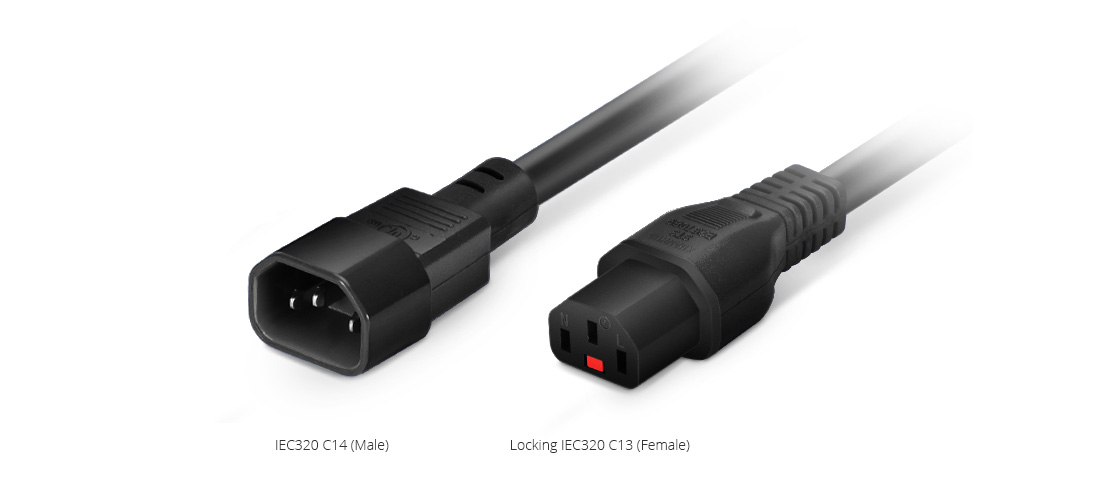 ---
Excellent Conductive Performance
Apply oxygen-free copper conductor with low resistance, which pledges fast conductivity and stable transmission. Environmental PVC insulation and jacket protect the inner conductor from external conditions.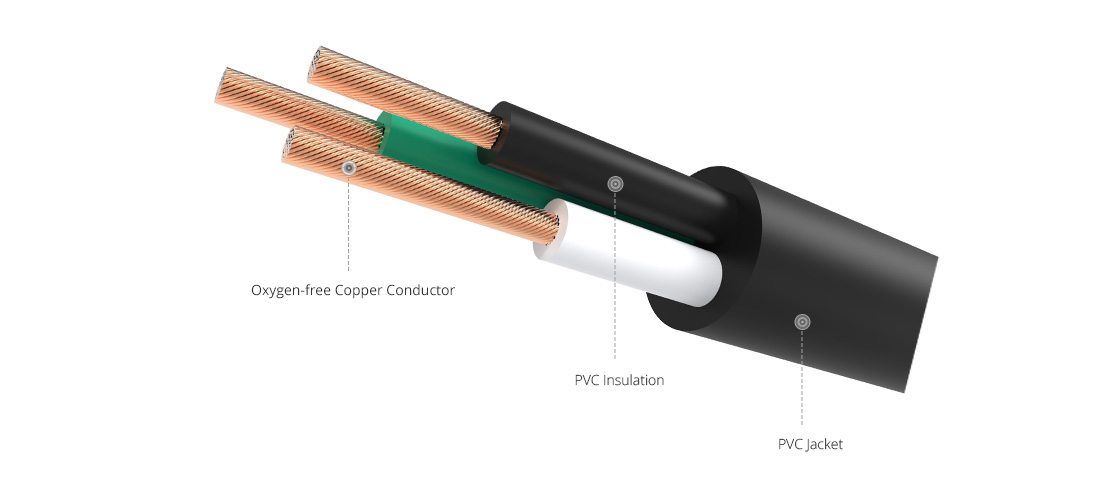 ---
Special Locking Socket Design
The Auto-Lock in C13 plug prevents device from accidental disconnection, which ensures a power connection to critical equipment. And the C13 plug can only be released when the red button is pushed.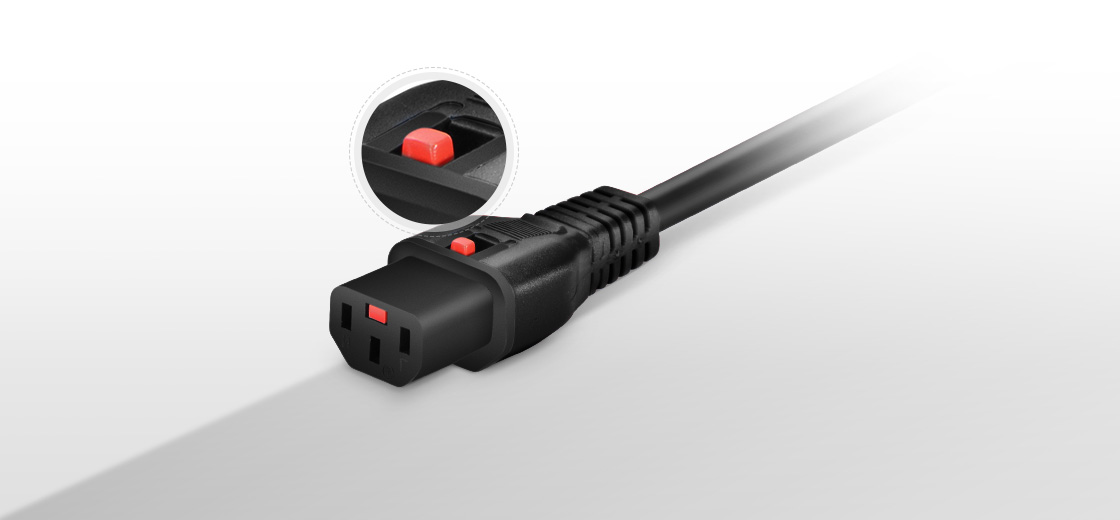 ---
Workmanship of Power Cords
The power cords from FS.com apply precision casting technology to keep high productive efficiency and quality, according with the color harmoniously in the meanwhile.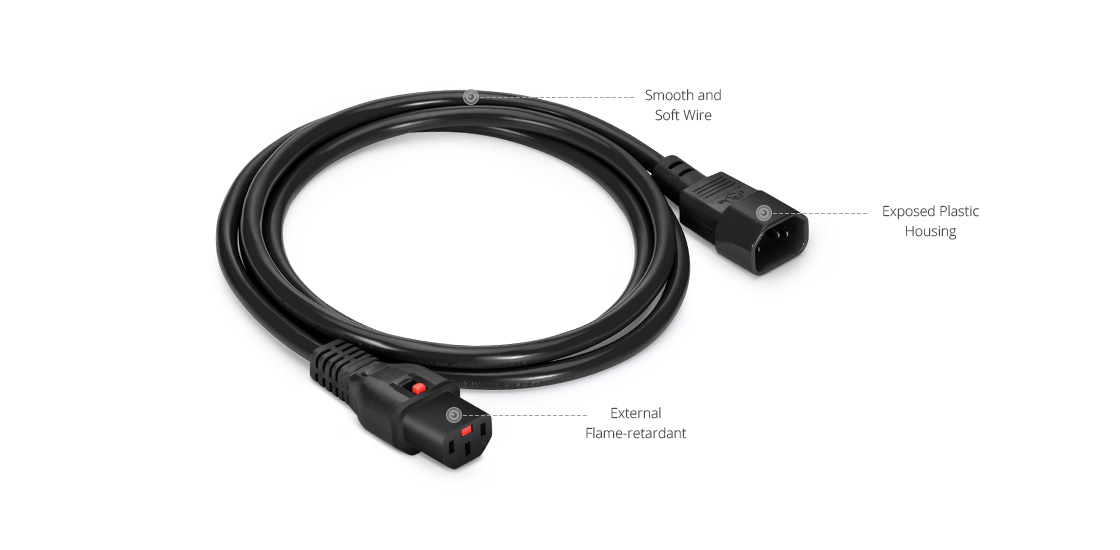 ---
Nickel Plated Copper Plug-in Pieces

Nickel plated copper 3-pin plug, which is safe and has better conductivity.

Internal Plastic Frame

Plays an important role in fixing hardware and pluging stablely.
---
Application in Data Center
Power cord is the ideal solution for powering a network device or connecting to the PDU and computer in a data rack or network wiring closet.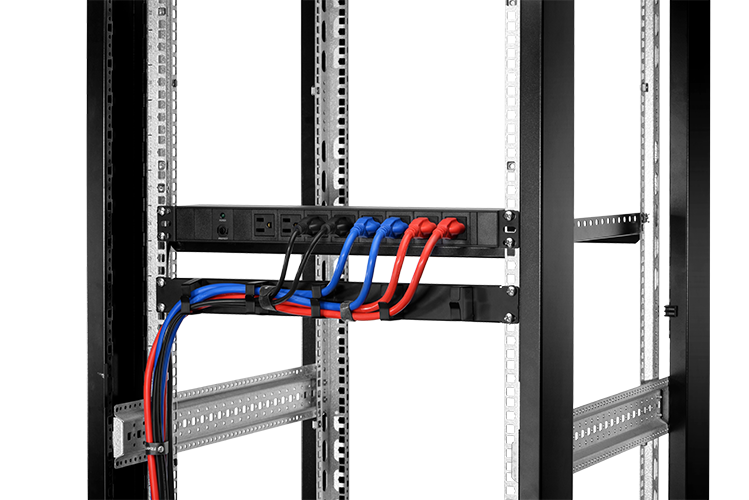 ---
Quality Certification
This product is in conformity with ISO9001. This system is valid to a company engaging in development, production and supply service of fiber optical products. Please

contact us

to learn more.

This product is free of lead, mercury, cadmium, hexavalent chromium, polybrominated biphenyls and phthalates. Please

contact us

to learn more.

This product was produced under the requirements of CE to indicate conformity with the essential health and safety. Please

contact us

to learn more.
Notes
1. Do not touch the power plug or connector with wet hands.
2. Do not use this cable near water.
3. Do not install near any heat sources such as radiators, heat registers, stoves, or other apparatus (including amplifiers) that produce heat.
4. Do not stick metal objects or any other conductive material into the power cord.