C-Band 40 Channels DWDM EDFA Optical Amplifier

With the feature of high input power, high output power, and medium optical gain, the booster amplifier operates at the transmission side of the link to amplify aggregated optical input power for reach extension.

FS booster amplifier is a low-noise, gain-flattened C-band optical erbium doped fiber amplifier (EDFA) designed to cost-effectively extend the optical link power budget for building long distance DWDM solutions.
Product Details
| | | | |
| --- | --- | --- | --- |
| Amplifier Type | Booster Amplifier | Operation Wavelength | 1528nm~1564nm |
| Optical Gain | 24dB | Gain Flatness | 1dB (Typical) |
| Input Power | -25dBm~0dBm | Saturated Output Power | ≤22dBm |
| Single Channel Input Power | -18dBm (Typical) | Single Channel Output Power | 6dBm (Typical) |
| Noise Figure | 4.5dB (Typical) | Return Loss | <-45dB |
| Optical Connector | LC/UPC | Management | SNMP, Monitor online |
| Power Consumption | ≤10W | Operation Mode | AGC (Automatic Gain Control) |
| Operation Temperature | -5°C~55°C | Storage Temperature | -40°C~ +85°C |
| Chassis Type | 1U, 2U, 4U | Housing | Pluggable Module (Occupies 1 slot in FMT chassis) |
Quality Certification
Quality and standards are the foundation of FS. We are dedicated to providing customers with the outstanding, standards-compliant products and services.
FS has passed many quality system verification, like ISO9001, CE, RoHS, FCC, established an internationally standardized quality assurance system and strictly implemented standardized management and control in the course of design, development, production, installation and service.
---
40ch DWDM MUX+MON for 120km Transmission by Using Amplifiers
DWDM EDFA has a high optical signal to noise ratio (OSNR). Three different amplifier types (booster, in-line amplifier, and pre-amplifier) can be used depending on the required distance and existing locations. Enabling to cascade several EDFAs to form an amplified OTN link over long distances. Here's one example of using booster and pre-amplifier.

| Item No. | ID# | Description |
| --- | --- | --- |
| 1 | 29124 |  S5850-48S2Q4C (48*10GE+2*40GE+4*100GE) Carrier Grade 100G-uplink Switch  |
| 2 | 31238 | 10G DWDM SFP+ C21-60 80km DOM Transceiver |
| 3 | 40191 | 1m LC UPC to LC UPC Duplex 2.0mm PVC 9/125 Single Mode Fiber Patch Cable |
| 4 | 33485 | 40 Channels C21-C60 Dual Fiber DWDM Mux Demux with Monitor Port, 3.0dB Typical IL |
| 5 | 70413 | 2U Managed Chassis Unloaded |
| 6 | 65781 | 40KM Passive Dispersion Compensation, Pluggable Module |
| 7 | 35925 | 20dB Gain Pre-Amplifier DWDM EDFA C-band 13dBm Output, Pluggable Module |
| 8 | 48525 | LC/UPC Singlemode Fixed Fiber Optic Attenuator, Male-Female, 7dB |
| 9 | 36501 | 22dBm Output Booster DWDM EDFA C-band 24dB Gain, Pluggable Module |
Product Highlights
Get the Best Performance Out of Your Optical Network
---
22dBm Saturated Output Power for C-band Booster DWDM EDFA
Reducing the number of regenerators and sites along the fiber
Upgrading the optical link budget to support 10G services
Highly integrated with FMT management platform

---
Ideal Solution by Using DWDM EDFA

Single Fiber DWDM Solution with Booster Amplifier
With BA used over single fiber to realize bi-directional transmission, single fiber DWDM solution saves half of the fiber resources needed for transport.
Dual Fiber DWDM Solution with Booster Amplifier
With BA used over dual fiber to realize bi-directional transmission, dual fiber DWDM solution enables better fiber utilization.

---
Three Different EDFA Amplifier Types for DWDM Connectivity

---
FS Powerful Network Management System
DWDM EDFA pluggable module is used with FMT chassis embedded with OSC for remote management and topology detection to be managed by our SNMPV1- based MonitorOnline.
Our MonitorOnline provides complete performance monitoring and management, including laser shutdown status, input power, and output power etc. to centralize OTN network management.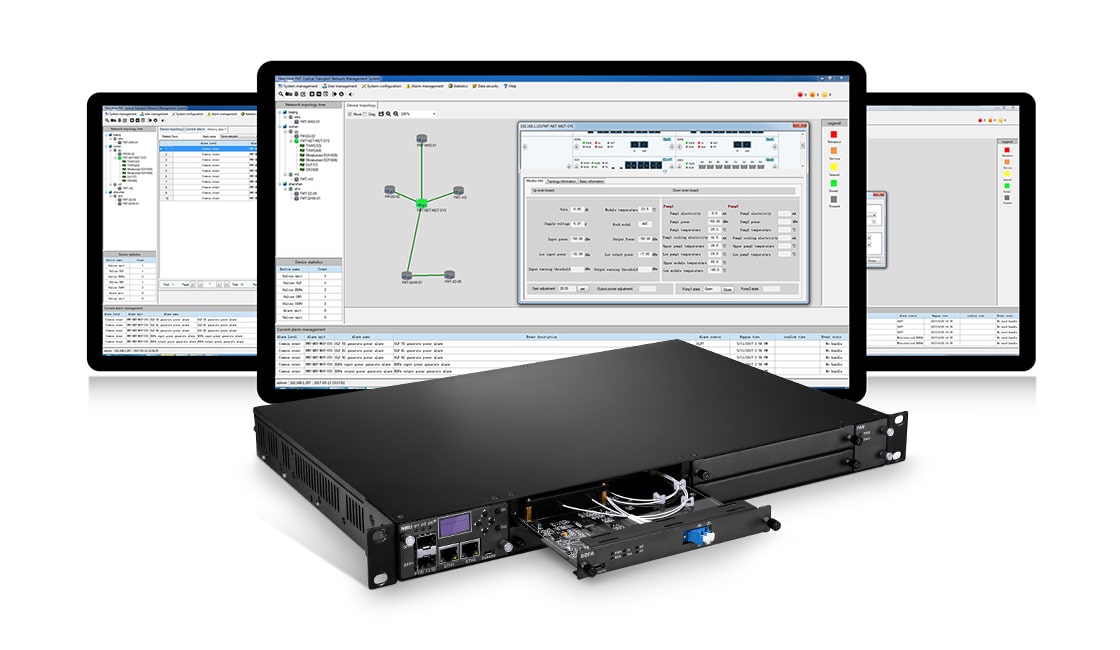 ---
Products & Services for Better Networking
Financial Institutions丨Universities丨Service Providers丨Enterprises丨Dark Fiber Providers
Tips:
•FS professional technical support team offers you gratis solution 24/7 online.
•FS always focuses on design, R&D, innovation to provide you optical products. Welcome to contact
tech@fs.com
or
sales@fs.com.