The All-Dielectric Self Supporting (ADSS) cable is a completely non-metallic structure in which the tensile load bearing elements are integral within the circular design of the cable.

ADSS power optical cable adopts loose tube stranded.Optical fiber are positioned into a loose tube made of high modulus plastics. The tubes are filled with a Water-blocking filling compound. The tubes(and fillers) are stranded around FRP as a non-metallic central strength member into compact and circular cable core. The cable is completed with PE or AT (Anti-tracking) outer sheath.
Item Details
Fiber Count: 12 Fibers
Fiber Type: Single-mode G.652D
Outer Jacket: AT
Span: 600m
Cable Structure
Features

Light weight, small cable OD, reduce the influence of ice and wind, lower the load of tower frame and supporting.

Accurately control the excess length of the fiber, which ensures the great tensile resistance and temperature property of the cable.

Non-metal central strength member, anti-electromagnetic interference.

Kevlar yarn material ensure a good performance of tensile strength.

Low dispersion and attenuation.

Laying with continuously point.

Application

Used by electrical utility companies as a communications medium

Suitable for self-supporting aerial applications

Long distance and local area network communication
Package
Package 1
Package 2
Package 1: usually for indoor cable, light weight cables.
Package 2: usually for outdoor cable, heavy weight cables
Usually for each roll, the cable length is 2km, but we could provide customized package for different cable lengths.
Mark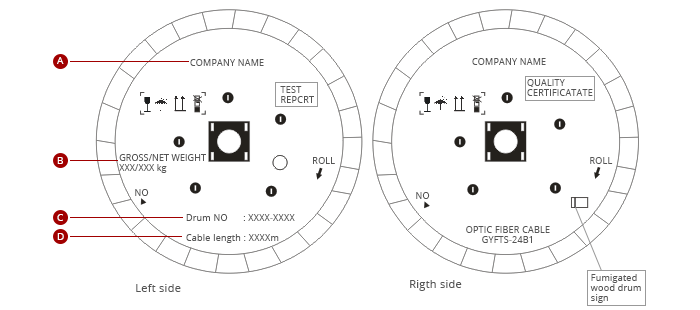 Usually we only attach Test Report on the out package of the cable, but we could also mark as your requirements, such as:
1. Company Name
2. Cross / Net weight
3. Drum No: XX
4. Cable Length : XX
Our Factory

Fiber Coating

Gel Filling

SZ Strand

Sheath cover

Production Line

Warehouse


Cable production throughout the chart