1M 3 Ports Polarization Insensitive Optical Circulator

FS 's Three-port Optical Circulator allows light to travel in only one direction. A signal entering to Port 1 will exit Port 2 with minimal loss, while a signal entering Port 2 will exit Port 3 with minimal loss. Light entering port 2 experiences a large amount of loss at port 1, and light entering port 3 experiences a large amount of loss at ports 2 and 1. Optical circulators are non-reciprocal devices. This means that any changes in the properties of the light caused by passing through the device are not reversed by traveling in the opposite direction.

Optical Circulator is widely used in advanced communication systems and fiber-optical sensor systems. All FS 's products are qualification tested.
Product Highlights
Characteristics
• High Return Loss
• Low Insertion Loss
• Low Back Reflection
• High Extinction Ratio
Applications
• Fiber Sensor
• DWDM system
• Fiber Amplifier
• Fiber Bragg Grating
• Add-Drop Multiplexing
• Chromatic Dispersion Compensation Devices
---
Dimension

---
Sample Picture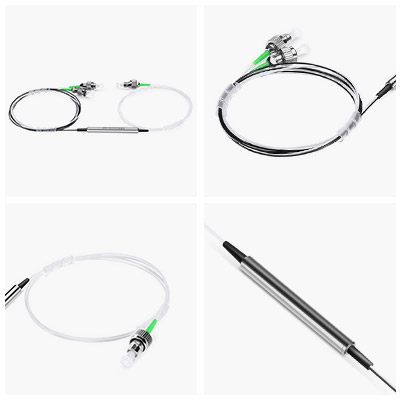 ---
Quality Certification
This product is free of lead, mercury, cadmium, hexavalent chromium, polybrominated biphenyls and phthalates. Please

contact us

to learn more.