8 Fibers Singlemode 9/125 OS2, LSZH, Indoor Ribbon Fiber Optical Cable, especially for MTP Assembly
Ribbon cables are designed for horizontal intrabuilding backbones where limited-smoke and zero-halogen requirements exist. These cables are organized with 8/12-fiber ribbons inside a central tube that are surrounded by dielectric strength members and a specially formulated flame-retardant outer jacket. The 8/12-fiber ribbons have readily identifiable ribbon ID numbers and fiber colors that allow for easy access to individual fibers. The precise fiber and ribbon geometries result in excellent mass splicing yields. The ribbon riser cables are compatible with standard ribbon cable procedures and hardware, especially used in optical connections in optical communication equipment rooms and optical distribution frames, optical apparatus and equipments.


| | | | |
| --- | --- | --- | --- |
| Cable Type | Ribbon Flat | Fiber Count | 8 Fibers |
| Flammability Rating | LSZH | Fiber Type | Singlemode G.652D (Yellow) |
| Cable Diameter | 4.5mm | Weight | 17kg/km |
| Tensile Strength (long/short term) | 600/1500(N) | Crush Load (long/short term) | 300/1000 (N/100mm) |
| Bending Radius (long/short term) | 10D/20D(mm) | Application | Indoor |
| Operating Temperature | -20°C~+60°C | Storage Temperature | -20°C~+60°C |
Feature and Application
Good mechanical and environmental performance

Excellent transmission performance

Support large-capacity data transmission, 4-12 Fibers are available

LSZH Jacket keep the cable a good performance of fire-resistant

Aramid yarn ensure the cable a superior performance of tensile strength

All dielectric structure design, without electromagnetic induction effect

FTTH optical cable

Interconnect cables

High density interconnection of MT or MTP connectors

Indoor and outdoor point to point applications

Direct connectorization

Internal wiring in cable trays
Ideal Solution by Using Ribbon Cable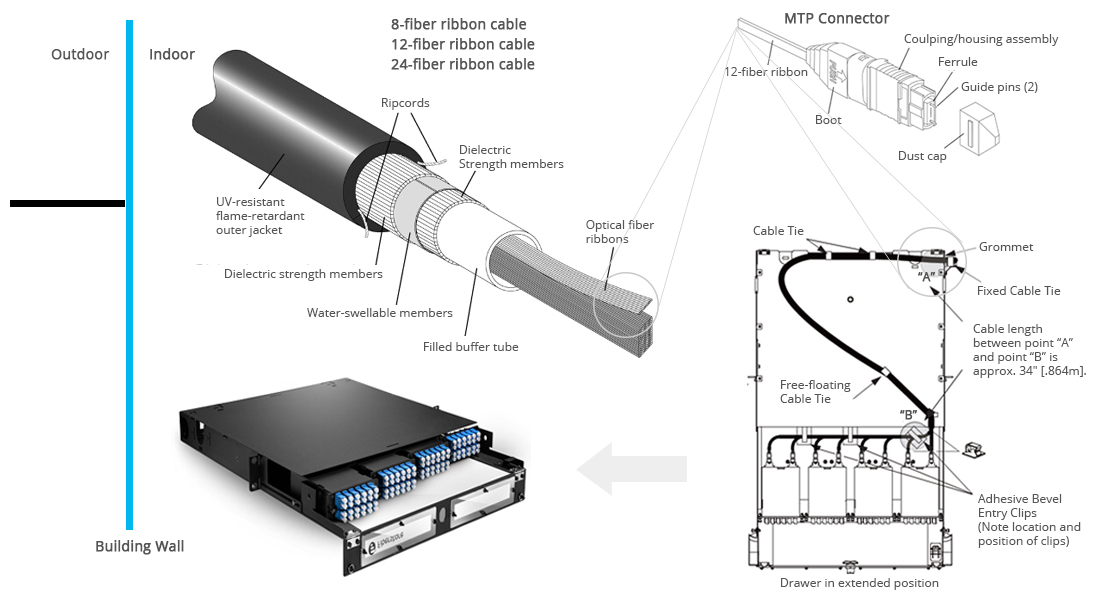 Packaging & Labeling
We offer two types of cable package. Package one is usually for indoor, light weight cables. Package two is usually for outdoor, heavy weight cables. Usually we only attach Test Report on the out package of the cable, but we could also mark as your requirements.
More customized needs please contact
sales@fs.com
.