FTTH Indoor Cable - GJXH

FTTH indoor cables are used inside buildings or houses. In the center of the cable is the optical communication unit, with the two parallel non-metical enhanced FRP/Metal/KFRP as the strength member, and surrounded with the LSZH jacket. FTTH cables are ideal for indoor cabling, end users directly cabling, and access network.

Indoor use FTTH cables have the same function of the common indoor fiber cables, but it does have some special features. FTTH indoor cables are small diameter, water-resistant, soft and bendable, easy to deploy and maintenance. Special indoor FTTH cables will also meet the requirement of thunder-proof, anti-rodent or waterproof.
Cable Structure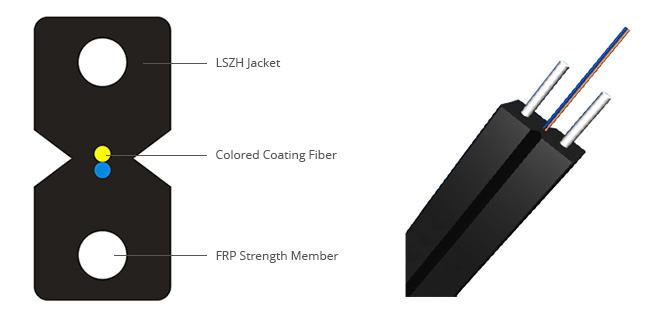 Feature and Application
•Soft and bendable, easy to deploy and maintenance.
•Smaller diameter, light weight, and high practicability.
•The two parallel strength member improves the tensile strength.
•Environmental protection- low smoke, zero halogen and flame retardant sheath.
•Good preformance of water-proof.
•Access network, fiber to the home
•Used end users directly cabing
•Indoor cabling and distribution
---