Custom 2-12 Fibers, FRP Strength Member, Central Loose Tube, PVC/LSZH Outdoor FTTH Drop Cable

The fibers are positioned into a loose tube filled with grease, then protected by two FRP strength members and LSZH jacket. The filling compound has the water resistant performance and FRP strength member has an excellent anti-electromagnet ability and improves the tensile strength. FTTH non-metal central loose tube outdoor cable can be used in outdoor distribution, and suitable for access network and local network in high electromagnetic interfering places.
Product Specification
| | | | |
| --- | --- | --- | --- |
| Cable Type | FTTH Drop Cable | Fiber Count | 2-12 Fibers |
| Construction | Central Loose Tube | Fiber Type | SM/MM |
| Inner/Outer Jacket | PVC/LSZH (Black/White) | Central Strength Member | FRP |
| Cable Diameter | (4.0±0.5)×(7.0±0.5)mm | Weight | 20kg/km |
| Tensile Strength (long/short term) | 300/1000N | Crush Load (long/short term) | 300/1000 (N/100mm) |
| Bending Radius (long/short term) | 10D/20D (mm) | Operating/Storage Temperature | -40 to +60°C |
---
Feature and Application
•Access network and local network.
•High electromagnetic interfering places and outdoor distribution.
•Non-metal strength member ensures excellent anti- electromagnetic performance.
•Good fame retardant performance and low shrinkage and high tensile strength.
•The loose-tube design isolates the fibers from outside environmental and mechanical stresses.
•Trunk power transmission system and low Smoke Zero Halogen Available.
---
Ideal Solution by Using Square FTTH Drop Cable
A high-capacity FTTH network gives you opportunities to build a competitive advantage and maintain an eco-sustainable network that consumes less power. FTTH non-metal central loose tube cables are designed for outdoor power and telecommunication distribution.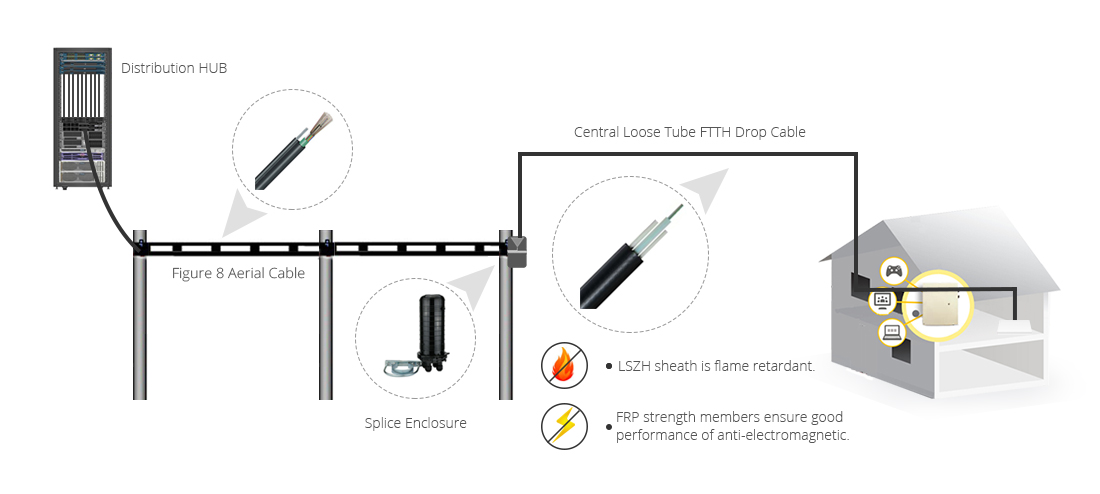 ---
Packaging & Labeling
FS offers two types of cable package. Package 1 is usually for indoor, light weight cables. Package 2 is usually for outdoor, heavy weight cables. Usually we only attach Test Report on the out package of the cable, but we could also mark as your requirements.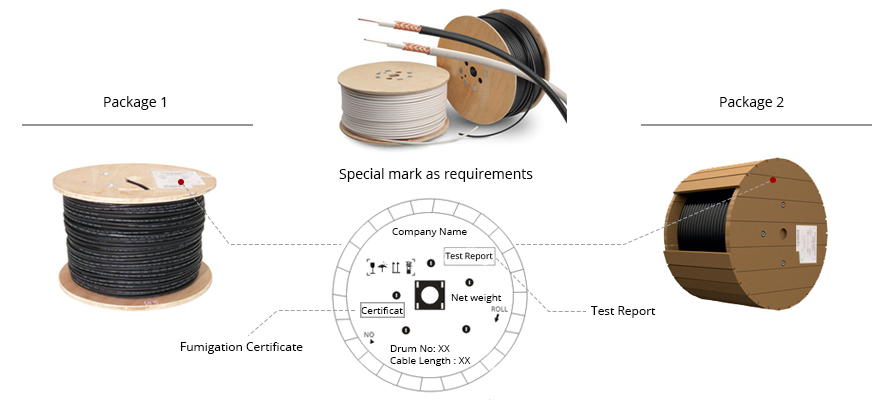 ---