96 Fibers MM OM4, Single-Armored Single-Jacket, Stranded Loose Tube, Steel-wire Strength Member, Waterproof Outdoor Cable GYTA
GYTA single-armored cables feature stranded loose tube filled with a water-resistant filling compound. A steel wire, sometimes sheathed with polyethylene (PE) for cable with high fiber count, locates in the center of core as a metallic strength member. Tubes (and fillers) are stranded around the strength member into a compact and circular cable core. An Aluminum Polyethylene Laminate (APL) is applied around the cable core, which is filled with the filling compound to protect it from water ingress. Then, the cable is completed with a PE sheath. It's suitable for installation for long haul communication and LANs, especially suitable for the situation of high requirements of moisture resistance.


| | | | |
| --- | --- | --- | --- |
| Cable Type | Single-Armored Outdoor | Fiber Count | 96 Fibers |
| Construction | Stranded Loose Tube | Fiber Type | Multimode 50/125 OM4 |
| Outer Jacket Material | PE(Black) | Strength Member Material | Steel Wire |
| Cable Diameter | 12.5mm | Weight | 195kg/km |
| Armor Layer | Aluminum Tape | Application | Aerial and Duct |
| Tensile Strength (long/short term) | 600/1500(N) | Crush Load (long/short term) | 300/1000 (N/100mm) |
| Bending Radius (long/short term) | 10D/20D(mm) | Operating/Storage Temperature | -40 to +60°C |
Feature and Application
Special design to prevent loose tube shrinking

Crush resistance, water blocking and flexibility

Good mechanical and temperature performance

PE sheath protects cable from ultraviolet radiation

High strength loose tube that is hydrolysis resistant

Tube filling compound to ensure a critical fiber protection

CATV

Local trunk line

Rural communication

Computer networks system

Aerial & conduit/duct application
Stranded Loose Tube Structure for Duct and Aerial Application
GYTA is a type of fiber optic cable in stranded loose tube fiber optic cable with compact structure, and the cable jacket is made of strong Polyethylene. High strength loose tube has hydrolysis resistant. Cable filling materials ensure high reliability, and APL makes the cable crush resistant and moisture proof. So, the GYTA has a very good watertight performance. This cable can be used for LAN and WAN backbones, telecom access lines, fibre to business and fibre to the building drop connections, as well as fibre to the home drop and access connections.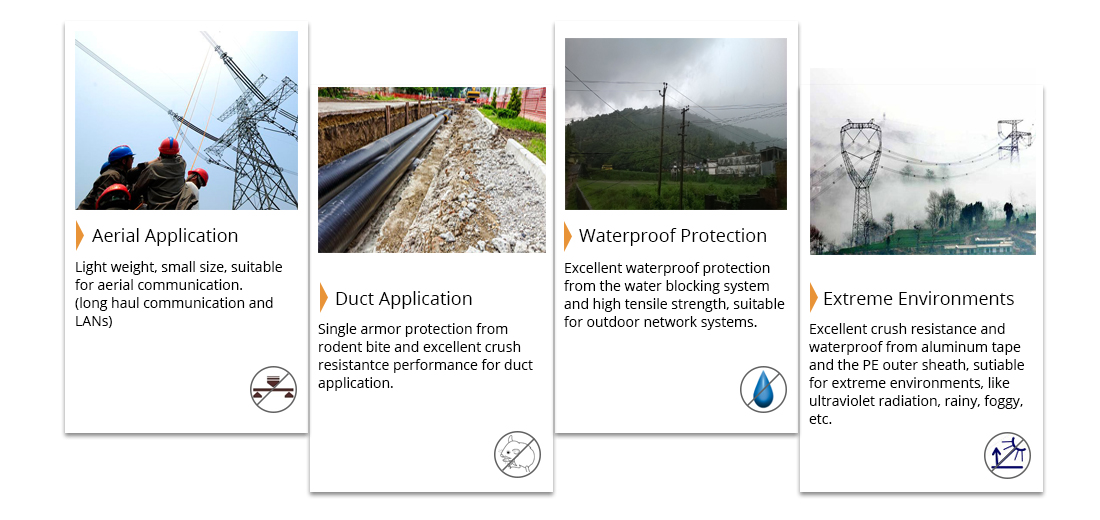 Packaging & Labeling
FS offers two types of cable package. Package 1 is usually for indoor, light weight cables. Package 2 is usually for outdoor, heavy weight cables. Usually we only attach Test Report on the out package of the cable, but we could also mark as your requirements.
More customized needs please contact
sales@fs.com
.