Unitized Tight Buffered Distribution Indoor Fiber Cable GJPFJH

Tight Buffered Distribution Cable contains several tight-buffered fibers bundled under the same jacket with kevlar strength members and sometimes fiberglass rod reinforcement to stiffen the cable and prevent kinking. Since the fibers are not individually reinforced, these cables need to be terminated inside a fiber enclosure to protect individual fibers and for distribution use in datacenter.
Product Specification
| | | | |
| --- | --- | --- | --- |
| Cable Type | Tight-Buffered Distribution Cable | Fiber Count | 96 Fibers |
| Flammability Rating | Riser (OFNR) | Fiber Type | Multimode 62.5/125 OM1 (Orange) |
| Cable Diameter | 22.8mm | Cable Weight | 442kg/km |
| Subcable Size | 5.5mm | Coating Diameter | 8.8mm |
| FRP Size | 1.5mm | Tensile Strength (long/short term) | 400/1320N |
| Crush Load (long/short term) | 200/1000 (N/100mm) | Bending Radius (long/short term) | 10D/20D (mm) |
| Operating Temperature | -20 to +60°C | Storage Temperature | -5 to +50°C |
---
Features and Applications
• Unitized design for distributing cables.
• For premises wiring.
• Coated FRP central strength member.
• As backbone in LANs.
• 900μm tight buffered fibers can be directly terminated.
• Optical communication cables for inside plant installations.
• Flexible, flame-retardant & color coded outer jacket.
• Internal cable for horizontal distribution or riser applications.
---
Ideal Solution for Distributing Cables
In situations where the fibers will be mated and unmated frequently, or where there is general access to equipment such as in datacenter, it is advisable to place terminated fibers in a fiber enclosure to avoid damage to the connector or fiber interface. The tight buffered distribution cable are widely used in building backbone and horizonatal cabling to distributing cable from telecommunications room to working areas.

---
Packaging & Labeling
FS offers two types of cable package. Package 1 is usually for indoor, light weight cables. Package 2 is usually for outdoor, heavy weight cables. Usually we only attach Test Report on the out package of the cable, but we could also mark as your requirements.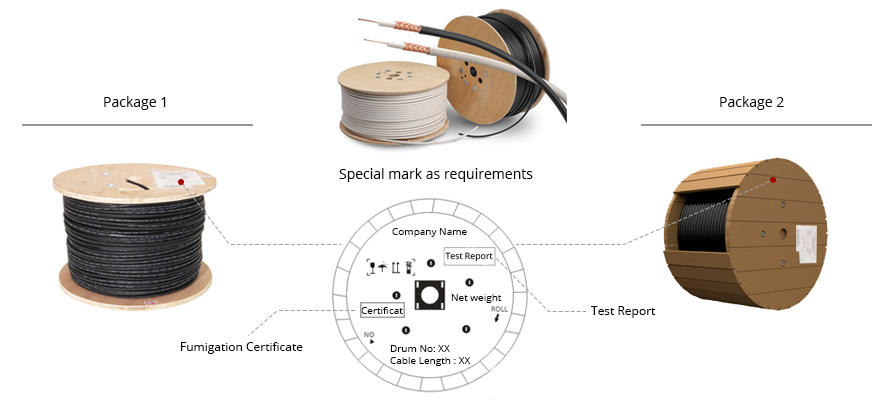 ---