Non-unitized Tight-Buffered Distribution Indoor Cable

Tight-Buffered Distribution Cable contains several tight-buffered fibers bundled under the same jacket with kevlar strength members and sometimes fiberglass rod reinforcement to stiffen the cable and prevent kinking. With aramid yarn as a reinforcing member, the cable is light weight, softness and easy to peel. It is widely used as pigtails and jumpers for communication equipments.
Product Specification
| | | | |
| --- | --- | --- | --- |
| Cable Type | Tight-Buffered Distribution Cable | Fiber Count | 6 Fibers |
| Flammability Rating | Riser (OFNR) | Fiber Type | Multimode 62.5/125 OM1 (Orange) |
| Cable Diameter | 4mm | Cable Weight | 26kg/km |
| Tensile Strength (long/short term) | 200/600N | Crush Load (long/short term) | 200/1000 (N/100mm) |
| Bending Radius (long/short term) | 10D/20D (mm) | Operating/Storage Temperature | -20 to +60°C/-40 to +60°C |
---
Features and Applications
• Light weight and compact.
• For premises wiring.
• 900μm tight-buffered fibers can be directly terminated.
• Work as pigtails and patch cords.
• Flexible, flame-retardant & color coded outer jacket.
• Optical communication cables for inside plant installations.
• FRP central strength member.
• As backbone in LANs.
---
Ideal Solution for Distributing Cables
Distribution Cable can be directly connected to optical equipment for the fibers normally have a 900µm buffer. The terminated fibers may be directly connected to equipment without use of a patch panel and can be used as pigtails and patch cords.

---
Packaging & Labeling
FS offers two types of cable package. Package 1 is usually for indoor, light weight cables. Package 2 is usually for outdoor, heavy weight cables. Usually we only attach Test Report on the out package of the cable, but we could also mark as your requirements.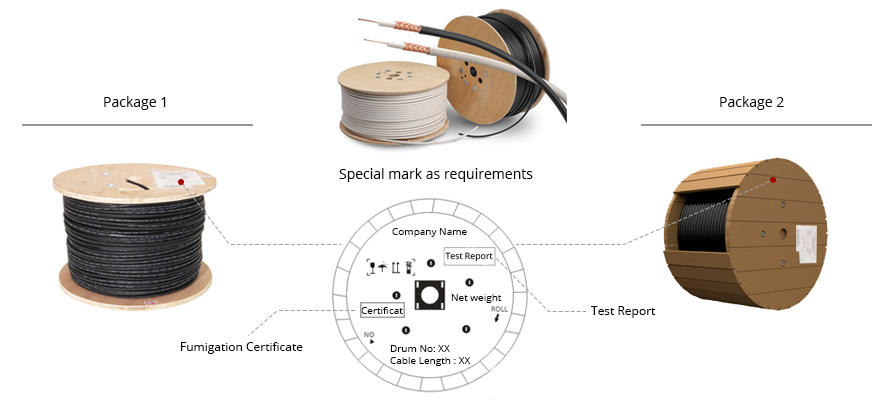 ---