HW QSFP-40G-SR4 Compatible 40GBASE-SR4 QSFP+ módulo transceptor (MMF, 850nm, 150m, MTP/MPO, DOM)
| | | | |
| --- | --- | --- | --- |
| HW compatible | QSFP-40G-SR4 | Proveedor | FS |
| Factor de forma | QSFP+ | Velocidad máxima de datos | 40Gbps |
| Longitud de onda | 850nm | Distancia máxima de cable* | 150m** |
| Interfaz | MTP/MPO | Componentes ópticos | VCSEL 850nm |
| Tipo de cable | MMF | Función DOM | Sí |
| Función CDR Support | Sí | Directivas | 40G Ethernet, Infiniband QDR, SATA/SAS3, IEEE 802.3ba, MSA Compliant |
| Rango de temperatura comercial | 0 a 70°C (32 a 158°F) | | |
* La distancia mínima de cableado para módulos -SR4 y -CSR4 es 0.5m.
** Considerado un enlace diseñado con un presupuesto máximo de pérdida de 1 decibelio.
---
Ejemplo de conexión
Conexión directa de transceptores 40GBASE-SR4 QSFP+



Transceptor de Fibra QSFP+ 40GBASE-SR4 850nm DOM hasta 150m MTP/MPO - Compatible con HW QSFP-40G-SR4
MXN $746


NEOCLEAN-M One-Push Limpiador para conector MPO/MTP (600 veces)
MXN $1,147


Cable Troncal de Fibra Óptica OM4 50/125 Multimodo MTP - MTP 12 Fibras tipo B, élite, Plenum (OFNP) 1m - magenta
MXN $746


Módulo Transceptor (Transceiver) QSFP+ 40GBASE-SR4 MTP/MPO, Multimodo, 150m, 850nm, para FS Switches
MXN $746


S5850-48S6Q Switch de Data Center, 48 Puertos SFP+ 10Gb, 6 Enlaces ascendentes QSFP+ 40G - Gestionable
MXN $68,823
---
Recursos
Simplifica la construcción de centro de datos con solución integral de FS

Ver vídeo


Sistema de control de calidad

Leer más


---
Demostración
HW S5720-32X-E1-AC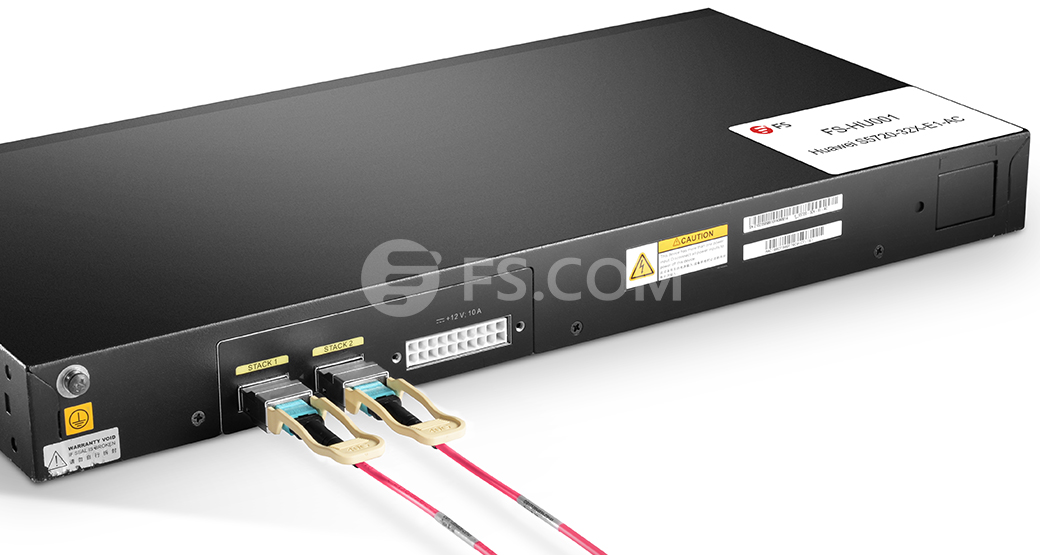 ---
Partnering with a variety of world class OEM manufacturers for over 8 years, FS is able to provide customized high-quality and cost-effective solutions for all needs and specifications, including optical design, mechanical design, Printed Circuit Board (PCB) layout and electrical design, software & firmware design, integrated assembly, specific labels, etc. With surging sales and favorable customer feedback, FS has been expanding rapidly across the world and is becoming the leading provider of the optical communication industry. If you are interested in our products, please feel free to contact us at sales@fs.com .
FS offers global shipping to over 190 countries around the world from the warehouse in the USA, Germany and China via FedEx, UPS, DHL, TNT, EMS or a customer-arranged carrier. Items are often shipped the same day (some transceivers can be out the door in 20 minutes). If we have no stock in any of our global warehouses, the shipment will be delayed for 1-2 days. FS multiple-warehouse system makes sure the fastest delivery.
---
Certificación de calidad
Nota: La utilización de transceptores de tercera parte no anulará la garantía de tu equipo de red. Todos los proveedores de equipos de red tienen directrices que declara que el hecho anterior no afectará el servicio de garantía.