By FS Project Designer2020-04-24

FS Customer
Industry: IT Services
Location: Germany
Background
Network redundancy and expansion are essential to enhance overall reliability and efficiency in data centers. A famous information technology and service company is one of FS long-term partners.They managed to leverage FS enterprise cabling solutions to expand their network capacity and redundancy for reliable transmission of 40G-40G (east-west), and 10G-10G (north-south).
Challenge
How to achieve link redundancy and improve network reliability & scalability in the convergence and access layer?
How to deploy proper cabling solutions for 40G-40G (north-south) and 10G-10G (east-west) transmissions?
Solution
FS engineers decided to set up S5850-48S6Q as ToR switches and use MLAG to pair the two switches for network redundancy. The engineers also stacked three S3900-48T4S switches for easy configuration and management, while leaving enough room for any future expansion. Connection graph is shown below.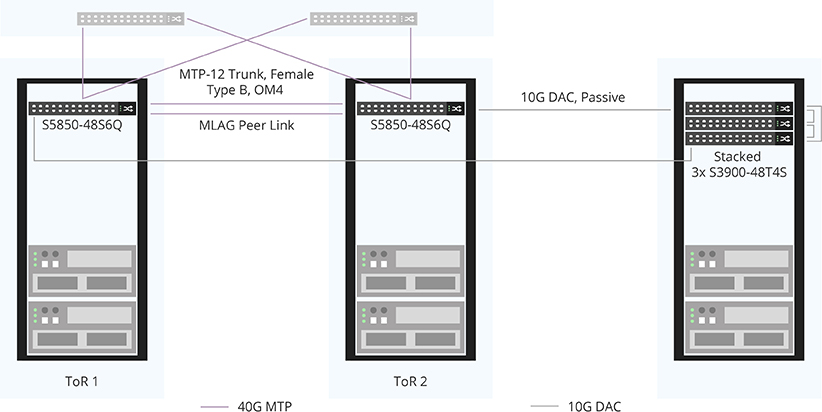 

5m (16ft) MTP® Female 12 Fibers Type B Plenum (OFNP) OM4 50/125 Multimode Elite Trunk Cable, Magenta
US$ 69.00


S3900-48T4S 48-Port 10/100/1000BASE-T Gigabit L2+ Stackable Managed Ethernet Switch with 4 10Gb SFP+ Uplinks
US$ 434.00


2.5m (8ft) Dell (Force10) CBL-10GSFP-DAC-2.5M Compatible 10G SFP+ Passive Direct Attach Copper Twinax Cable
US$ 14.00
For redundancy in convergence layer, 40G transceivers and female MTP-12, Type B trunk cables are used to connect two S5850-48S6Q switches, which can form an MLAG pair and bring redundancy for network resiliency.

To expand the capacity in the access layer, three S3900-48T4S switches are stacked as a single entity by 10G DAC cables.

The stacked S3900-48T4S switches are aggregated to the S5850-48S6Q switches by 10G DAC cables. Those cables are suitable for connections within racks and between adjacent racks with low costs. 10G-10G connections between S3900-48T4S and BMCs are achieved.
Conclusion
FS engineers use MLAG and stacking to feed the customer's current network need with resiliency and reliability, and achieve the transmissions of 40G-40G (north-south) and 10G-10G (east-west). This solution also helps our customer to prepare well for further expansion.