S5900-24S4T2Q 24-Port SFP+ L2/L3 Data Centre TOR Switch with 4 Gigabit RJ45 and 2 QSFP+ Uplinks

S5900-24S4T2Q data switch is new generation full-10Gb TOR switches oriented for high-performance computing, data centre and high-end campuses. This 10gb switch provides high-performance L2/L3/L4 wire speed switching capacity by integrating services such as IPv6, network security, flow analysis, virtualisation. With high reliable techniques including continuous forwarding, graceful restarting and loop network protection, the work efficiency of this top of rack switch and its maximum running time are guaranteed.
| | | | |
| --- | --- | --- | --- |
| Ports | 24*10Gb, 4*gigabit RJ45, 2*40Gb | Switch Chip | BCM56842 |
| Jumbo Frames | 12K | Switching Capacity | 640 Gbps |
| MAC Address Table | 128K | Forwarding Rate | 480 Mpps |
| VLAN | 4K | Packet buffer | 9M |
| Power Consumption | 100W | BVSS | Support |
| Input Power | 100-240VAC, 50/60 Hz | Warranty | 5 Years |
---
Product Spotlight
Advanced Hardware Architecture Design

1U with 24 x 10Gb SFP+, 2 x 40Gb QSFP+

and 4 x 1Gb RJ45 ports

ASIC switch chip and multi-core processor,

up to 640Gbps switching capacity

Front / back wind tunnels for the data center
Rich Data Center Services

BVSS-virtualizing multiple physical devices

into one in logic

Non-stop layer-3 routing forwarding

Single IP unified management for

the whole virtual system
Data Center Level High-reliability

HPS (Hitless Protection System)

Redundant hot-swap power and fan system

STP/RSTP/MSTP, VRRP, LACP, ring network protection,

dual uplink active/standby link protection

ISSU (In-Service Software Upgrade)

Fault detection and service recovery in seconds

Ethernet OAM, 802.3ah, 802.1ag and ITU-Y.1731

50ms MTTR
Comprehensive IPv6 Solutions

IPv6 Neighbor Discovery, ICMPv6,

Path MTU Discovery and DHCPv6

IPv6 based Ping, Traceroute, Telnet, SSH, ACL

MLD, MLD Snooping, IPv6 static routing,

RIPng, OSPFv3 and BGP4+

IPv6 manual/automatic tunnel, auto tunnel,

IPv6-to-IPv4 tunnel, and ISATAP tunnel
Comprehensive Security Mechanisms

Hierarchical scheduling and protection of the packet

Defend against DOS or TCP attacks

Command line authority control based on user levels

Complies with IEEE 802.1x, Radius, and BDTacacs+

Plaintext or MD5 authentication, uRRF,

DPI (Deep Packet Inspection) and Deep Packet Filtration
Innovative Green Environmental Design

Advanced power system-Efficient power

switching, private power monitoring, soft start,

real-time monitoring,intelligent adjustment

Intelligent fan with fan automatic speed regulation

Efficient Ethernet and international standard IEEE 802.3az
---
Product Tree
The S5900-24S4T2Q Switch Improves Network Stability Through Increase Bandwidth and Redundant Backup Links by Link Aggregation.



S8050-20Q4C (20*40Gb+4*100Gb) 40Gb IP Storage and Spine/Aggregation Layer Switch
4.489,00 €


Cisco QSFP-40G-SR4 Compatible 40GBASE-SR4 QSFP+ 850nm 150m MTP/MPO DOM Transceiver Module
35,00 €


Intel E40GQSFPSR Compatible 40GBASE-SR4 QSFP+ 850nm 150m DOM Transceiver Module
35,00 €


RS-7188 2U, 2-Socket Rack Server with Two Intel® Xeon® Silver 4112 for Data Base Workloads in SMB
4.488,00 €


Intel XL710-BM2 Dual-Port 40 Gigabit QSFP+ PCIe 3.0 x8, Ethernet Network Interface Card
367,00 €


S5900-24S4T2Q 24-Port 10Gb SFP+ L2/L3 Data Centre TOR Switch with 4 Gigabit RJ45 and 2 40Gb QSFP+ Uplinks
2.424,00 €


12 Fibres MTP to MTP Female Plenum (OFNP) OM4 (OM3) Multimode Elite Fibre Trunk Cable, Type B, 1m
35,00 €
---
Product Highlights
Ideal for ToR Deployment in Data Centers & Enterprise Network
The S5900-24S4T2Q boosts network performance with Gigabit and 10 Gigabit speeds. Copper and fiber connection options provide the flexibility to your network to handle current applications while also planning for future growth.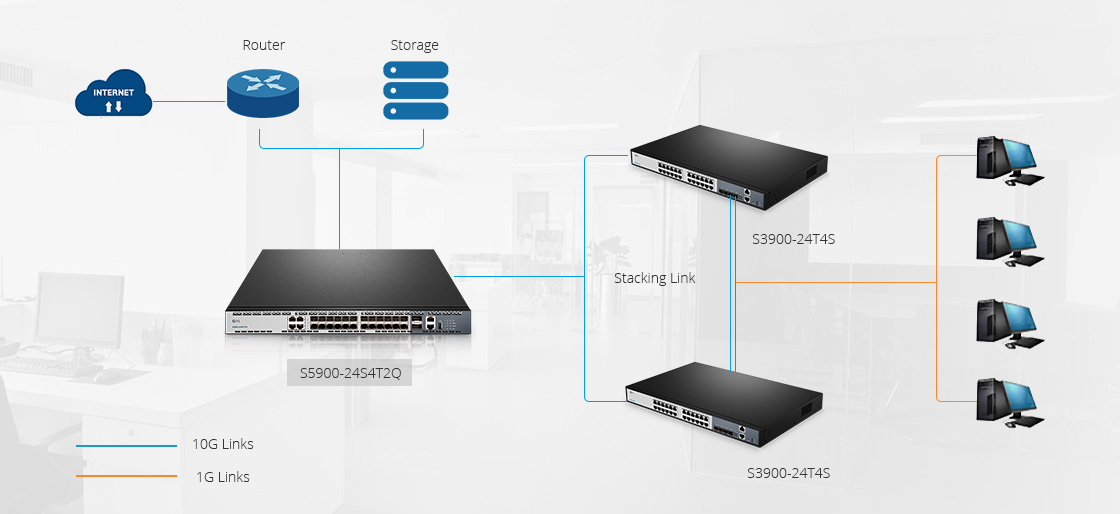 ---
Versatile Design for Flexibility
With 24 10G SFP+ ports, 4 gigabit RJ45 ports, and 2 40G QSFP+ ports for maximum connectivity, increasing network flexibility to incrementally meet growing bandwidth demands by aggregating current 10GbE switches with fiber links.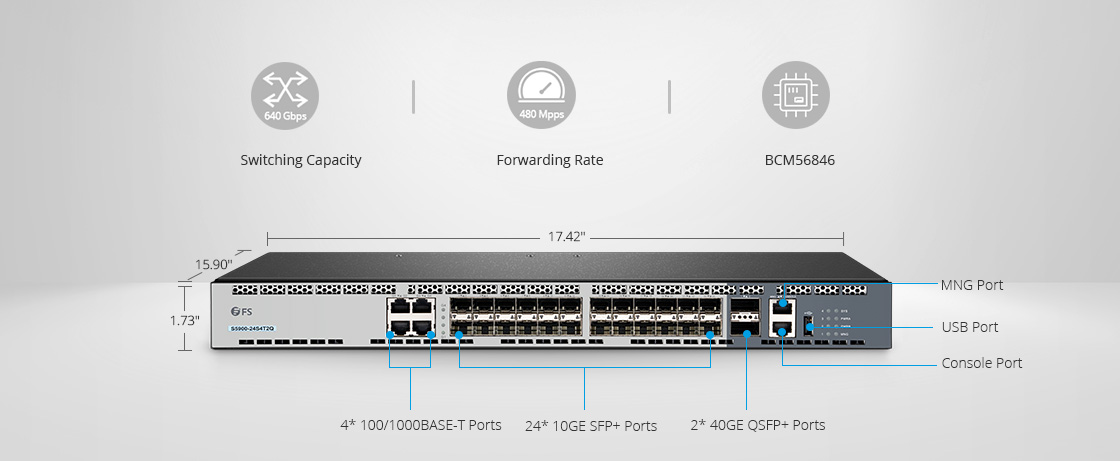 ---
High Availability for Non-stop Business Continuity
The S5900-24S4T2Q features dual power supplies and five fan trays to provide a redundant, high availability architecture. Both power and fan modules are hot-swappable, which minimizes the downtime of the switch.

---
User-friendly & Advanced Management
User-friendly web interface helps to quickly and simply configure switches. Industry-standard command-line interface (CLI), accessed through the console port or Telnet.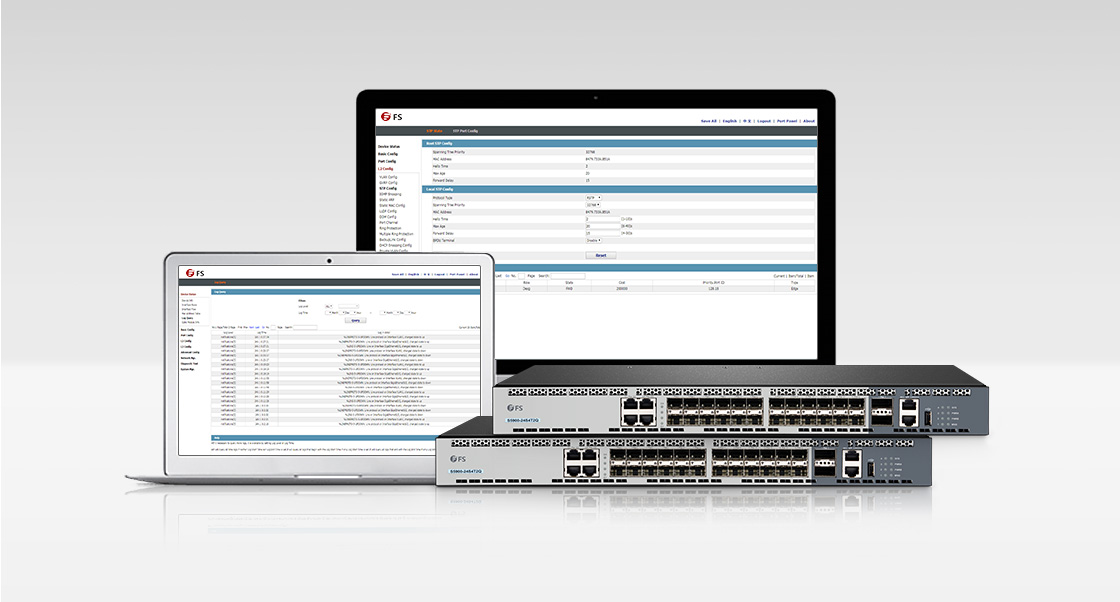 ---
List of Accessories
Console Cable*1
Power Cord*2
Rack Mount Bracket *2
Screw*6
Rubber Pad *4
User Manual *1
---
Quality Certification
This product is in conformity with ISO9001. This system is valid to a company engaging in development, production and supply service of fiber optical products. Please

contact us

to learn more.

This product is free of lead, mercury, cadmium, hexavalent chromium, polybrominated biphenyls and phthalates. Please

contact us

to learn more.