5-Port Gigabit VPN Router

The ER-5 multi-core exit gateway is a new generation of high-performance Internet exit gateways using the high-performance MIPS multi-core processors for the business requirements of various users and services as well as the heavy traffic. The ER-5 VPN router has excellent performance and powerful data processing capabilities. Compared with traditional firewalls and broadband routers, the ER-5 dual WAN router boasts ultra-high wire-speed throughput and industry-leading new connection capabilities. The ER-5 business router is recommended for applications within 120 users. It integrates functions such as broadband routing, firewalls, switches, VPNs, traffic management and monitoring, and intranet security, etc. With simple configuration and being easy to use, it is especially suitable for complex network applications such as small and medium-sized Internet cafes, small and medium-sized enterprises, primary and secondary schools, and the governments.
Product Details
| | | | |
| --- | --- | --- | --- |
| Flash Memory | 2 GB | RAM | 4Gbit DDR3 |
| Network Interface | 5 x Gigabit RJ45 Ports | USB | 1 x USB 3.0 |
| Switching Capacity | 460 Mbps | Packet Forwarding Rate | 45 kpps |
| Input Voltage | 100-240VAC, 50-60Hz, 0.45A | Max. Power Consumption | 30W |
| Dimensions (H x W x D) | 1.73'' x 12.99'' x 9.06'' (44 x 330 x 230mm) | Weight | 1570 g (55.4 oz) |
| Operating Temperature | 0℃-40℃ (32 to 104° F) | Operating Humidity | 10 - 90% Noncondensing |
---
Product Highlights
Powerful performance under advanced hardware architecture
• Built using multi-core processors, allowing the entire hardware platform to operate on a high-speed Ethernet architecture
• Makes the whole machine inherently superior in processing performance, and provides a guarantee for the stable operation of rich upper-layer software functions
Flexible interface types and functions
• Provides a variety of interface types. Any WAN and LAN interfaces can be configured to form the network based on the actual environment
• Supports Ethernet, ADSL, Cable and other methods of access
• Supports the overlapping of bandwidths from different operators, as well as a rich line strategy
Detailed and precise flow control and behavior management
• Provides a flexible and precise flow control strategy
• Identify more than 5000 network protocols and perform bandwidth guarantee and limitations upon specific protocols
Efficient and friendly management and maintenance
• Adopts graphical Web management pages and supports various monitoring methods
• Provides statistical information
---
Simplify Complex Networks with FS Intelligent Enterprise-grade Routers
The ER-5, designed for small and medium branches, integrating fuction like broadband routing, firewall, switch, VPN, traffic management, monitoring, and intranet security etc.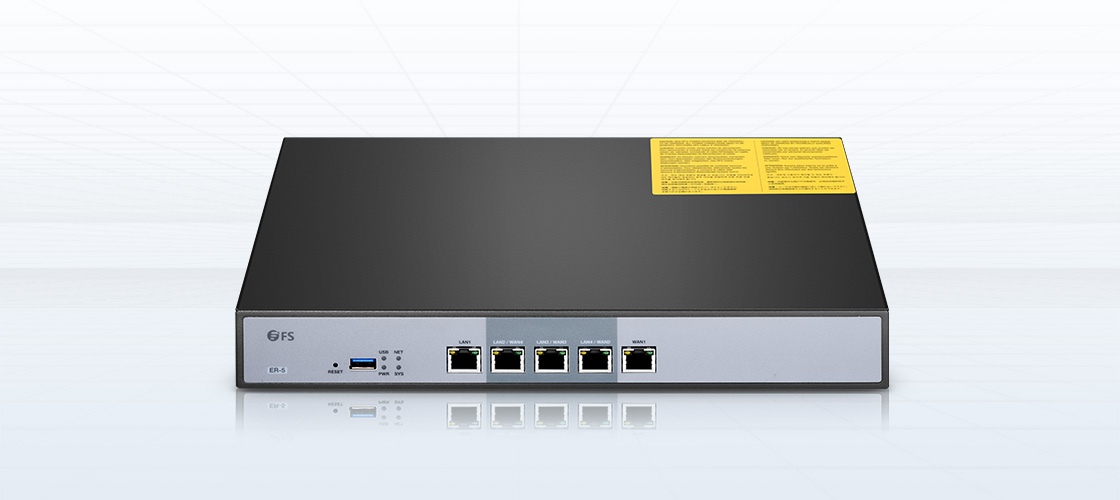 ---
Convenient Rackmount Design
The durable, 1U-high metal chassis allows for convenient mounting in a standard-sized, 19"-wide rack.

---
Flexible Interfaces
The ER-5 provides a variety of interface types. The entire machine contains five Gigabit Ethernet electrical ports. Any WAN or LAN interface can be configured based on the actual environment.

---
Fanless Design
The fanless design on both side faces and back ensures complete noiselessness and maintenance-free operation.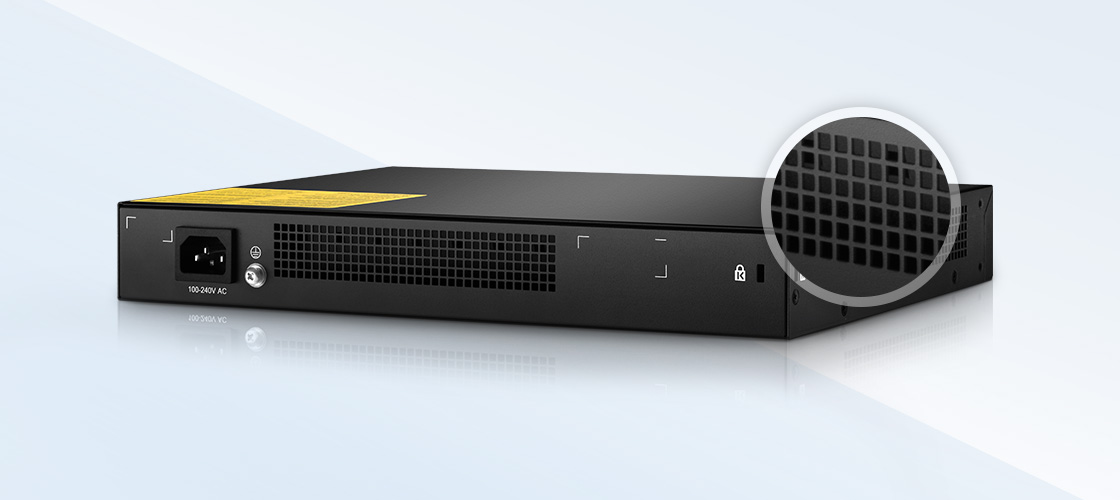 ---
Efficient and Friendly Management and Maintenance
The ER-5 adopts a graphical Web management interface and supports various monitoring methods such as performance monitoring, fault warning and attack and virus to facilitate network maintenance.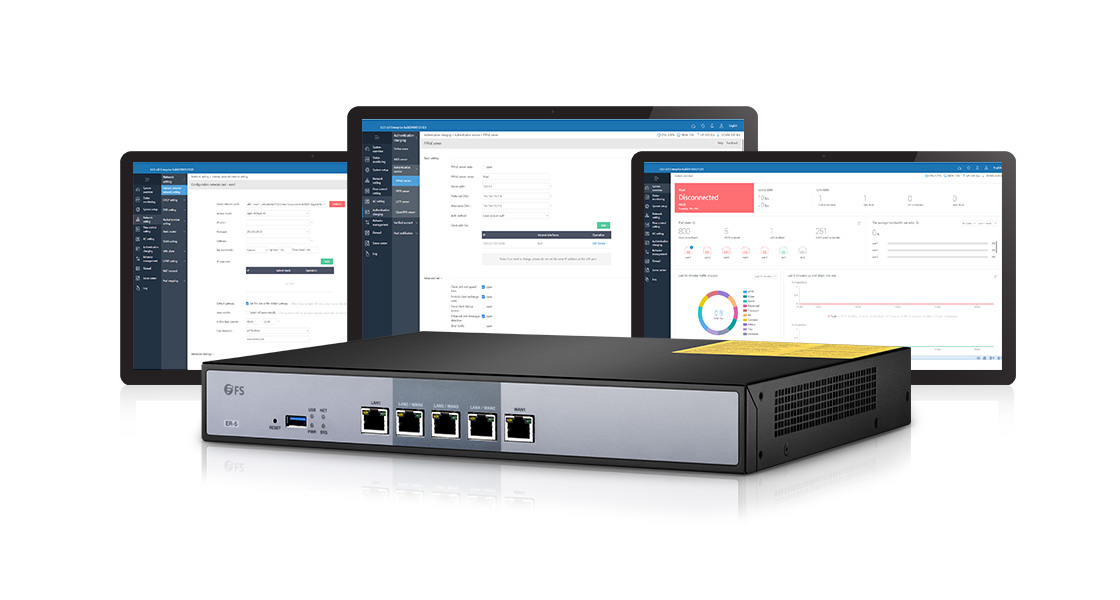 ---