1310nm Semiconductor Optical Amplifier, Pluggable Module for FMT Multi-Service Transport System

Design of SOA optical fibre amplifier for signal amplification with 1310 wavelength band, the transparent transmission protocol, suitable for high speed signal amplification (40Gbps) etc. The stability SOA Pump optical laser and AGC (automatic gain control) circuit are employed in it as the key component to ensure the high stability and reliability of output power.
Product Details
| | | | |
| --- | --- | --- | --- |
| Gain | 10dB | Saturated Output Power | 8dBm |
| Operating Wavelength | 1310nm | Input Power | -20~+6dBm |
| Return Loss | 45dB | Low Noise Figure | 6dB(Typical) |
| Connector | LC/UPC | Network Management | SNMP, Monitor online |
| Housing | Pluggable Module (Occupies 2 slots in FMT chassis) | Chassis Type | 1U, 2U, 4U |
| Operation Temperature | -5°C~ +60°C | Storage Tempreture | -40°C~ +80°C |
---
Product Tree
260Gbps DWDM Network Service by Overlaying Additional 100Gbps Link over a 1310nm Band Pass Port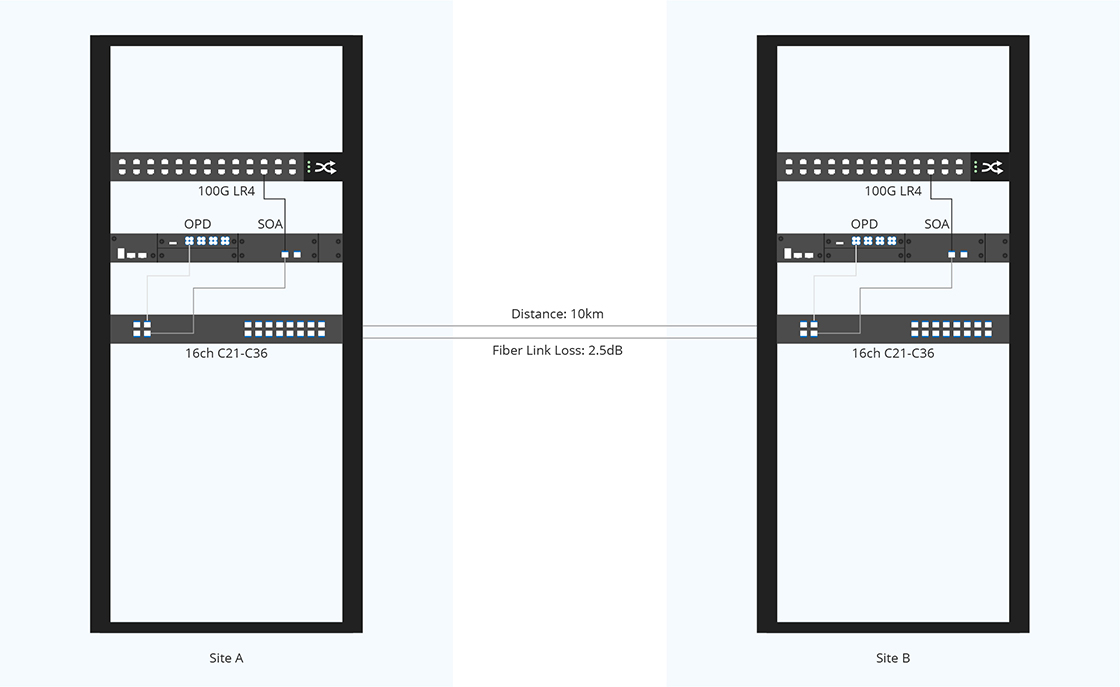 

Cisco QSFP-100G-LR4-S Compatible 100GBASE-LR4 QSFP28 1310nm 10km DOM Transceiver Module
448,00 €


S5850-48S2Q4C 48-Port 10Gb SFP+ L2/L3 Carrier Grade Switch with 6 Hybrid 40Gb/100Gb Uplink Ports
5.117,00 €


4 Channels 1550nm OPD (AIU) Optical Power Detection, LC/UPC, Pluggable Module for FMT Multi-Service Transport Platform
390,00 €

10dB Gain 1310nm Semiconductor Optical Amplifier (SOA), LC/UPC, Pluggable Module for FMT Multi-Service Transport Platform
2.648,00 €


16 Channels C21-C36, with Monitor, Expansion and 1310nm Port, LC/UPC, Dual Fibre DWDM Mux Demux, FMU 1U Rack Mount
950,00 €


1U Managed Chassis Unloaded, Supports up to 4x EDFA/OEO/OLP Module with Accessories
330,00 €
---
Product Highlights
10dB Gain for 1310nm SOA Amplifier
High fiber-to-fiber gain and high saturation output power
Wide bandwidth, high stability and reliability and low noise figure
Highly precise APC circuit, compatible with Bellcore GR-1312-CORE

---
Efficient Electrical Pump to 1310nm Optical Amplification
An electrical pump current is used to excite the electrons in the active region of the SOA. When the optical signal travels through the active region, it causes these electrons to lose energy in the form of photons and get back to the ground state. The stimulated photons have the same wavelength as the optical signal, thus amplifying the optical signal.
---
Available for All-in-One Multi-Service Transport System
High-Performance SOA Module is fully integrated into FMT advanced 1U/2U/4U Managed Chassis, which meets market demands for rack space savings and efficient power consumption. As a part of FMT system where OEO, DWDM EDFA and other traffic units can also be deployed in the same chassis, it remarkably simplifies network planning and operation.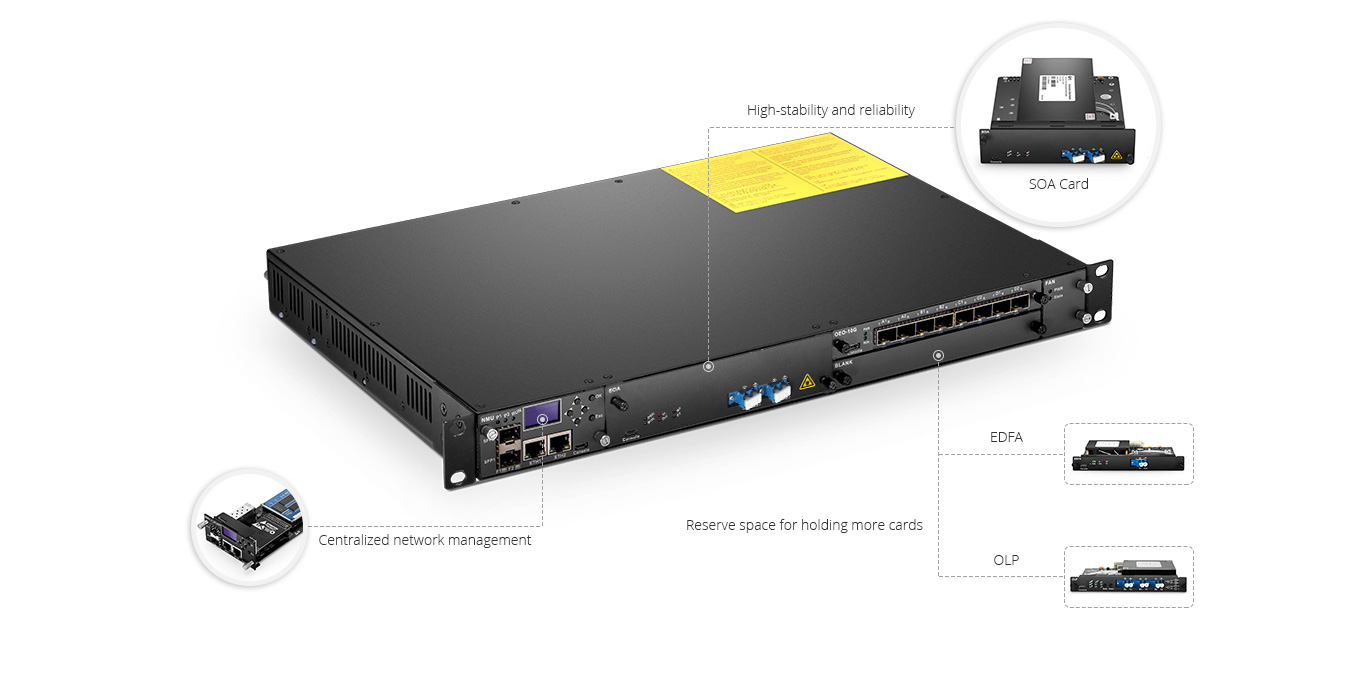 ---
500Gbps DWDM Network Service by SOA Amplifier
SOAs (Semiconductor Optical Amplifier), implemented between the 1310nm multiplexer port and the LR4 transceiver, are amplifying the 1310nm spectrum. It can be used in the10G/100G system, suitable for system design conveniently.

---
Products & Services for Better Networking
Financial Institutions丨Universities丨Service Providers丨Enterprises丨Dark Fiber Providers
Tips:
•FS professional technical support team offers you gratis solution 24/7 online.
•FS always focuses on design, R&D, innovation to provide you optical products. Welcome to contact
tech@fs.com
or
sales@fs.com.
---