1/2/4/8 Channels DWDM OADM, Single Fibre, East and West, Optional Connectors and Housing

DWDM Optical Add Drop Multiplexer (OADM) is a passive optical device used in WDM networks for adding and dropping one/multiple 100GHz DWDM channels in the C-band into one or two fibres, while letting the rest of the wavelengths bypass to the needed destination. Using the DWDM technology can effectively add WDM capability to their existing and new networks, and extend the optical signals transmission distance.

DWDM OADM modules are available in single-sided (East or West) and dual-sided (East and West) configurations, which are perfectly suited for 10/1G Ethernet, 16/8/4/2/1G FC, SDH/SONET, Video, CATV, FTTx applications. With matching MUX/DEMUX units placed at each end of an optical link, multiple data channels can be combined and transmitted over a single-mode fibre trunk. The passive DWDM OADM modules can add or drop up to 4 data channels at any point along the trunk.
Product Details
Number of Channel
1/2/4/8
Operating Wavelength
1520nm-1570nm
Channel Spacing
100GHz (0.8nm)
Channel Passband
±0.11nm
Line Type
Single fiber
Transmission Direction
West and/or east
Connector
LC/SC/FC/ST, UPC/APC polish
Special Service
Monitor/1310nm port
1310nm Port Pass Band Width
1260nm~1360nm
Housing
FMU/FUD/1U rack/ABS module
Technology
TFF (Thin Film Filter)
Temperature
Operating -40°C~ +85°C
Storage -40°C~+85°C
---
Resources
Get a Tailored OTN Solution

Learn more


Long-haul Ring OTN System

Learn more


---
Customized Service
DWDM ITU Grid in C-Band
In compliance with ITU-T G.694.1, the most commonly used grid is the 100GHz grid with spacing of 0.8nm per channel, which supports up to 40 wavelengths from C21-C60.

---
Line Type
Dual fiber and single fiber, supporting bidirectional transmission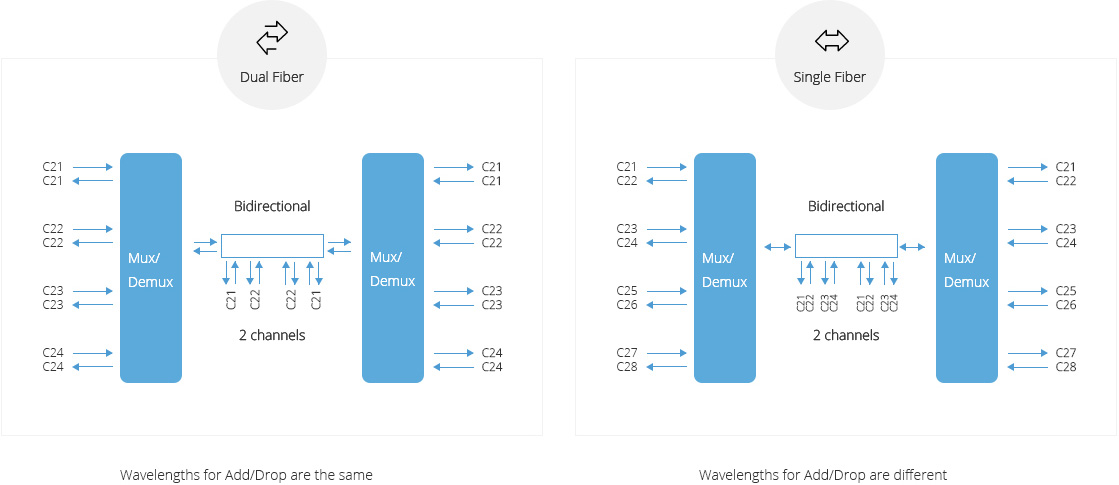 ---
Transmission Direction
West or East Module
Single-sided transmission. It drops or adds one wavelength-specific channel from the network fiber and allows the remaining channels to pass straight through to other nodes along the network.


West and East Module
Dual-sided transmission. It drops an individual channel from the network fiber, and it also provides the ability to add that same channel back onto the network fiber.
---
Connector
Various connectors are available - LC/SC/FC/ST, UPC/APC polish

---
Special Service
Monitor/1310nm port for external functions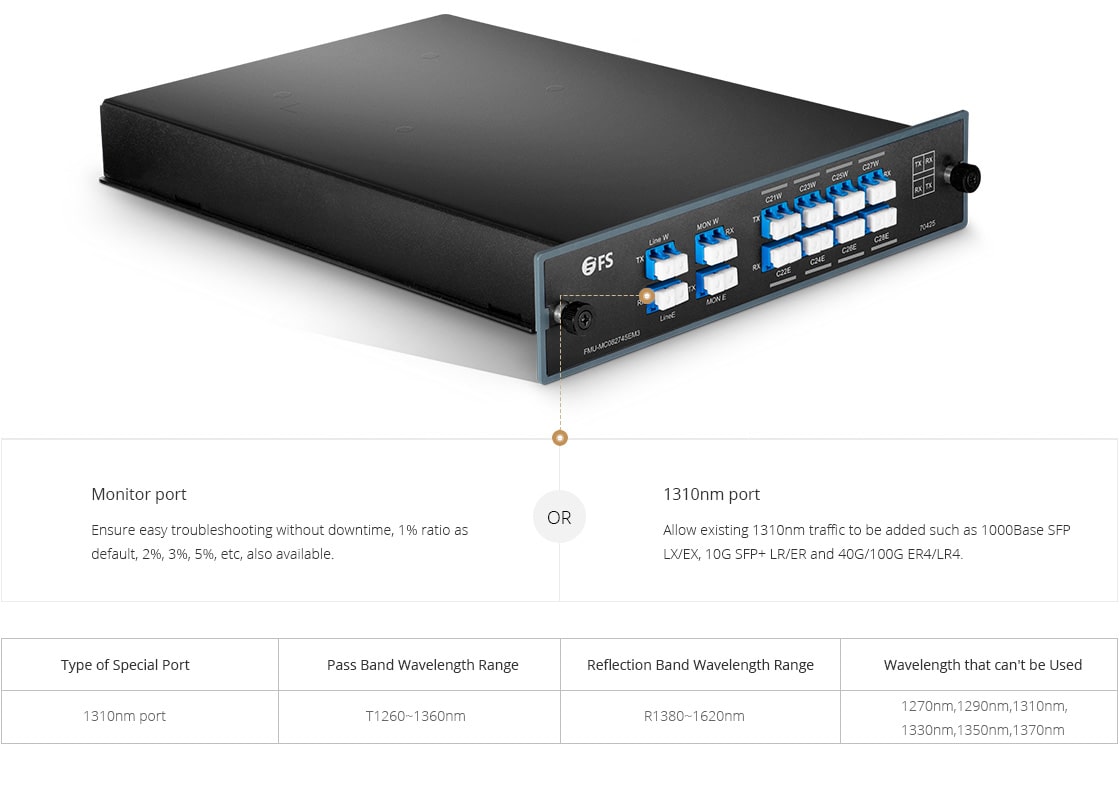 ---
The Transmission Between DWDM MUX with 1310 Special Port and OADM
1.If OADM also has 1310 special port, the 1310 signal can be transmitted by adding and dropping at each site, as shown in the figure, ① and ② is a group of signals, ③ and ④ is a group, ⑤ and ⑥ is a group.
2.If OAMD does not carry 1310 special port, because the working wavelength of OADM limits 1520nm-1570nm, the 1310 signal cannot be transmitted directly, unless customize the OADM for a particular wavelength.

---
Housing and Enclosure
FS provides 4 different package options for 1ch/2ch/4ch single fiber DWDM OADM, but only 1U 19" rack mount/splice pigtailed ABS module for 8ch DWDM OADM.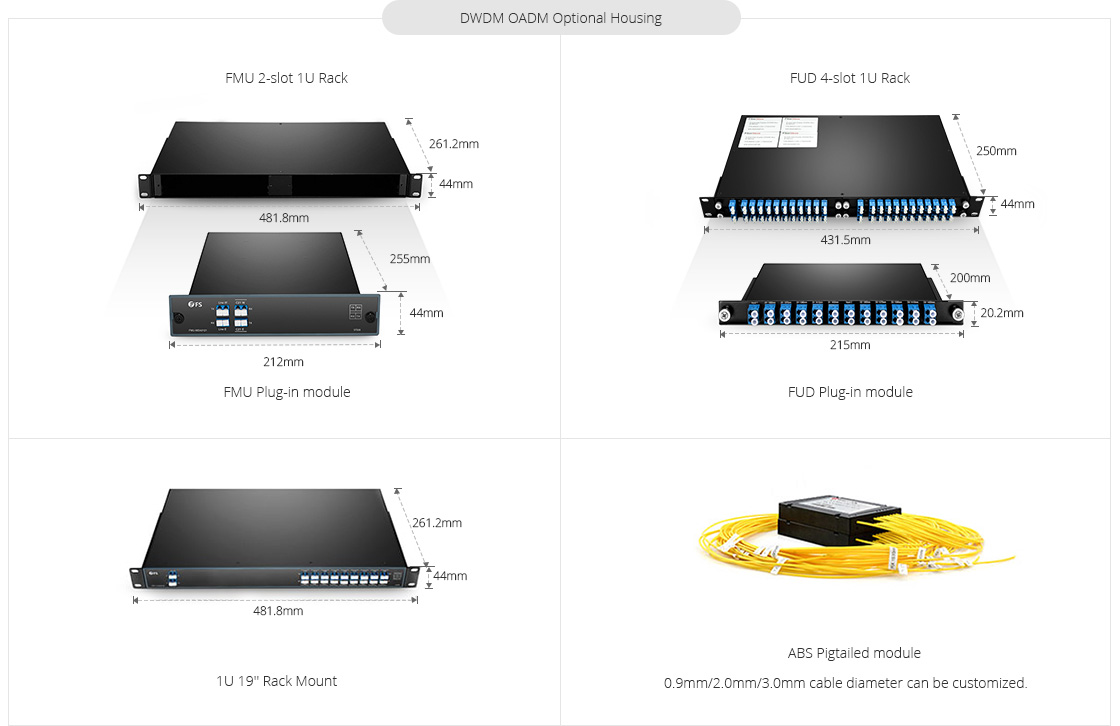 ---
Structure and Dimension of ABS Pigtailed Module
The ABS pigtailed module of single fiber DWDM OADM has 3 kinds of dimension.

Tips
• Each OADM device can add/drop one or multiple WDM channels into one or two fibers.
• When it is not in use, please capped with a clean dust cap, and keep adapter ports and fiber connectors clean.
• Attached sticker describes the specifications of OADM.
---