Variable Optical Attenuator 0~15dB, LC/UPC, Pluggable Module

FS card variable optical attenuator is an online attenuation amount adjustment device. It is applied to the situation of optical power required strict control in network, which the most common is cooperate in DWDM network.

It adopts MEMS technology and could continually and variably attenuate the light intensity in the optical fibre transmission and could help simulate distance or actual attenuation in the fibre optic testing work by inserting a calibrated attenuation into the link.
Performance index
| | | | |
| --- | --- | --- | --- |
| Operating Wavelength | 1290~1330nm/ 1530~1570nm | Bandwidth | ±20nm |
| Insertion Loss | <1.5dB | Attenuation Range | 0~15dB |
| Isolation(min) | ≥30dB | Return Loss | ≥50dB |
| PDL | ≤0.05dB | PMD | ≤0.25dB |
| Adjustment Accuracy | 0.1dB | Housing | Pluggable Module(Occupies 1 slot in FMT chassis) |
| Transmission Power | ≤500mw | Power Consumption | 3W |
---
Product Highlights
Variable Optical Attenuator
Used to control the optical power in a fiber
Online attenuation adjustment makes business more safer
High multi channel attenuation stability

---
Tilt Connectors for Protecting Eyes

Tilt angle to avoid laser direct to operator's eyes for protecting eyes

Captive Screws

Easy to install or remove without any tools
---
Advanced MEMS Technology to Balance Signal Strengths in DWDM Network
A MEMS mirror may be configured such that a beam from an input fiber bounces off the mirror and into an output fiber. By slightly tilting the mirror, the input and output fibers are decoupled and the signal is attenuated.

---
Available for All-in-One Multi-Service Transport System
As a part of multi-service transport system, hot-swappable plug-in VOA card only occupies 1 slot in the 1U/2U/4U chassis.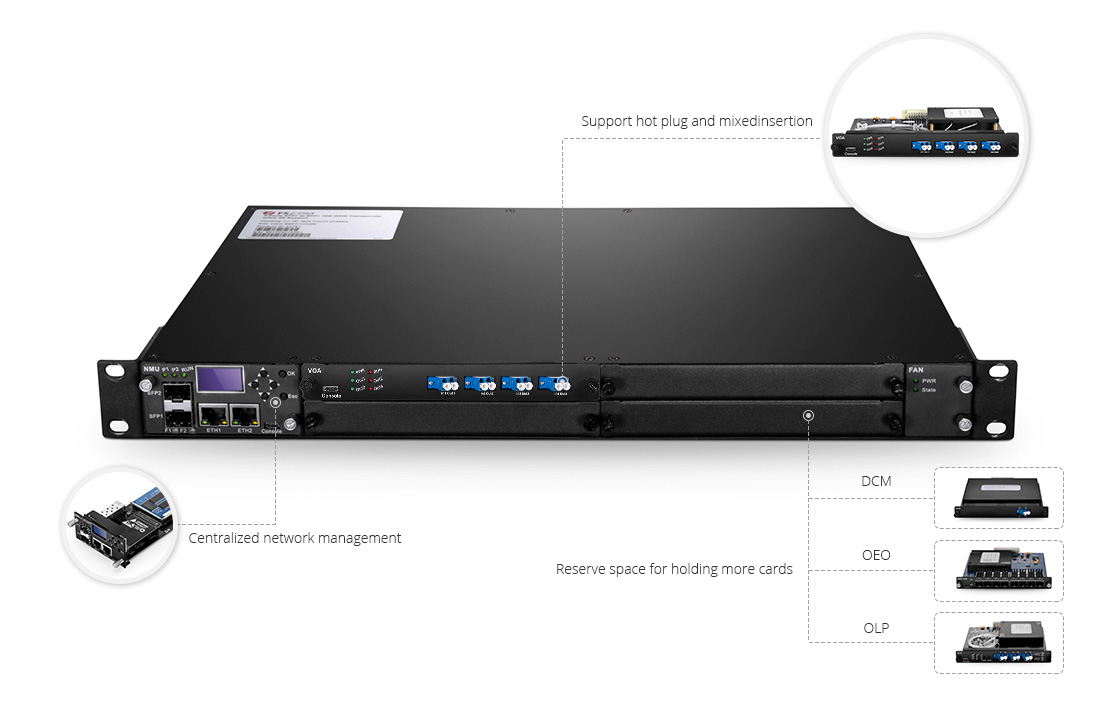 ---
Remarkable Concentration and Manageability
FS Multi-Service Transport (FMT) System is engineered to support low-cost DWDM solutions for high-capacity optical links and conducive to save cabinet space.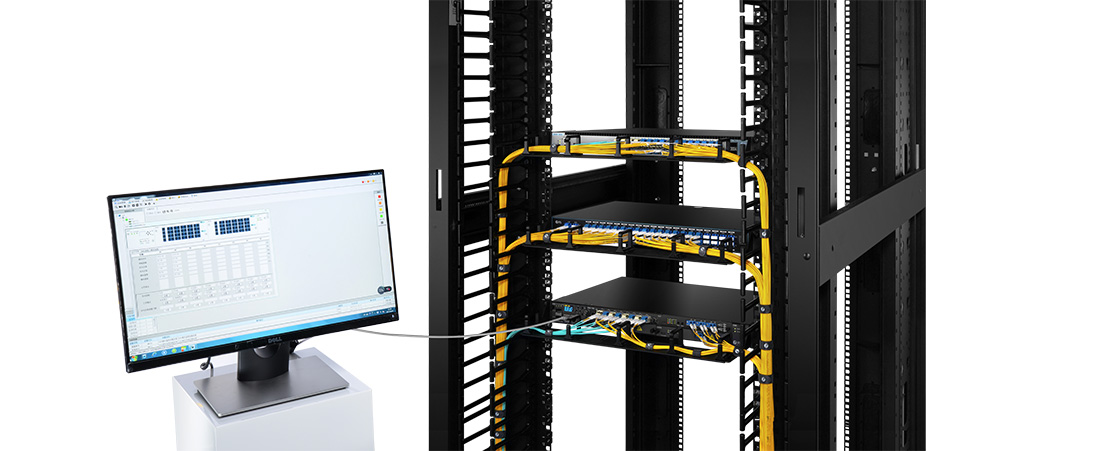 

40 Channels C21-C60, with Monitor Port, 3.0dB Typical IL, LC/UPC, Dual Fibre DWDM Mux Demux, FMU 1U Rack Mount
1.499,00 €


S5850-32S2Q 32-Port 10Gb SFP+ L2/L3 Data Centre Leaf Switch with 2 40Gb QSFP+ Uplinks
2.684,00 €


1U Managed Chassis Unloaded, Supports up to 4x EDFA/OEO/OLP Module with Accessories
330,00 €


4 Channels Multi-Rate WDM Converter (Transponder), 8 SFP/SFP+ Slots, Up to 11.3G Rate, Pluggable Module for FMT Multi-Service Transport Platform
680,00 €


1+1 Optical Line Protection Switch (OLP), Pluggable Module for FMT Multi-Service Transport Platform
420,00 €
---
Full Set Products for FMT Series
Including chassis, accessories, active and passive cards for your various needs.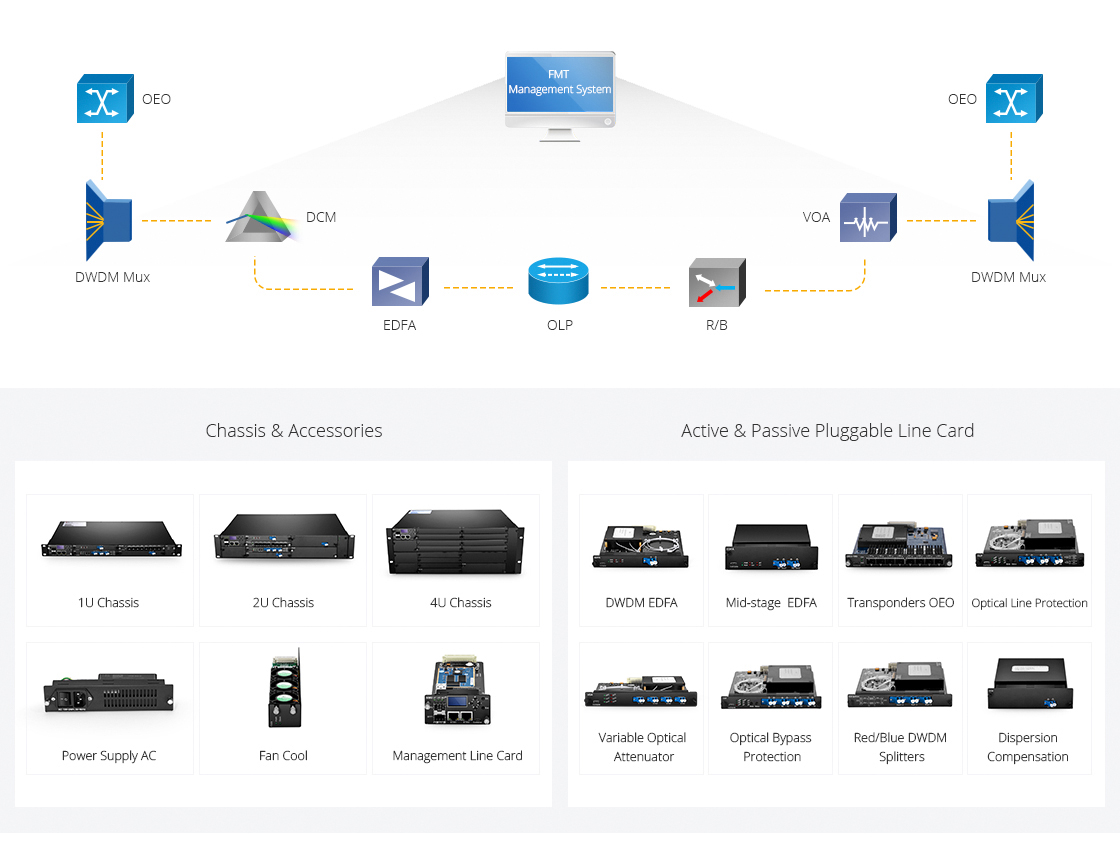 ---
Products & Services for Better Networking
Financial Institutions丨Universities丨Service Providers丨Enterprises丨Dark Fiber Providers
Tips:
•FS professional technical support team offers you gratis solution 24/7 online.
•FS always focuses on design, R&D, innovation to provide you optical products. Welcome to contact
tech@fs.com
or
sales@fs.com.
---
Quality Certification
This product provides the lifetime warranty , which aims to reflect our greatest sincerity. Please

contact us

to learn more.

This product is in conformity with ISO9001. This system is valid to a company engaging in development, production and supply service of fiber optical products. Please

contact us

to learn more.

This product is RCM compliant, which indicates compliance with electrical safety, EMC, EME and telecommunications legislative requirements. Please

contact us

to learn more.