Creating SDN Visibility and Security
SDN is an architecture purporting to be dynamic, manageable, cost-effective, and adaptable, seeking to be suitable for the high-bandwidth, dynamic nature of modern applications. The core objectives and benefits: The OpenFlow protocol can be used in SDN technologies. Make control plane programmable and decouple it from data plane. Simplify configuration as the entire network, often comprised of thousands of physical switches. Simplify operations as the entire network is now reduced to a single switch from an application or a policy control function perspective.
FS N-series provides a full line of 10GbE, 25GbE, 40GbE, and 100GbE switches with SDN capatibility supporting OpenFlow 1.3. And with L2/L3 features support IPv6, VxLAN/NVGRE, VPC, VPLS, QinQ, sFLOW meet the high-demanding Data Centre high performance and virtualization requirement. Combining with FS TAPs provide anytime network access and visibility, protecting your network with a stack of security and monitoring. Also enable a Low-Cost SDN Visibility and Security solution in FS.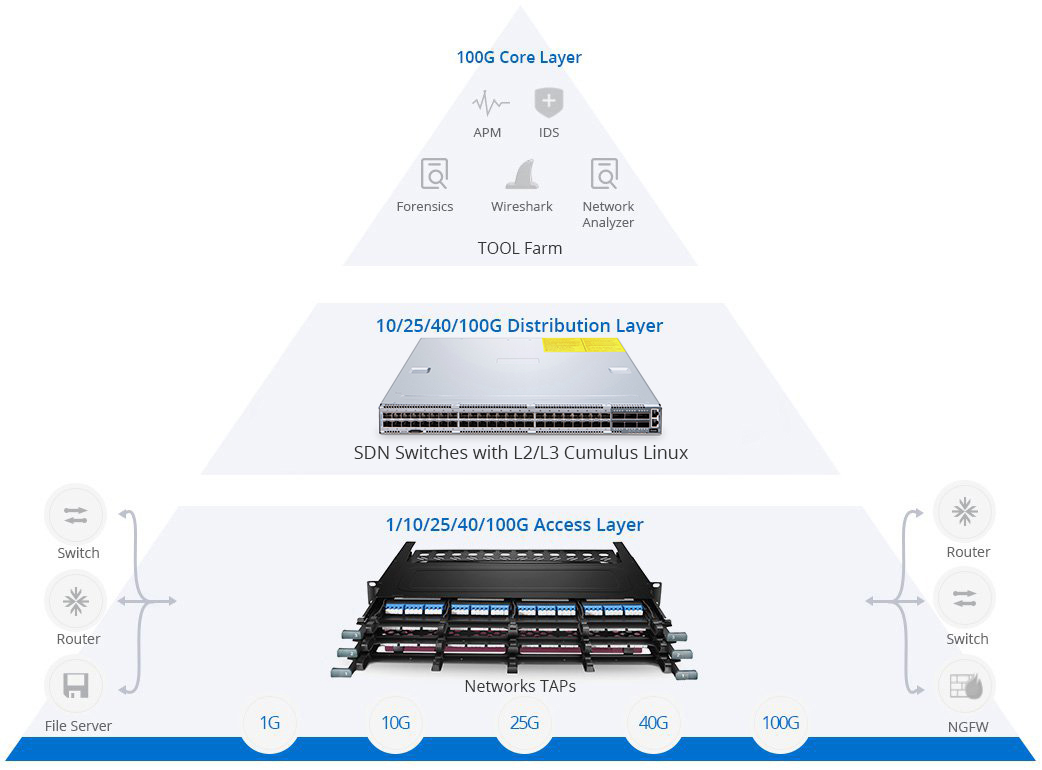 Benefits of SDN Visibility and Security



Increased Visibility into the Network

The centralized control provides a single location from which security, performance, and challenges can be identified.



Centralized Network Provisioning

It can load-balance and distribute traffic more efficiently to prevent chokepoints, which can improve application performance.



Reduced Hardware Management and Costs

You can extend the life of existing hardware because you have shifted the decision making to the SDN controller.
SDN Switch with L2/L3 ICOS
FS N-series offers the flexibility of operating within a legacy network environment and an OpenFlow software defined network, making it aviable solution
when transitioning to next-generation networking.
Tomahawk Chip
6.4Tbps Full-duplex
Broadcom ICOS

A$13,393.00
Trident 2 Chip
2.56Tbps Full-duplex
Broadcom ICOS

A$8,473.00
Trident 2 Chip
1.44Tbps Full-duplex
Broadcom ICOS

A$6,435.00
FHX Tapped Cassettes
Network test access points (TAPs) are the approved and recommended hardware tool that allows you to monitor your network monitoring fabric.
FS optical network TAPs are purpose-built hardware devices that make a 100% copy of your network's data
providing your monitoring tools 100% visibility.
Split Ratio: 50/50
No. of TAPs: 4
Live Port Insertion Loss: 3.35dB

A$440.00
Split Ratio: 50/50
No. of TAPs: 2
Insertion Loss:≤6.1dB

A$390.00