10kVA 9kW 230V Single-Phase On-Line Double-Conversion UPS without Battery, Rackmount & Tower

FS On-Line UPS delivers pure sine wave output with 0ms transfer time to critical equipment that require seamless power correction. It allows time to save data and safely shut down components in case of an unexpected utility power blackout. Ideal for small data centers, small and medium-sized enterprises, bank branches and other demanding power applications, this UPS effectively protect IT devices from most common power problems, including power failures, power sags, power surges, brownouts, line noise, high voltage spikes, switching transients, harmonic distortion and so on.
Product Details
| | | | |
| --- | --- | --- | --- |
| UPS Type | On-Line | Form Factor | Rackmount & Tower |
| Output Power Capacity | 10kVA/9kW | Output Power Factor | 0.9 |
| Nominal Input Voltage | 230V | Nominal Output Voltage | 230V (Configurable for 200V, 208V, 220V, 240V) |
| Phase | Single-Phase | Nominal Frequency | 50/60Hz |
| Compatible Battery Type | Lead-Acid Battery | External Battery Voltage | 96/108/120V |
| Plug Type | Hardwire | Outlet Type | Hardwire & 2 x C13 |
| Waveform Type | Sine wave | Transfer Time | 0ms |
---
Product Spotlight
Security

EMI/RFI noise filter

≤2% THD (linear load)

Surge protection

Emergency power off (EPO)

Cold start
Adaptability

Rack-Tower conversion

Rotatable dispaly on LCD interface

Generator compatibility

Configurable output voltage

Configurable Battery
High Efficiency

Full digital control (DSP)

PFC technology

3-Stage intelligent charging

0ms transfer time at utility power failures
---
Product Highlights
On-Line UPS with Visual Display
Front-panel LCD interface reports UPS status, including voltage, frequency, backup time and so on. Buttons control ON/OFF and different functions of the UPS, such as ECO mode, bypass function setting, output voltage setting etc.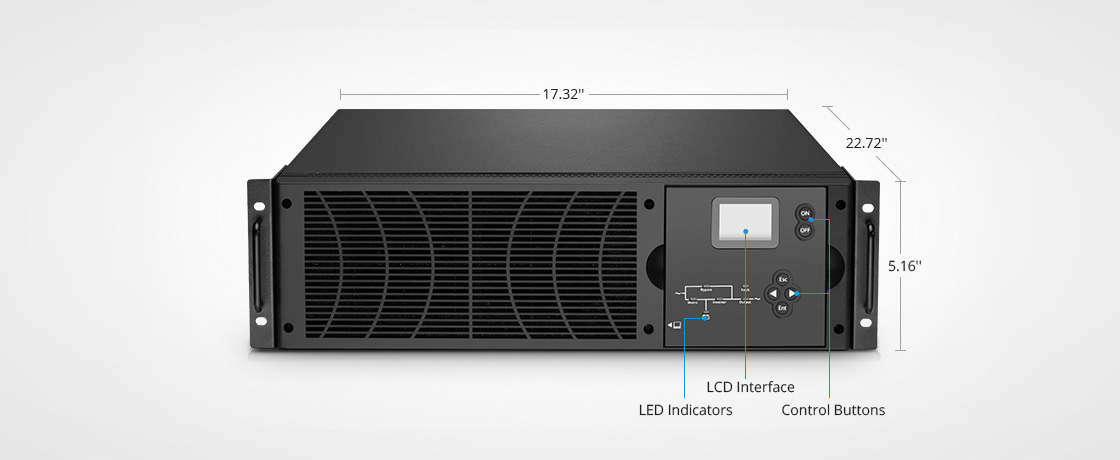 ---
Advanced Management & Power Protection
FS On-Line UPS is equipped with USB port, RS232 port and optional Web/SNMP card for network management. Hardwire terminal block & C13 outlets are available to provide stable power for your IT equipment. EPO port enables emergency inverter shutdown.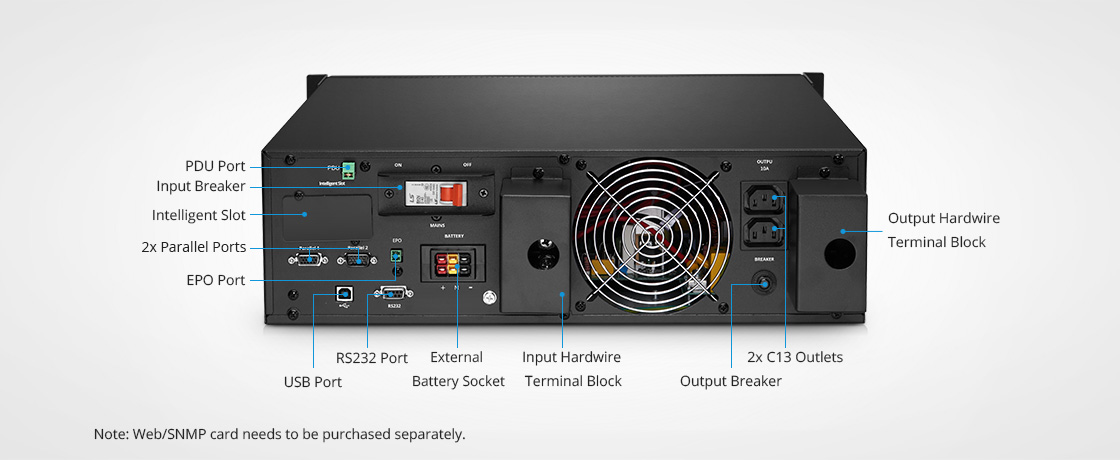 ---
Product Components
Grounding Cable*1
RS232 Cable*1
USB Cable*1
Parallel Cable*1
Battery Connecting Piece*2
Tower Plastic Base*4
Base Extended Board*4
User Manual*1
Software Installation Card*1
---
Quality Certification
This product is in conformity with ISO9001. This system is valid to a company engaging in development, production and supply service of fiber optical products. Please

contact us

to learn more.