FTTx PON High Power 1550nm EYDFA, 64 Ports

Based on multi-mode pumping Er/Yb double clad fiber technology, EYDFA is designed to produce high output power up to 17 dBm.

And this line of fiber amplifiers has been optimized for superior output power stability and the exceptionally low noise figures demanded by CATV applications. It can be used for CATV analog/digital signal distribution, or match with PON system to construction the triple network integration.
Product Details
| | | | |
| --- | --- | --- | --- |
| Wavelength(CATV) | 1545~1565nm | Output Per Path | 17dBm |
| Output Port | 64 | Output Power(Total) | 40dBm |
| Input Power | -3~+10dBm | Noise Figure | 5.5dB |
| Input Isolation | ≥30dB | Output Isolation | ≥30dB |
| Output Power Stability | ±0.2dB | Return Loss | ≥50dB |
| Consumption | ≤80W | Fiber Optic Interface | LC/APC |
| Operation Mode | APC | Power Suply | Dual power, 100V-240VAC |
| Chassis Type | 2U | Housing | Standalone |
* Note: 4, 8, 16, 32 ports can be customized, please contact
sales@fs.com
for more details.
---
Product Highlights
Ideal as a Booster, Line or Pre-amplifier
Simple network management via SNMP and monitor online
Stable output power over a wide operating temperature range
Integrated per channel WDM for FTTx PON application

---
Built-in Well-performed WDM for 1310/1490/1550nm PON Integration
Each output port for optical amplifier has built-in WDM. Every external up-link optical port of optical amplifier can connect with OLT PON port very conveniently. Each 1550nm (CATV)'s output optical port multiplex 1310/1490n's data stream, in order to reduce the quantity of the component and improve the index and reliability of the system. It offers a flexible and low-cost solution for three-network integration.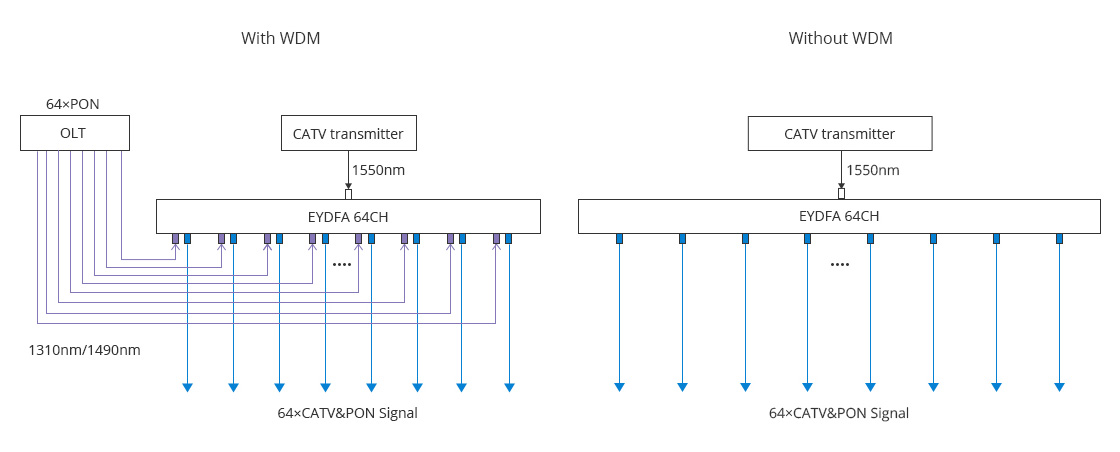 ---
Cost-effective Product for Large and Medium Cities and Fiber to the Home
Low noise, high performance, high power multi-ports EYDFA module is specially designed for CATV system. It offers a reliable and cost-efficient FTTx solution for CATV large area coverage of metropolises and medium-sized cities.

---
FS FMT Optical Transport Network Management System
EYDFA Pluggable Module is used with FS Network Management Unit. NMU/NMS provides full fault, configuration, performance, security management. FMT MonitorOnline management software (a Java-based network management system) built with modular client uses the Microsoftware SQL Sever 2008R2 database.

---
Products & Services for Better Networking
Financial Institutions丨Universities丨Service Providers丨Enterprises丨Dark Fiber Providers
Tips:
•FS professional technical support team offers you gratis solution 24/7 online.
•FS always focuses on design, R&D, innovation to provide you optical products. Welcome to contact
tech@fs.com
or
sales@fs.com.
---
Quality Certification
This product provides the lifetime warranty , which aims to reflect our greatest sincerity. Please

contact us

to learn more.

This product is in conformity with ISO9001. This system is valid to a company engaging in development, production and supply service of fiber optical products. Please

contact us

to learn more.

This product is RCM compliant, which indicates compliance with electrical safety, EMC, EME and telecommunications legislative requirements. Please

contact us

to learn more.