16 Channels C21-C36 Dual Fibre DWDM Mux Demux with Monitor Port,Expansion Port and 1310nm Port, FMU 1U Rack Mount, LC/UPC

16 Channels DWDM Mux Demux offers high-capacity terminal DWDM solutions for network expansion. This passive DWDM equipment is used for long-haul transmission where wavelengths are packed tightly together over the C-band, up to 48 wavelengths in 100GHz grid (0.8nm). DWDM multiplexer is protocol transparent and suited for applications including 10/1G Ethernet, SDH/SONET, 16/8/4/2/1G Fibre Channel, FTTx, CATV, etc.
Product Details
Wavelength
16 channels C21-C36
Channel Spacing
100GHz(0.8nm)
1310nm Port Pass Band Width
1260nm~1360nm
Insertion Loss
≤ 4.9dB (with connectors and adapters)
Passband Ripple
≤ 0.5dB
Channel Passband
±0.11nm
Insertion Loss @ Exp
≤ 5dB (with connectors and adapters)
Technology
TFF (Thin Film Filter)
Adjacent Channel Isolation
≥ 30dB
Non-adjacent Channel Isolation
≥ 40dB
Return Loss
≥ 45dB
Directivity
≥ 45dB
Polarization Dependent Loss
≤ 0.3dB
Polarization Mode Dispersion
≤ 0.1ps
Temperature
Operating -40°C~ +85°C
Storage -40°C~+85°C
Dimensions (HxWxD)
1.73"x19"x10.28" (44x481.8x261.2mm)
---
Product Spotlight
Low Insertion Loss ≤ 5.2dB
High Quality TFF Technology
1310nm Port for 40G/100G Business
Monitor Port for Easy Troubleshooting
Expansion Port for Future Capacity
Operating Temperature -40°C~ +85°C
---
Product Tree
80km Transmission can be Accomplished by Using Pre-amplifier and DCM



Cisco QSFP-40G-SR4 Compatible 40GBASE-SR4 QSFP+ 850nm 150m MTP/MPO DOM Transceiver Module
A$57.00


S5850-48S2Q4C 48-Port 10Gb SFP+ L2/L3 Carrier Grade Switch with 6 Hybrid 40Gb/100Gb Uplink Ports
A$8,298.00


4 Channels Multi-Rate WDM Converter (Transponder), 8 SFP/SFP+ Slots, Up to 11.3G Rate, Pluggable Module for FMT Multi-Service Transport Platform
A$1,100.00


FS for Cisco SFP-10G-SR Compatible, 10GBASE-SR SFP+ 850nm 300m DOM Transceiver Module (Standard)
A$26.00


1U Managed Chassis Unloaded, Supports up to 4x EDFA/OEO/OLP Module with Accessories
A$540.00


Cisco C21 DWDM-SFP10G-60.61 Compatible 10G DWDM SFP+ 1560.61nm 80km DOM Transceiver Module
A$362.00


16 Channels C21-C36, with Monitor, Expansion and 1310nm Port, LC/UPC, Dual Fibre DWDM Mux Demux, FMU 1U Rack Mount
A$1,500.00


40KM DCF-based Passive Dispersion Compensation Module, 4.2dB Low Loss, LC/UPC, Pluggable Module for FMT Multi-Service Transport Platform
A$1,150.00


20dB Gain Pre-Amplifier DWDM EDFA C-band 13dBm Output, LC/UPC, Pluggable Module for FMT Multi-Service Transport Platform
A$1,907.00
---
Resources
DWDM over CWDM

Learn more


WDM Solution for Data Centre Interconnect

Learn more


---
Product Highlights
Mux/Demux 16 Channels over Dual Fibre
Built-in Mux and Demux in one unit, working on two network fibres
Completely passive, no power& no cooling required
Fully compatible with all ITU-T DWDM optics

---
Dynamic Network with Low-Loss Wavelengths
DWDM channels overlap with passband of CWDM channels in low insertion loss of C- Band 1531 nm and 1551nm, which inhabit the natural region for low optical losses in glass fibre, allowing to extend maximum reach of DWDM technology.

---
Expansion Port - For Future Bandwidth Increasing
Expansion port makes it possible to increase the network capacity by connecting it to the line port of another DWDM MUX/DEMUX supporting different wavelengths, without the need of installing or leasing additional fibres.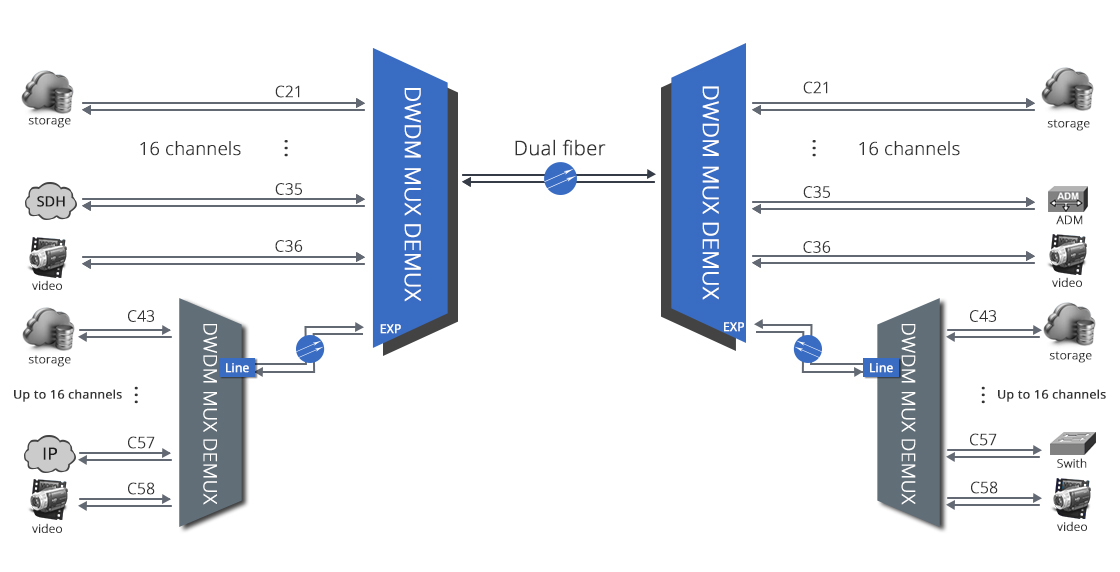 ---
Simple to Test and Maintenance
Taking just several seconds to complete all loss or power measurements and easy to interpret test results with minimal navigation.
Fibre Optic Cleaning is a essential accessory to maintain and guarantee good quality of fibre optic connection.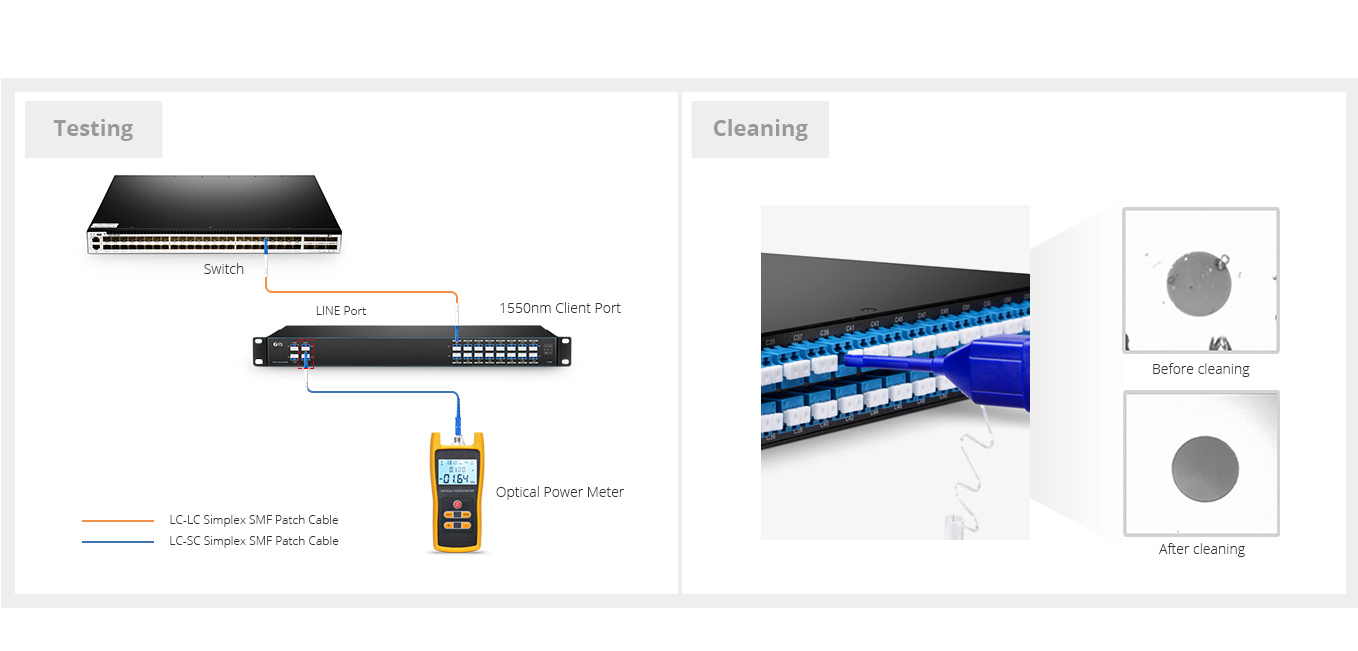 Tips
• DWDM is an optical multiplexing technology used to increase bandwidth over existing fibre networks.
• When it is not in use, please always capped with a clean dust cap, and always keep adapter ports and fibre connectors clean.
• Attached sticker describes the specifications of MUX, which improves deployment flexibility for your WDM system.
• FS always focus on design, R&D, innovation to provide you optimal products. Welcome to contact
tech@fs.com
or
sales@fs.com
.
---