9 Channels 1270 to 1590nm Single Fibre CWDM Mux Demux Plug-in Module

CWDM technology provides the flexibility to increase capacity of existing fibre infrastructure by enabling multiple channels/wavelengths over the same fibre cabling. Each channel carries data independently from each other, allowing network designers to transport different data rates. It's protocol and rate transparent supporting such applications as 1G/10G Ethernet, SDH/SONET and 8/4/2/1G Fibre Channel across the same fibre link.
Product Details
Wavelength
9ch 1270-1590nm
Channel Spacing
20nm
Channel Passband
±6.5nm
Insertion Loss
≤ 2.6dB (with connectors and adapters)
Technology
Free Space
Passband Ripple
≤ 0.5dB
Adjacent channel Isolation
≥ 30dB
Non-adjacent channel Isolation
≥ 40dB
Return Loss
≥ 45dB
Directivity
≥ 50dB
Polarization Dependent Loss
≤ 0.3dB
Polarization Mode Dispersion
≤ 0.1ps
Temperature
Operating -40°C~ +85°C
Storage -40°C~+85°C
Dimensions (HxWxD)
1.73"x8.35"x10.04" (44x212x255mm)
---
Product Spotlight
Low Insertion Loss ≤ 2.6dB
Unique Free-Space Technology
Completely Passive, No Latency
FMU Plug-in Module Fits in FMU 1U Chassis
Operating Temperature -40°C~ +85°C
---
Product Tree
9ch CWDM Single Fiber Solutions Saving half of the Fiber Resources Needed



FS for Cisco SFP-10G-SR Compatible, 10GBASE-SR SFP+ 850nm 300m DOM Transceiver Module (Standard)
A$26.00


S5850-48S6Q 48-Port 10Gb SFP+ L2/L3 Data Centre ToR/Leaf Switch with 6 40Gb QSFP+ Uplinks
A$5,241.00


4 Channels Multi-Rate WDM Converter (Transponder), 8 SFP/SFP+ Slots, Up to 11.3G Rate, Pluggable Module for FMT Multi-Service Transport Platform
A$1,100.00


Cisco CWDM-SFP10G-1270 Compatible 10G CWDM SFP+ 1270nm 40km DOM Transceiver Module
A$290.00


9 Channels 1270-1590nm, LC/UPC, Single Fibre, Low Insertion Loss CWDM Mux Demux, Side-A, FMU Plug-in Module
A$550.00


9 Channels 1290-1610nm, LC/UPC, Single Fibre, Low Insertion Loss CWDM Mux Demux, Side-B, FMU Plug-in Module
A$550.00
---
Resources
Get a Tailored OTN Solution

Learn more


How to Use WDM Mux/Demux

Watch video


---
Product Highlights
Mux/Demux 9 Channels Single Fiber in a Pair
Low-profile modular design, fits in FMU 2-slot 1U chassis
Ultra low insertion loss and high channel isolation
Completely passive, no power & no cooling required

---
Unique Free-Space Technology
Different from the conventional CWDM Mux, the low insertion loss 9ch CWDM Mux adopts Free-Space technology, which uses light propagating in free space to wirelessly transmit data. This unique technology and great workmanship help it with low insertion loss.

---
A Rugged and Cost-Effective Designed CWDM Mux/Demux
Horizontal Adapter
Adapter horizontal distribution without flange is more convenient to pull the patch cable, and reserve more space for preparing the follow-up post.


Clear Coding for CWDM
Each channel is marked with band parameter for easy identification, ensuring fast and accurate installation.
New TX/RX Label
New TX/RX label is in parallel with the configuration of the adapter for clearly show the customer how to link the patch cable.

---
Cost-Effective CWDM Single Fiber Applications
Single fiber CWDM Mux should be used in pairs, which transmits and receives different wavelengths into a fiber in the opposite direction. In site C, 1ch OADM adds and drops one CWDM channel, a cost-effecient point-to-point CWDM system can be achieved.

---
Simple to Test and Maintenance
Taking just several seconds to complete all loss or power measurements and easy to interpret test results with minimal navigation.
Fiber Optic Cleaning is a essential accessory to maintain and guarantee good quality of fiber optic connection.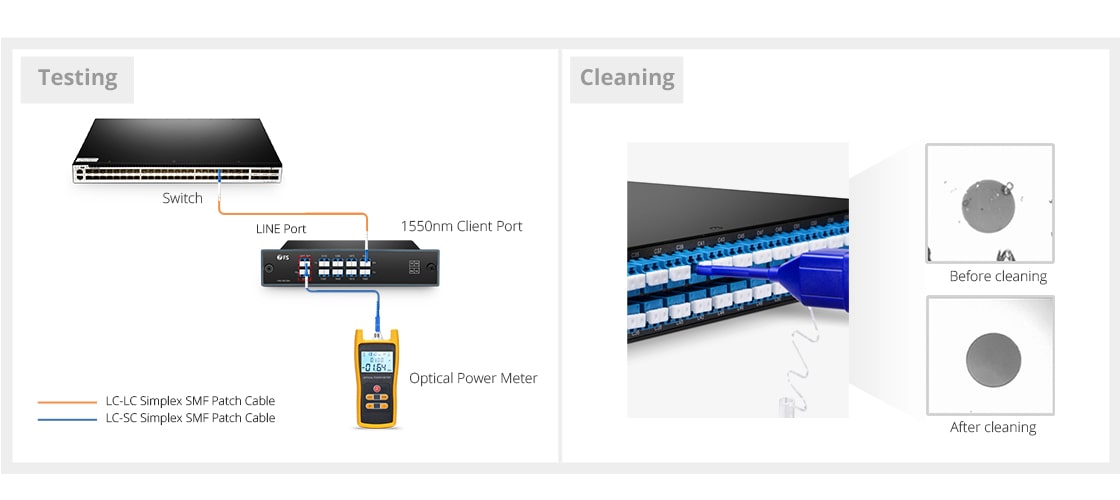 Tips
• CWDM is used to increase the bandwidth of an optical fiber by multiplexing several wavelengths (or colors) onto it.
• When it is not in use, please capped with a clean dust cap, and keep adapter ports and fiber connectors clean.
• Attached sticker describes the specifications of MUX, which improves deployment flexibility for your WDM system.
• FS always focus on design, R&D, innovation to provide you optimal products. Welcome to contact
tech@fs.com
or
sales@fs.com
.
---