N8500-48B6C(48*25GbE+6*100GbE) 25GbE Open Networking Switch Preloaded Broadcom ICOS

N8500-48B6C is a Top-of-Rack (TOR) or Leaf switch in a compact 1U form factor, ideally suited for high performance and programmable data center environments. The N8500-48B6C provides 48-port 25GbE SFP28 and 6-port 100GbE QSFP28. It delivers excellent low latency and power efficiency in a PHYless design, while offering high reliability features such as redundant and hot swappable power supplies and fans in forward and reverse airflow configurations. With support for advanced features, including MLAG, VxLAN, SFLOW, SNMP, MPLS etc, this switch is ideal for traditional or fully virtualized data center.

The N8500-48B6C supports current and future data center requirements, including an x86-based control plane for easier integration of automation tools, an ONIE installer for 3rd party network operating systems and compatibility with Software Defined Networks via OpenFlow 1.3.11. Additionally, N8500-48B6C supports the advanced hardware based VXLAN feature to support over 16M virtual networks.
| | | | |
| --- | --- | --- | --- |
| Switch Class | Layer3, Dater center | Operating System | Broadcom ICOS |
| Switching Chip | Broadcom Tomahawk+ | CPU | Broadwell-DE 2.2Ghz 2-core |
| Switch Capability | 3.6Tbps Full-duplex | Packet Buffer Memory | 16M |
| Latency | 500ns | Max Power Draw | 550W |
Key Features
L2/L3 Packet Processing
• STP, RSTP, MSTP, PVRST, PVST, Bridge Assurance, BPDU Guard.
• IEEE 802.1q VLANs
• IEEE 802.3ad Link Aggregation (LACP)
• Address Resolution Protocol (ARP)
• IGMP snooping v2/v3
• Full IPv4 & IPv6 Routing including OSFPv2, OSPFv3, BGPv4/v6, ECMP
• Access Control List (ACL) L2-L4 classification
• Forwarding table for L2 MAC, L3 Host and LPM entry scale
• Three-stage ContentAware Processing
• Flexible ingress/egress counter pools
Buffer and Traffic Management
• Integrated High Performance Smart Buffer Memory
• Class of Service (CoS): 802.1p or DSCP
• Traditional monitoring with SNMPv2/v3
• IEEE 802.1AB Link Layer Discovery Protocol (LLDP)
• IPv6 Neighbor Discovery
• DHCP relay
• Storm Control support: broadcast/unicast
• Jumbo Frame up to 12K
• Linked-list scheduler flexible queue assignment & scheduling algorithms: Strict Priority (SP) and Deficit Weighted Round Robin (DWRR)
Data Center Features
• VxLAN and NVGRE overlay
• Per-Virtual Machine Traffic Shaping
• L2 in L3 Tunneling (VXLAN, L2GRE, NVGRE)
• 802.1Qbg Edge Virtual Bridging
• 802.1Qbh Bridge Port Exetension
Supported Optical Transceivers and Cables
25G SFP28 slot:
• 25GBASE-SR
• 25GBASE-LR
• 25GBASE AOC/ DAC
​QSFP28 slot:
• 100GBASE-SR4
• 100GBASE-LR4
• 100G AOC/DAC
• 100G to 4x25G AOC/ DAC
---
Powerful 25GbE ToR/Leaf Switch
N8500-48B6C meets the high-performance, availability, and network-scaling requirements of enterprise and cloud data centers.
---
Front and Back Panel Overview
---
High-Performance L2/L3 Data Center Switch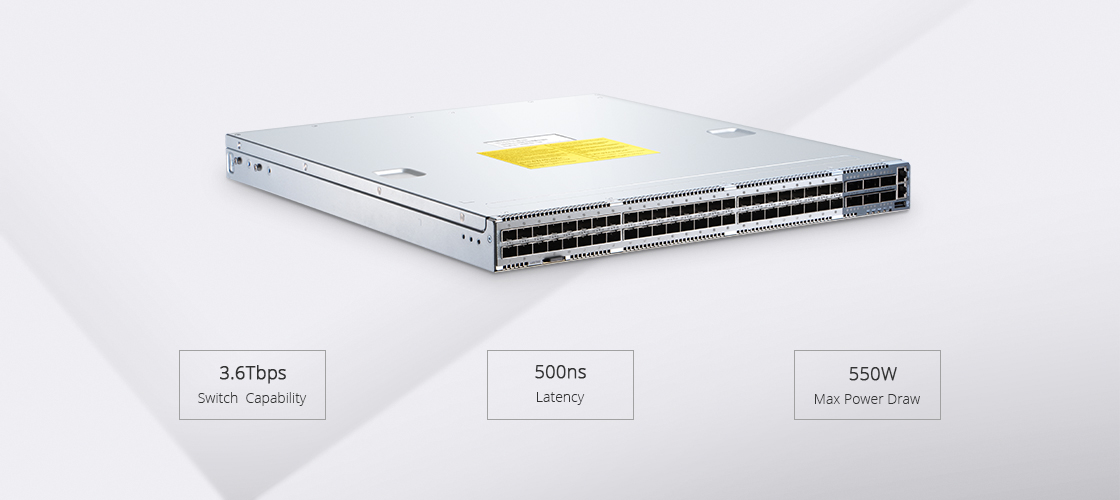 ---
Data Center Grade Hardware Design
Hot-swap Power Supplies
Hot-swappable Fans
Low Power Consumption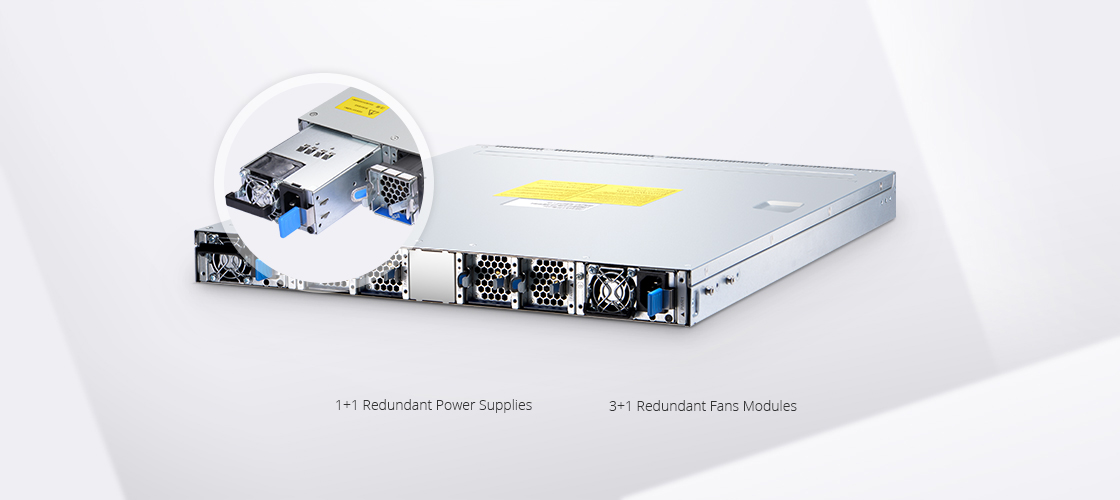 ---
N-Series VS S-Series
FS provides N-Series switches and S-Series switches. N-Series is 25G/100G open switch, Which is for next generation metro, data center and enterprise network applications. S-series 1G/10G/40G/100G switches are aiming to achieve flexibility, efficiency and cost effectiveness in data center networks.