1+1 Optical Line Protection Switch (OLP), Plug-in Card Type for FMT Multi-Service Transport System
#66010
OLP provides a more reliable, flexible and high secure optical transmission network, so widely used for protecting backbone and important business line.
Installation:
Fit in FMT 1U 4-slot chassis that to be mounted on a rack
Price:
US$ 380.00
Availability:
Available, Orders placed today will ship within 7 business days
The actual shipping time may vary with the estimated time, it depends on handling time, destination zip code, shipping service selected and receipt of cleared payment.
1+1 Optical Line Protection System for Fiber Protection, Bi-directional Protection in Dual Fiber, LC/UPC, Plug-in Card Type

OLP(Optical Line Protection) is a device that is used in the protection of network transmission line, it can realize optical power monitoring and automatic switching. In optical communication network, OLP monitors optical power of optical fiber and standby optical fiber at real time. In case the current optical power of optical fiber is less than pre-set switching threshold value, then alarm is on and it would switch to standby optical fiber automatically to protect optical transmission system line.

OLP 1+1 adopts the mode of dual transmitting and selective receiving. It is widely used in Optical Line Protection System like PDH, SDH system, C/DWDM system, electric telecommunication exclusive net as well as CATV optical net.
Product Details
| | | | |
| --- | --- | --- | --- |
| Operating Wavelengths | 1310±50nm / 1550±50nm | Return Loss | ≥55dB |
| Insertion Loss | Tx<3.8dB, Rx<1.2dB | Monitoring Power Range | +23~-50dBm |
| Monitoring Power Resolution | 0.01dB | Monitoring Power Accuracy | ±0.25dB |
| PDL | ≤0.05dB | WDL | ≤0.1dB |
| Crosstalk | ≥55dB | Switching Speed | <15ms |
| Power Supply | Dual power, 100V-240VAC | Maximum Optical Power Load | 300mW |
| Connectors | LC/UPC | For Use With | FMT managed chassis |
| Operating Temperature | -10~+50°C | Storage Temperature | -40~+80°C |
| Operating Humidity | 5%~95% no condensation | Management | SNMP |
Product Highlights
1+1 Optical Line Protection Card, Placed in 1U/2U/4U Managed Chassis
High level of integration by plug-in design, which saves space of cabinet
Real-time monitoring, and fast switching between primary and secondary optical lines(<15ms)
Support SNMP Management and Fast, Gigabit and 10 Gigabit Ethernet

---
Fast Switching, 1+1 Point-to-Point OLP Using 1x2 Switches
Dual Transmitting and Selective Receiving
1+1 OLP is protected from link failures, using an optical splitter to bridge the optical signal to working fiber and protection fiber. Data transmitted over both fibers simultaneously. While for Rx, the optical signal with better quality will be selected.

---
Available for All-in-One Multi-Service Transport System
As a part of multi-service transport system, hot-swappable plug-in OLP card only occupies 1 slot in the 1U/2U/4U chassis.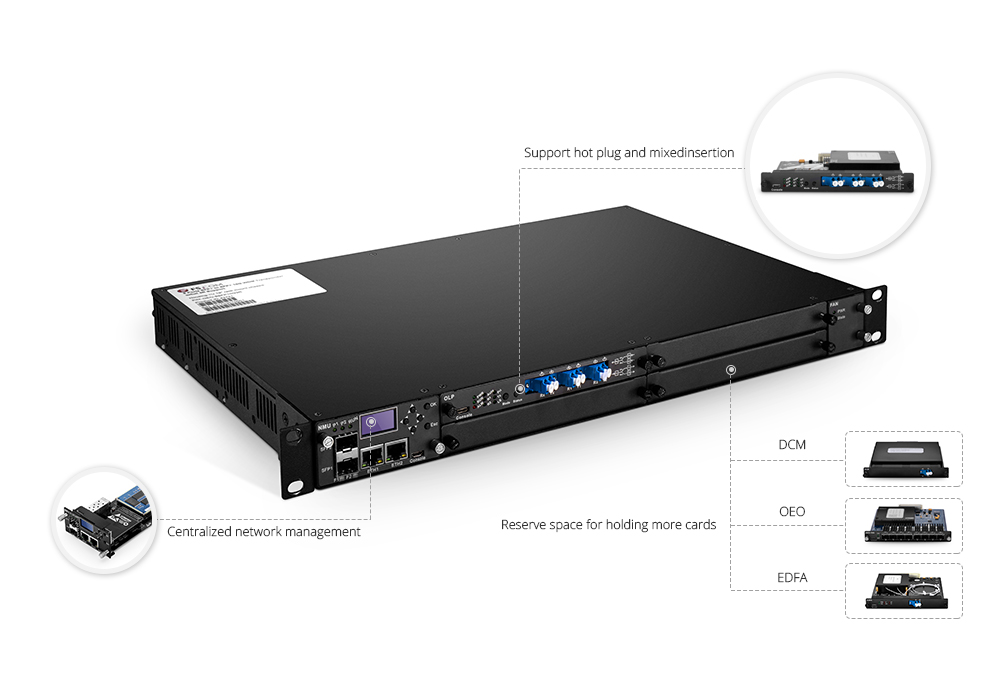 ---
Remarkable Concentration and Manageability
FS Multi-service Transport (FMT) System is engineered to support low-cost 100G DWDM solutions for high-capacity optical links and conducive to save cabinet space.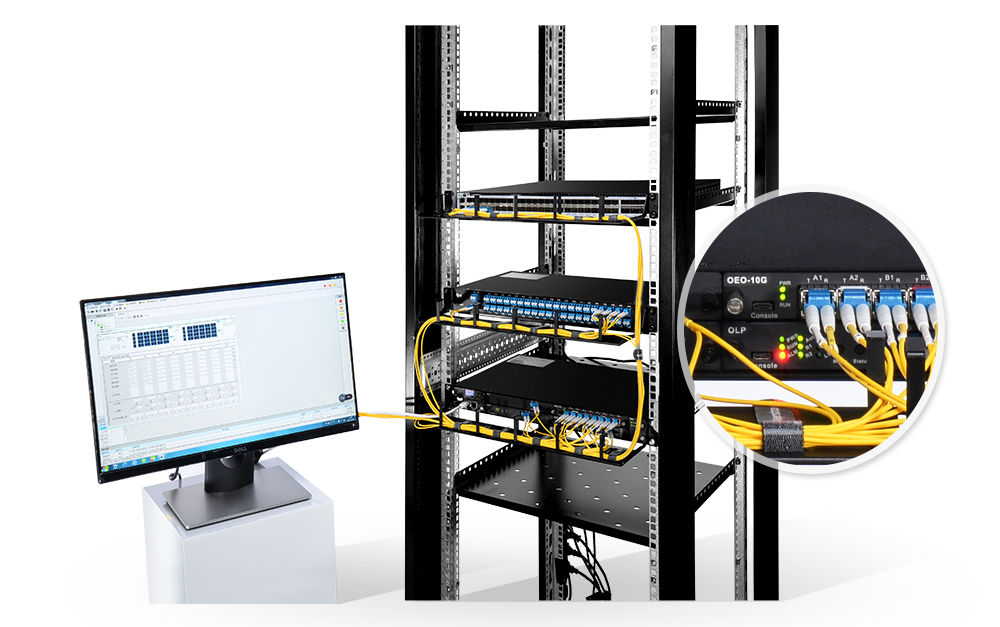 ---
Self-developed Management System
The NMC (Network Management Controller) card allows a network administrator the ability to configure and monitor the status of the line cards.
Client Management Software can be achieved over TCP protocol.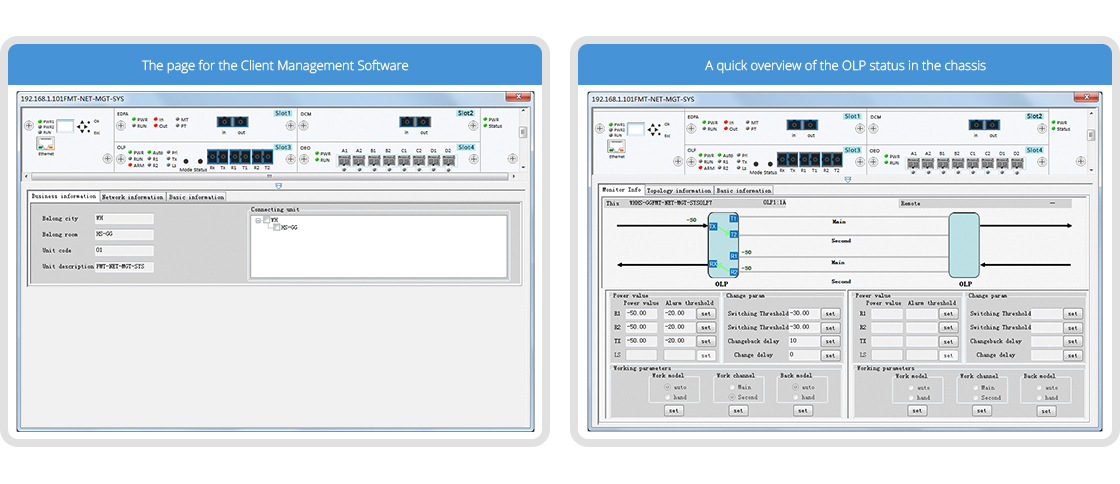 ---
Full Set Products for FMT Series
Including chassis, accessories, active and passive cards for your various needs.