4ch Dual Fiber DWDM OADM Plug-in Module, C21-C24, East and West, Duplex LC/UPC

FS.COM unique DWDM plug-in module is a passive optical add/drop multiplexer designed for metro access applications that represent the state of the art in fiber optics design. Multiple wavelengths can be dropped out of a fiber optic link that parallel transmits multiple DWDM wavelengths by using an add&drop multiplexer. All incoming wavelengths are received at one of the both line ports.

The required wavelength/application are dropped by the so-called ''drop'' client port. This in the further course unused wavelengths can be connected with a new application by the socalled ''add'' port.
Product Details
Wavelength
4 channels C21-C24
Channel Spacing
100GHz(0.8nm)
Line Type
Dual fiber
Client Port
Duplex LC/UPC
Filter Technology
TFF (Thin Film Filter)
Protocol
10/1G Ethernet, 16/8/4/2G FC, SDH/SONET
Insertion Loss
add/drop < 2.2 dB
pass-through < 2.5 dB
Channel Isolation
Adjacent ≥25 dB
Non-adjacent ≥40 dB
Return Loss
> 45 dB
Optical Power Handling
500mW
Temperature
Operating -5°C~ +75°C
Storage -40°C~+85°C
Dimension
212mm(L) x 44mm(H) x 267.3mm(D)
Quality Certification
Quality and standards are the foundation of FiberStore. We are dedicated to providing customers with the outstanding, standards-compliant products and services.
FiberStore has passed many quality system verification, like CE, RoHS, FCC, established an internationally standardized quality assurance system and strictly implemented standardized management and control in the course of design, development, production, installation and service.

Passive OADM Can Add a Third Point Over Dual Fiber
By using a 4ch DWDM OADM, a third location can be connected to a point-to-point application, if together with EDFA, the total transmission distance can up to 200km.

| Item No. | ID# | Description |
| --- | --- | --- |
| 1 | 50123 | 16 Channels C21-C36 Dual Fiber DWDM Mux Demux with Expansion Port |
| 2 | 40191 | 1-100m custom LC UPC to LC UPC Duplex 2.0mm PVC(OFNR) SMF Fiber Patch Cable |
| 3 | 35926 | Customized 17dBm Output Booster EDFA C-band 8dB Gain |
| 4 | 35924 | Customized 17dBm Output In-Line DWDM EDFA C-band 26dB Gain |
| 5 | 65779 | 80KM Passive Dispersion Compensation, Plug-in Type, LC/UPC |
| 6 | 57890 | 4 Channels C21-C24 Dual Fiber DWDM OADM, East and West,Plug-in Module |
| 7 | 35925 | Customized 13dB Out put Pre-Amplifier DWDM EDFA 23dBm Gain |
Product Highlights
Highly Scalable and Flexible DWDM OADM Networks
DWDM is the most suitable technology for long-haul transmission because of its ability to have access to EDFA for optical amplification. Planning a DWDM network with OADMs provides users with the most capacity to add or drop selected channels increasing the network flexibility in point to point, linear, ring, star and mesh topologies.

---
DWDM Passive Optical Add-Drop Multiplexers
Add and drop the selected wavelengths in both east and west bi-directions on dual-fiber paths
Low-profile module can be integrated into 2-slot 1U 19'' rack mount for easy installation & expansion
Completely passive, no power&no cooling required, suited to Video, CATV, FTTx applications.

---
Ultra Low Transmission Loss
The wavelength of 4ch C21-C24 (1560.61nm, 1559.76nm, 1558.98nm, 1558.17nm) DWDM OADM is in the C band with the lowest transmission loss, which shows long-term stability and provides an access to connect to an amplifier to extend the distance of pass-through traffic.

---
Add/Drop 4 Channel Signals Across Two Sites
4ch DWDM OADM adding and dropping four DWDM channels C21-C24 into two fibers and bypass the rest DWDM Mux Demux wavelengths to the destination. Combined with Mux, EDFA and DCM, a 120km 3-site point-to-point optical transmission system can be achieved.

---
Remarkable Concentration and Manageability
FS multiplexer (FMU series) such as MUX and OADM, can increase network capacity and improve the manageability and interconnectivity of WDM Netwrok when working with FS Multi-Service Transport system(FMT series) .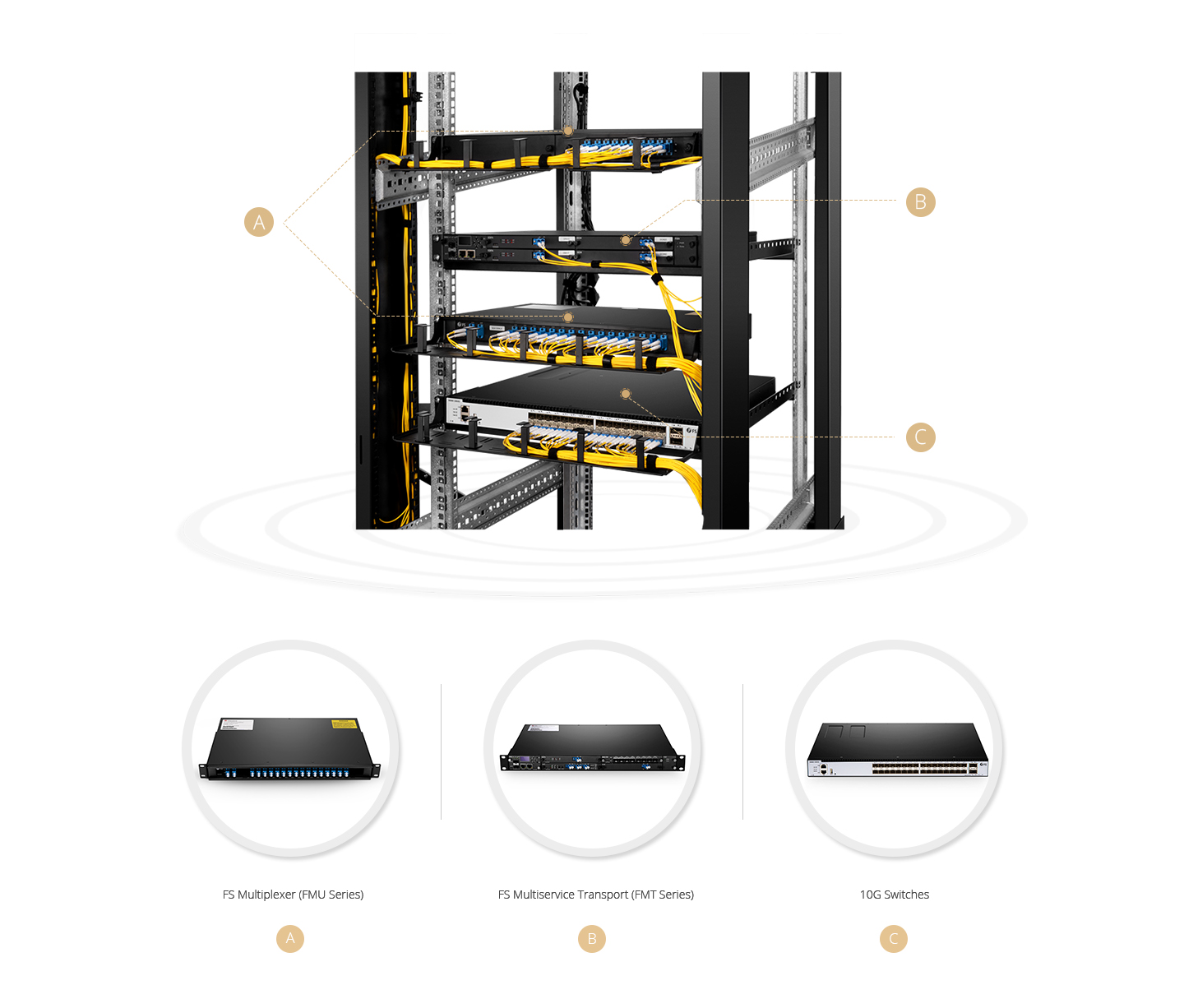 Tips
1.Each OADM device can add/drop one or multiple WDM channels into one or two fibers.
2. When it is not in use, please always keep adapter ports and fiber connectors clean.
3.Attached sticker describes the specifications of OADM.
4.FS.COM always focus on design, R&D, innovation to provide you optimal products. Welcome to contact
tech@fs.com
or
sales@fs.com
.