MTP-12 MPO/MTP Cassette, 12 Fibers OM3, LC Duplex, Type A
#57018
Type A and AF are used as a pair in a two cassette method A link. 0.35dB IL Full loaded 1x MTP Male to 6 LC Duplex Plug-Play module is designed for 10G/40G Ethernet, fiber channel and high speed data center.
MTP-12 MPO/MTP Cassette, 12 Fibers OM3, LC Duplex, Type A
Price:
US$ 54.00
Item location:
Seattle, United States
Availability:
 100 pcs in U.S. Warehouse, Ready to ship
12 Fibers Elite MTP to LC Duplex MPO/MTP Fiber Optic Plug-N-Play Cassette, 12 Strands OM3 MMF

FS.COM 's MTP Cassette Modules are fitted with 12 Fibers and have LC adapters on the front side and MTP at the rear. This MTP fiber cassette is made into smaller size and can be deployed in an ODF for higher density main distribution area (MDA) to the equipment distribution area (EDA) in the data center.
Please note: The US Conec MTP connectors are fully compliant with the MPO standards, achieving higher performance levels when compared to generic MPO connectors.
| | | | |
| --- | --- | --- | --- |
| Fiber Count | 12 | Fiber Type | OM3 MMF |
| Front Connector Type | 6 LC UPC Duplex | Rear Connector Type | 1 MTP UPC Male |
| MTP Adapter | Key up to Key down | Dimension(HxWxD) | 1.38''x4.29''x4.64''(35x109x118mm) |
| Insertion Loss | MTP≤0.35dB, LC≤0.2dB | Return Loss | MTP≥20dB, LC≥30dB |
| Operating Temperature | 0°C to 70°C (32°F to 158°F) | Storage and Shipping Temperature | -40°C to +75°C (-40°F to 167°F) |
| RoHS Compliance | Applicability | Application | For use in pairs with type AF cassette |
Method A Guidelines for Duplex Signals 10G Ethernet and Fiber Channel Applications
MPO/MTP cassettes are used for interconnector or cross connector for 10G connectivity if the distance between two devices is too long. And Type A and AF used a pair in a two cassette method A link.
| Item No. | ID# | Description |
| --- | --- | --- |
| 1 | 29127 | 48x Gigabit SFP with 4x 10GbE SFP+ Switch S5800-48F4S |
| 2 | 11589 | Generic Compatible 10GBASE-SR SFP+ 850nm 300m Transceiver |
| 3 | 60973 | 1m (3ft) LC UPC to LC UPC Duplex OM3 Bend Insensitive Fiber Patch Cable |
| 4 | 57018 | MTP-12 MPO/MTP Cassette, 12 Fibers OM3, LC Duplex, Type A |
| 5 | 34684 | 1RU Rack Mount FMT Fiber Enclosure Unloaded |
| 6 | 68108 | 1m (3ft) MTP Female to MTP Female 12 Fibers OM3 Trunk Cable, Type A |
| 7 | 57039 | MTP-12 MPO/MTP Cassette, 12 Fibers OM3, LC Duplex, Type AF |
| 8 | 26388 | CLE-BOX Fiber Optic Cassette Cleaner for LC/SC/FC/ST/MU/D4/DIN Connectors (500 cleans) |
Product Highlights
Rapid Deployment and Tool-less Installation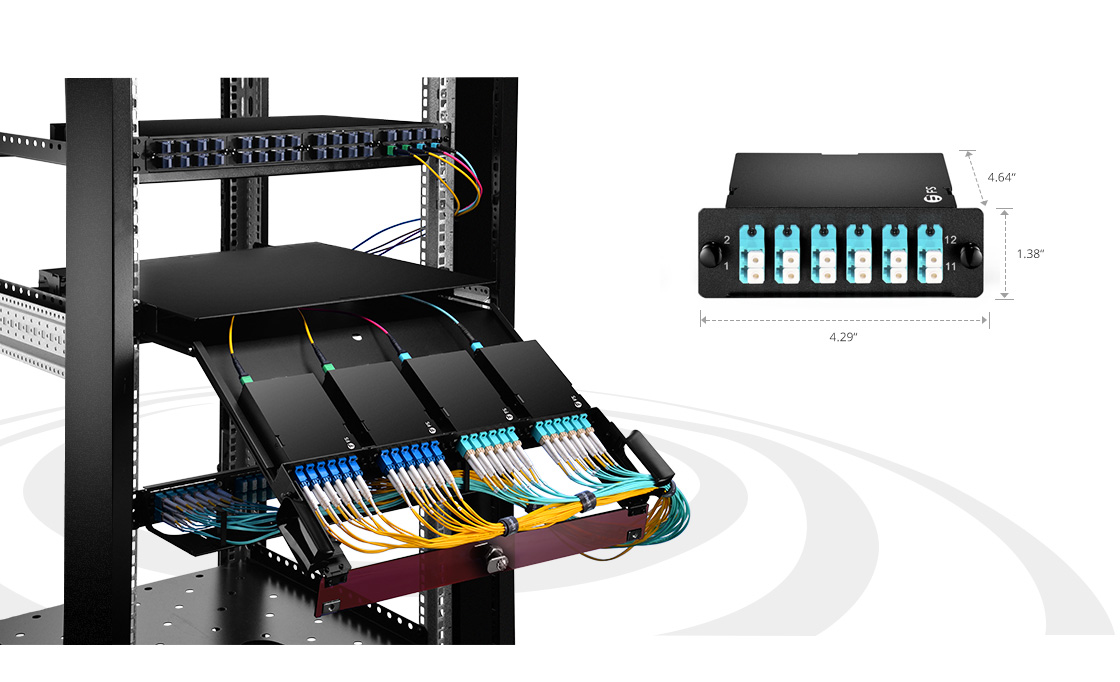 ---
Small Form Factor for Maximum Density
High density pre-terminated fiber optic system
Aluminum alloy shell protect the inner fibers effectively
Improved reconfiguration during moves, adds and changes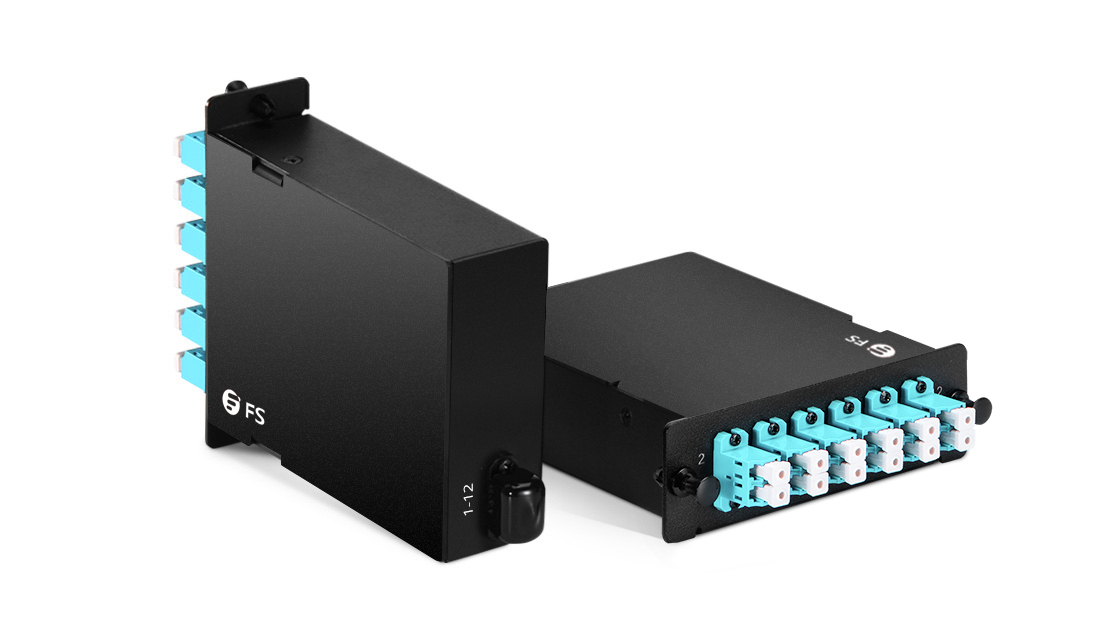 LC Duplex Adapter Port Identification

The fiber positions are numbered on the front adapter ports help to follow array connections accordingly

MTP Adapter with Opposed Key

High-performance MTP male connector can be connected with MTP female cable
---
Small Design and Compatible with FHD Fiber Enclosures