1U Managed Chassis Unloaded, Supports up to 4x EDFA/OEO/OLP Card with Accessories
#39214
Accessories includes NMU card, power supply card and cooling fan card. Intelligent network management system, supporting Ethernet management interface.
1U Managed Chassis Unloaded, Supports up to 4x EDFA/OEO/OLP Card with Accessories
High-density FMT 1U Multiplex Managed Chassis with Accessories (NMU Card, Power Supply, Cooling Fan)

FS.COM 1U Multiplex Managed Chassis provides a managed, flexible and scalable architecture for fiber networks. It can support up to 4x EDFA fiber amplifier card, WDM transponder card and optical protection card to construct a high-density and space efficient multi-service transmission platform.

The Chassis is a platform of low-power consumption that combines state-of-art electronics and superior optical performance which makes it possible to build or upgrade networks to meet the demands of today as well as future multi-services access requirements.
Product Details
| | | | |
| --- | --- | --- | --- |
| Chassis Type | 1U 4 slots | Enclosure Type | Rack mountable |
| Power Supply | Dual power,100V-240VAC | Power Consumption | <50W |
| Management Type | SNMP | Network Interface | Ethernet, RS-485, RS-232 interface |
| Relative Humidity(non-condensing) | 5% ~ 95% | Dimension | 482.6(W)×300(D)×44.5mm(H) |
| Operation Temperature | -5~60°C | Storage Temperature | -40~ 80°C |
FMT 1U Managed Chassis Designed with Unsurpassed Flexibility to Fit Your Any Application
FS.COM Multiservice Transport 1U chassis can support up to 4x hot-swappable plug-in EDFA/OEO/OLP card with accessories, flexibly designed for constructing a high-density and space-efficient multi-service transmission platform.
| Item No. | ID# | Description |
| --- | --- | --- |
| 1 | 33485 | 40Ch C21-C60 Dual Fiber DWDM Mux Demux with Monitor Port, 3.0dB Typical IL |
| 2 | 40191 | 1m LC UPC to LC UPC Duplex 2.0mm PVC 9/125 Single Mode Fiber Patch Cable |
| 3 | 39214 | 1U Managed Chassis Unloaded, Supports up to 4x EDFA/OEO/OLP Card with Accessories |
| 4 | 35925 | 26dB Gain 13dBm Output Pre-Amplifier EDFA for DWDM Networks |
| 5 | 14488 | 10G DWDM SFP+ C21-24 80km DOM Transceiver |
| 6 | 48523 | LC/UPC Singlemode Fixed Fiber Optic Attenuator, Male-Female, 5dB |
Product Highlights
Explore the New Generation of Our FMT Series
---
Multi-Reach Transport FMT 1U Chassis with Accessories for Maximum Reliability and Availability
Engineered with ultimate redundancy, including NMU card, power supply card and fans card
Modular architecture of high-density chassis, plug-in modules and standalone modules
Manageable via SNMP & high-density factor provide cost-effective network deployments

---
NMU Main Control Card
Allowing a network administrator the ability to configure and monitor the status of the line cards.


Power Supply
Ideally suited for 1U/2U/4U managed chassis in the FMT system and offers a cost effectivepower supply device to end users.
Cooling Fan
Designed for maximum heat dissipation, which strengthens performance and stability of the equipment.

---
Available for all-in-one Multi-Service Transport System
Each service module (DCM, EDFA, OEO, OLP modules and so on) is hot swappable and is independent from other modules in the chassis, which are convenient for installation and management during network deployment.
More installation instruction , you can take it for reference.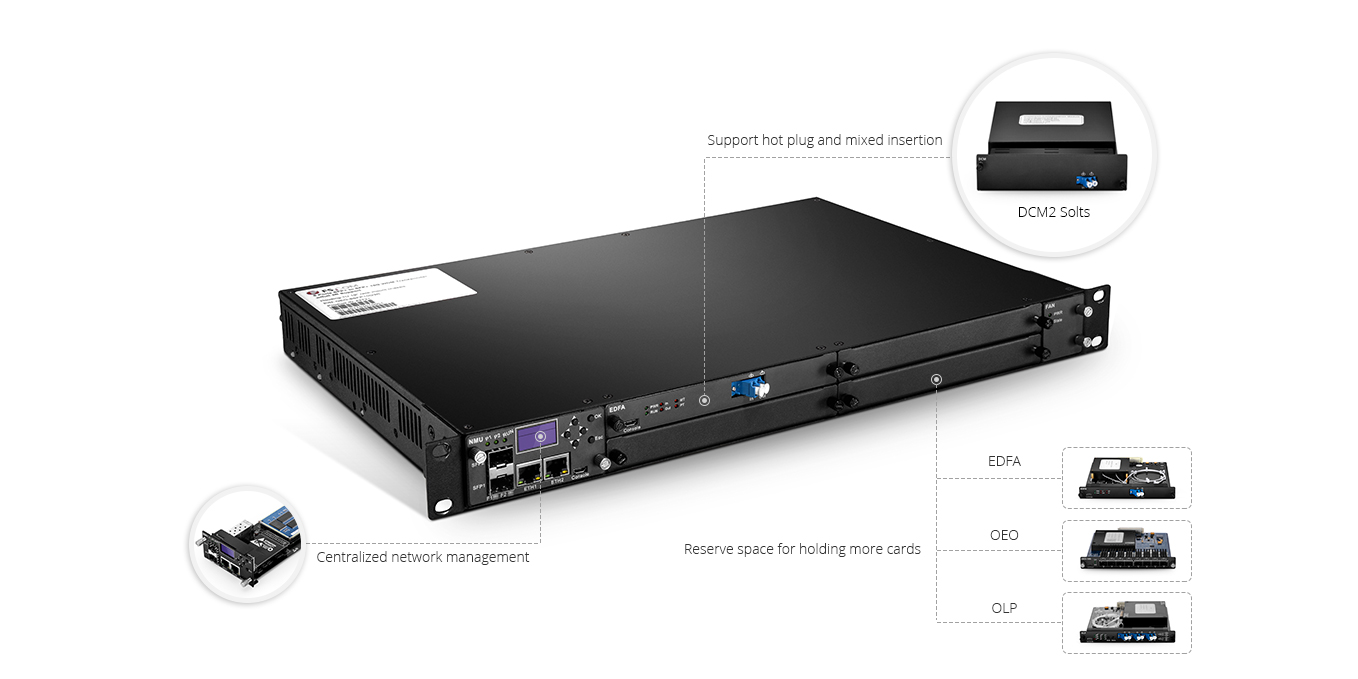 ---
Remarkable Concentration and Manageability
FS.COM Multi-service Transport (FMT) system is engineered to support highly integrated cost-effective 100G DWDM solutions for high-capacity optical links. And it can expand at any time to add more capacity without link downtime, which is easy to enables fast network deployment, and takes up minimal rack space.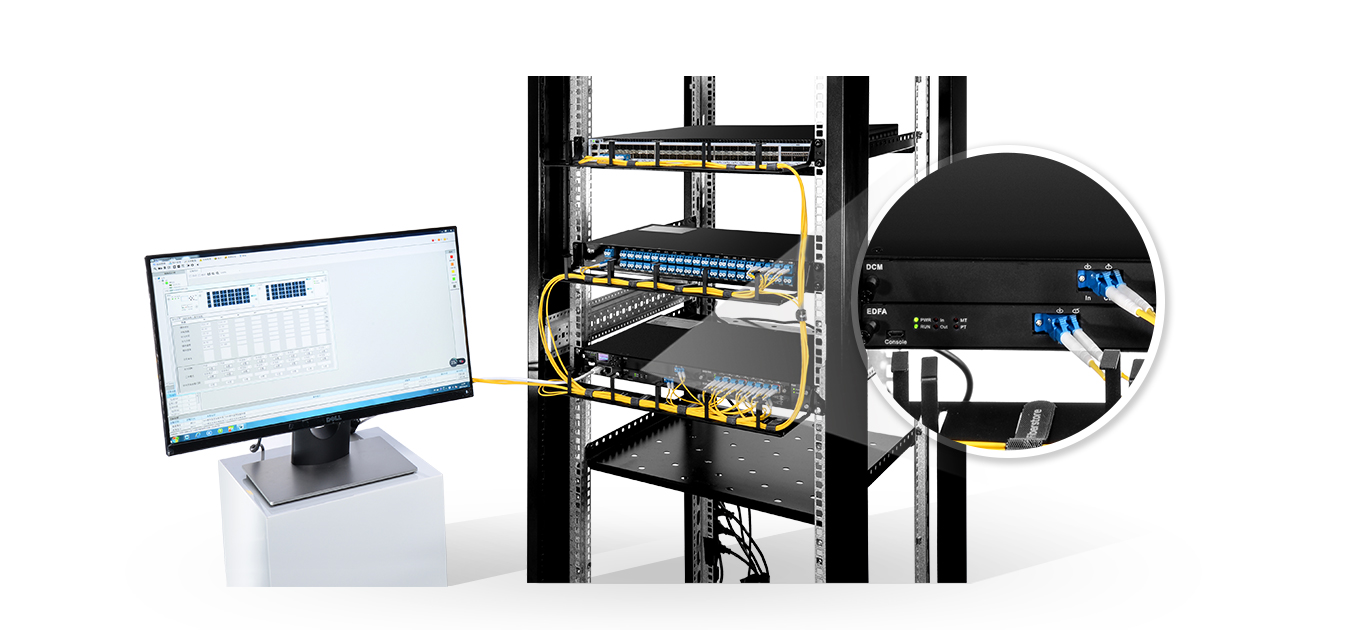 ---
Independent Research and Development of Management System
Our Monitor Online is a user-friendly network management system which is based on SNMP. This system can support hierarchical topology view, network fault management and alarm, user administration and configuration of the devices in the network.