40 Channels DWDM EDFA Optical Amplifier

The DWDM EDFA is a low-noise, gain-flattened C-band optical erbium doped fiber amplifier (EDFA) designed to extend the distance in dense wavelength-division multiplexing (DWDM) optical infrastructure. It provides customers with the capability to extend their 100GHz, up to 40 channels, 2.5Gbps, or 10Gbps optical infrastructure over greater distances.

The card have been designed as a Multi-Service Transport System, this allows network administrators to deploy the chassis in a wide range of networks.
Product Details
| | | | |
| --- | --- | --- | --- |
| Amplifier Type | In-Line Amplifier | Operation Wavelength | 1528nm~1564nm |
| Optical Gain | 17dB | Gain Flatness | 1dB |
| Input Power | -30dBm~-5dBm | Saturated Output Power | ≤17dBm |
| Single Channel Input Power | -24dBm (Typical) | Single Channel Output Power | -3dBm (Typical) |
| Noise Figure | 4.5dB (Typical) | Return Loss | <-45dB |
| Optical Connector | LC/UPC | Management | SNMP |
| Power Supply | Dual power, 100V-240VAC | Operation Mode | AGC |
| Power Consumption | 10W | For Use With | FMT managed chassis |
| Operation Temperature | -5°C~55°C | Storage Temperature | -40°C~ +85°C |
Product Highlights
17dBm Saturated Output Power for C-band In-Line DWDM EDFA
Precision AGC circuit keeping the output power stability
Low optical input level requirements with excellent low noise performance
Adopt 980nm or 1480nm JDSU pumping laser, low-distortion

Tilt Connectors for Protecting Eyes

Tilt angle to avoid laser direct to operator's eyes for protecting eyes

Captive Screws

Easy to install or remove without any tools
---
Available for All-in-One Multiservice Transport System
As a part of multi-service transport system, hot-swappable plug-in EDFA card only occupies 1 slot in the 1U/2U/4U chassis.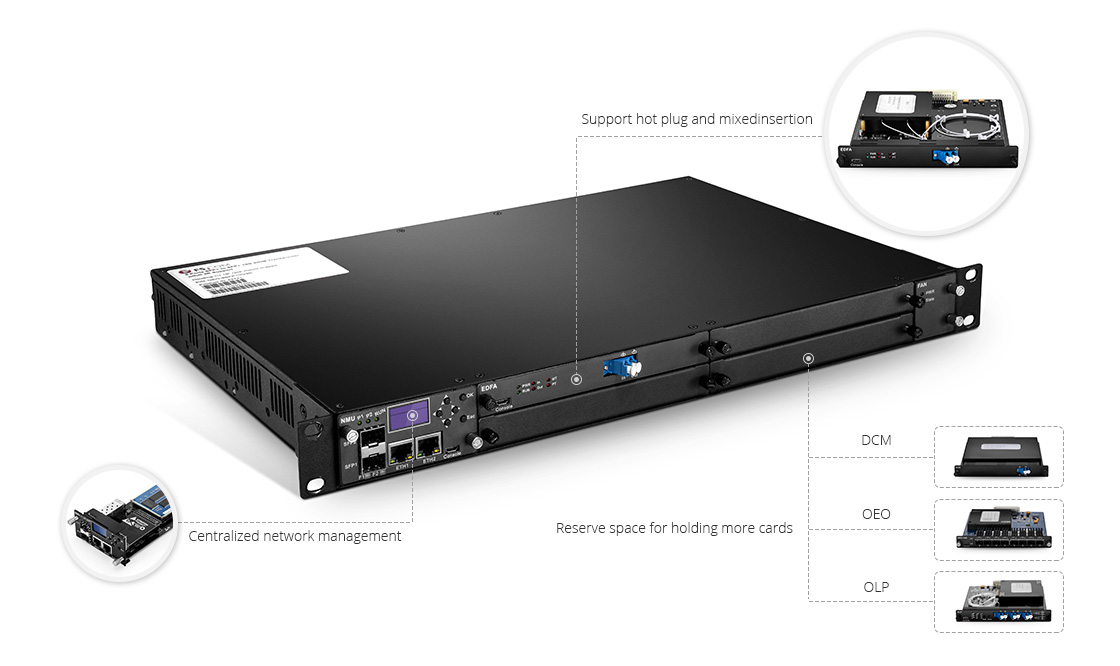 ---
Remarkable Concentration and Manageability
FS Multi-Service Transport (FMT) System is engineered to support low-cost 100G DWDM solutions for high-capacity optical links and conducive to save cabinet space.
---
Self-developed Management System
The NMC (Network Management Controller) card allows a network administrator the ability to configure and monitor the status of the line cards.
Client Management Software can be achieved over TCP protocol.

---
Full Set Products for FMT Series
Including chassis, accessories, active and passive cards for your various needs.