XFP-10G85-3M(MMF, 850nm, 300m, LC, DOM)
Fiberstore XFP-10G85-3M 10GBASE-SR XFP Transceiver supports link lengths of 300m on multi-mode fiber cable, at a wavelength of 850nm.
It primarily enables bandwidth 10G optical links over 50/125μm or 62.5/125μm multi-mode fiber terminated with LC connectors and can be used in commercial temperature environment for interoperability with 10GBASE-SR interfaces.
Digital optical monitoring (DOM) support is present to allow access to real-time operating parameters, which means, we are now by using DOM capable of performing transceiver monitoring and troubleshooting operations.
FS.COM stands behind the quality of our products and proudly offer a limited lifetime warranty.
Details
| | |
| --- | --- |
| Form Type: XFP | Data Rate: 10 Gbps |
| Wavelength : 850nm | Max Cable Distance: 300m |
| Interface : LC duplex | Optical Components: VCSEL 850nm |
| Cable Type: MMF | DOM Support: YES |
| Commercial Temperature Range:0 to 70°C (32 to 158°F) | HTS-Harmonized Code: 8517706000 |
Ordering Information
| | | | | | | | | | |
| --- | --- | --- | --- | --- | --- | --- | --- | --- | --- |
| Part No. | Data Rate (Gbps) | Wavelength (nm) | TX Power (dBm) | Re Sens. (dBm) | Transmission Distance | Fiber Type | Connector Type | Temp. Range | Digital Diagnostics |
| XFP-10G85-3M | 9.95~11.1G | 850 | -3.5~5.3 | ﹤-13 | 300m | MMF | LC | Com./Ex./Ind. | Yes |
| XFP-10G31-2M | 9.95~11.1G | 1310 | | | 220m | MMF | LC | Com./Ex./Ind. | Yes |
| XFP-10G31-2 | 9.95~11.1G | 1310 | -5.2~0 | ﹤-14.4 | 2km | MMF | LC | Com./Ex./Ind. | Yes |
| XFP-10G31-10 | 9.95~11.1G | 1310 | -6~0 | ﹤-14.5 | 10km | SMF | LC | 0~70℃ | Yes |
| XFP-10G31-20 | 9.95~11.1G | 1310 | -3~+1 | ﹤-15 | 20km | SMF | LC | 0~70℃ | Yes |
| XFP-10G31-40 | 9.95~11.1G | 1310 | 0~+4 | ﹤-16 | 40km | SMF | LC | 0~70℃ | Yes |
| XFP-10G31-70 | 9.95~11.1G | 1310 | +2~+7 | ﹤-22 | 70km | SMF | LC | 0~70℃ | Yes |
| XFP-10G55-40 | 9.95~11.1G | 1550 | 0~+4 | ﹤-16 | 40km | SMF | LC | 0~70℃ | Yes |
| XFP-10G55-80 | 9.95~11.1G | 1550 | 0~+4 | ﹤-24 | 80km | SMF | LC | 0~70℃ | Yes |
| XFP-10G55-100 | 9.95~11.1G | 1550 | | | 100km | SMF | LC | 0~70℃ | Yes |
| XFP-10G55-120 | 9.95~11.1G | 1550 | | | 120km | SMF | LC | 0~70℃ | Yes |
Test Report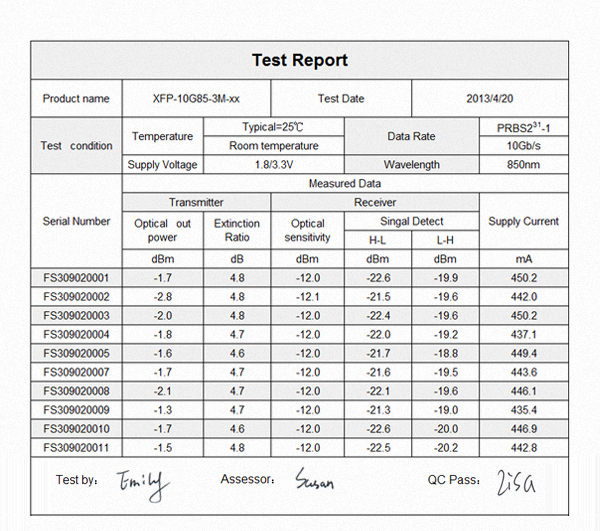 Our Factory

Production Environment

Production Environment

Device Assembly

Device Assembly

Standardized Production Line

Standardized Production Line

Environment Testing

Environment Testing

End Product Testing

Optic Module Transmission Distance Testing

Compatible Test

Brand Compatibility Testing
Centre de Test :