Customized 1xN Multi-channel Opto-Mechanical Optical Switch Modules
Fiberstore's Bi-directional, fully non-blocking 1xN Multi-channel Opto-Mechanical Optical Switch Modules is an ideal product where small size and superior optical performance are required. The module functions as switching core of a high-capacity packet switching backbone router. It connects optical channels by redirecting an 1 incoming optical signal into a selected signal from N output fiber.

Fiberstore offers up to 128 ports optical switch modules. Achieved by using an opto-mechanical configuration activated via an electrical control signal, they offer unparallel advantages of very low loss and cost, very compact, easy to mount, and available in any 1RU Rack chassis, 2RU Rack chassis, 4RU Rack chassis, and Desktop optical switch equipment. They are most affordable high performance optical switch modules with absolute minimal impact on pre-engineered loss budgets. Our optical switch modules are tested in-house prior to shipment to guarantee that will arrive in perfect physical and working condition.
Features

1 x N configarationsModularized designCompact size, easy to integrate Ultra-low insertion loss and back reflection Bi-directional operation Fast switching speed Precise repeatability Epoxy-free in optical pathOperates with dark or lit fibreHigh reliability, High stability, High optical isolationLow polarization dependent loss (PDL)Latching and Non-latching for optionalSinglemode and Multimode for optional

Applications

Ring network OEM system integration ROADM RF over fiber Fibre switching Optical bypassHybrid OEO/OOO network switches Automated component test and measurement Remote network monitoring & test access Instrumentation grade switching Secure communication networks
Specifications
Parameters
OSM-1xN
Unit
Insertion loss
1 < N ≤ 32
32 < N ≤ 64
64 < N ≤ 128
dB
Typ: 0.8 , Max: 1.0
Typ: 1.0 , Max: 1.2
Typ: 1.2 , Max: 1.6
Wavelength range
532 ~ 1300
1260 ~ 1660
nm
Testing wavelength
532 / 650 / 780 /850 / 980 / 1300
1310 / 1490 / 1550 / 1650
nm
Return loss
SM ≥ 55 , MM ≥ 35
dB
Crosstalk
≥ -80
dB
PDL
≤ 0.10
dB
WDL
≤ 0.25
dB
TDL
≤ 0.30
dB
Repeatability
≤ ±0.05
dB
Lifetime
107
cycle
Optical input power
≤ 1000
mW
Switching time
≤ 12 (Sequence switch time of adjacent channel)
ms
Operating temperature
-20 ~ +70
°C
Storage temperature
-40 ~ +85
°C
Power supply
AC 220V or DC 48V
V
1xN-T
290 x 260 x 110
mm
1xN-U
1U 19" , 2U19" , 4U 19"
mm
Note: Special specifications can be customized according to customer requirements.
Optical Route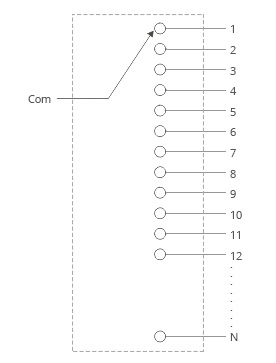 Timing Diagram
Mechanical Dimensions (Unit: mm)
Note: This picture is 1x16 Optical Switch Modules, pls use this picture for your reference.
Order information: OSM-1xN-A-B-C-D-E-F-G-H-I
Fiberstore have extensive expertise in creating custom optical switch modules, to best meet an application specific test requirement. Modules can be made with:
1. Unique combinations of optical switches or other optical components (N≤128)
2. Customer specified fibers
3. Customer specified connectors (Mil-Spec, E-2000, etc.)
4. Performance optimized for customer specified wavelengths
N

A

B

C

D

E

F

G

H

I

Channel

Connector

Fiber Type

Fiber Length

Diameter

Control Model

Wavelength Range

Housing

Power

1xN (N≤128)
OO: None
SM: 9/125um
05: 0.5m
25: 250um
L: Latching
85: 850nm
None
3: 3V
S22: 220V
FU: FC/UPC
M5: 50/125um
10: 1.0m
90: 900um
N: Non-Latching
13: 1310nm
1U: 1U19"
5: 5V
S48: 48V
FA: FC/APC
M6: 62.5/125um
15: 1.5m
20: 2.0mm
S: Special
14: 1490nm
2U: 2U19"
S: Special
S24: 220V+48V
SU: SC/UPC
S: Special
S: Special
30: 3.0mm
15: 1550nm
4U: 4U19"
D22: Double 220V
SA: SC/APC
S: Special
162: 1625nm
T: Desktop
D48: Double 48V
LU: LC/UPC
165: 1650nm
S: Special
S: Special
LA: LC/APC
13/15: 1310/1550nm
S: Special
S: Special
For example: OSM-1x32-FU-M6-15-S-L-13-2U-5-S22
For more information about Opto-mechanical fiber optic switches, please e-email
sales@fs.com.